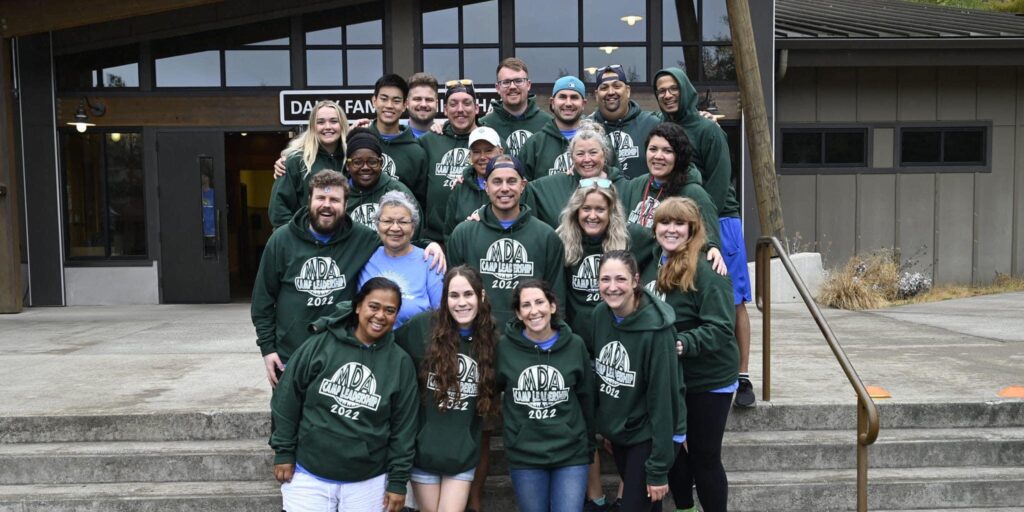 Pursuing Passion: From MDA Volunteer to MDA Employee
By Rebecca Hume | Wednesday, June 28, 2023
MDA's Director of Community Programs Scott Wiebe, credits volunteering at MDA Summer Camp as one of the single most impactful experiences in his life. During his first experience as a camp counselor when he was in college, Scott recognized the incredible and influential benefits of volunteering, both for the campers and for the volunteers themselves.
"My favorite thing about volunteering was the impact of the MDA Summer Camp program. It became apparent that the impact was two-directional. I was making an impact – the campers had an amazing time, many of them outwardly talking about MDA Summer Camp being by far the best week of the year, and to think that I played a small role in making that possible for them was an amazing feeling. However, it was the impact that volunteering with MDA Summer Camp had on me that really surprised me," Scott says. "The impact on me was so multi-faceted – from new friends in the campers and fellow volunteers I connected with, to gaining new perspective and learning about disability rights, to ultimately realizing volunteering with this program impacted me so much that I wanted to establish a career with MDA."
Passionate about MDA's mission, Scott continued to volunteer at summer camps and also participated in a variety of other volunteer roles over the next six years. When a role at MDA that suited his skills became available, Scott transitioned from volunteer to employee and has been serving MDA in a professional capacity for the last seventeen years.
But, Scott is not the only employee at MDA who found their calling while volunteering. For many, volunteering with MDA was the first step in developing a lifelong passion and career serving the neuromuscular disease community.
From camp counselor to MDA career
Gina Olson, who is currently MDA's Vice President of Healthcare Partnerships & Foundation Relationships, also started her MDA career as a Summer Camp volunteer. Gina volunteered multiple summers as a college student, fell in love with serving our community, and began working full time for MDA eight months after she graduated.
"Camp changed my life. It is truly a once in a lifetime opportunity to make a meaningful and direct impact with a child living with a neuromuscular disease. It taught me empathy, compassion, and how to truly care for others," Gina says. "And now, I come to work every day truly knowing that the work that I do makes a difference in the lives of those served by MDA."
Megan Elliott first volunteered as a camp counselor when she was a teenager. She was inspired by how hard the camp team worked to create an amazing and safe week for campers. She returned to camp year after year for eleven years, becoming a Cabin Unit Leader and joining the planning committee, before accepting a full-time position as a Recreation Programs Specialist.
"Helping campers gain independence, friendships, and memories that last a lifetime is such a privilege. And watching volunteers gain their own life-changing experiences and potentially shape their own future careers, is an honor," she says, of what she describes as her dream job. "I work with an incredible team in Recreation Programs. And when we see our camper families at camp pick up day with campers who can't wait to tell their parents/guardians all about their new friends and the new activities they tried, it fills my heart. I am so proud to be part of a team that creates those moments for others."
Nineteen years ago, Amaris Sanchez-Larragoity volunteered at her first MDA Summer Camp and fell in love with the magic of camp. "My favorite thing about volunteering is the opportunity to make anything possible. MDA Summer Camp is a place where kids can do things they might have been told they wouldn't be able to do," Amaris says. "The fact that seemingly random strangers come together with no other focus or goal than to make those things happen, even if just once, even if just for a minute, is mind blowing."
Amaris continued to volunteer at camp every summer and when a position as Clinical Care Coordinator became available, she was excited to professionally join a program that she was passionate about.. She now works as a Recreation Programs Specialist, a role that includes directing summer camps.
"There's no better job than being a master of fun and games, a specialist of recreation, a director of smiles, an inventor of possibilities," she says. "My favorite part of the job is that twinkle in the eyes campers get when they realized they have done something that nobody, including themselves, thought they could ever do – like get on a zipline, or sit around a campfire and toast marshmallows, or have a sleepover with other kids just like themselves."
Recreational Program Specialist Kendall Seiler found fulfillment and community when she volunteered as an MDA Summer Camp counselor after her sophomore year of college.  "There were many things I loved about volunteering for MDA, but the biggest is certainly the sense of fulfillment it brought me. The opportunity to witness the growth of the campers and to develop such meaningful connections with everyone involved. It's humbling to be a part of a community that is full of acceptance and inclusiveness." Kendall says. "As an MDA employee, the opportunity to be a part of an organization that creates environments where individuals can learn, grow, and have memorable, life-changing experiences is an incredible thing."
Recreation Program Specialist Emma Keaveny's experience as a volunteer counselor at MDA Summer Camp when she was eighteen years old inspired her to pursue a career with MDA after college. "I grew up volunteering for many different organizations and causes, and the community that MDA provided was so unique and was unlike any other experience I had participated in.," Emma says. "You develop a relationship and bond with the campers you work with and their families, but also with the other volunteers."
Larry Delgado Rodriguez's experience as a teenage volunteer at MDA Summer Camp sparked his interest in continuing to support families living with muscular dystrophy. Now a Development Coordinator, he began working for MDA after graduating college. "MDA families are the reason I decided to join the MDA team as an employee. Having the privilege of getting up every day and knowing that my work helps thousands of families, that is priceless," Larry says. "I feel satisfaction when I see the advances in treatments that provide tangible hope to MDA families."
A variety of volunteer opportunities
While a lot of volunteers connect with MDA through summer camp, there are a multitude of volunteer opportunities within a variety of other impactful MDA programs.
Gina Lansing's first experience as an MDA volunteer was for the 110th Harley-Davidson Anniversary Celebration in Milwaukee that took place in 2013. As a recent college graduate, she fell in love with the MDA community and pursued an MDA internship that eventually led to her current role as the Manager of MDA's Fire Fighter Partnerships in Texas and Oklahoma.
"My role as a volunteer has given me strong, healthy roots and foundation for my career at MDA," Gina says. "I have loved every moment of partnering with our beloved fire fighters, MDA families, and MDA staff to fundraise for MDA. The dollars raised through Fill the Boot fund MDA's mission of empowering people living with neuromuscular disease to achieve their potential."
Jennifer Crown was working as a business manager and accountant when her company was asked to participate in the MDA Shamrock's initiative in 2005. After connecting with the local MDA office and MDA families through the fundraiser, Jennifer began volunteering at every MDA event in her area. In 2006, she began working for MDA as an Executive Director and is now a Manager in the Foundation Giving program.
"The people we serve and serve alongside have made my life infinitely richer and more focused," Jennifer says. "I cannot go anywhere without encountering someone with an MDA connection. I am humbled and grateful. I have not even begun to give back to MDA what MDA volunteering brought into my life and the lives of those I love."
For these individuals and many others, volunteering at MDA was a life-changing opportunity that influenced their path for the future. With so many different volunteer and career opportunities to serve those living with neuromuscular disease and their families, there is a place at MDA for every dream and ambition.
---
Next Steps and Useful Resources
Disclaimer: No content on this site should ever be used as a substitute for direct medical advice from your doctor or other qualified clinician.