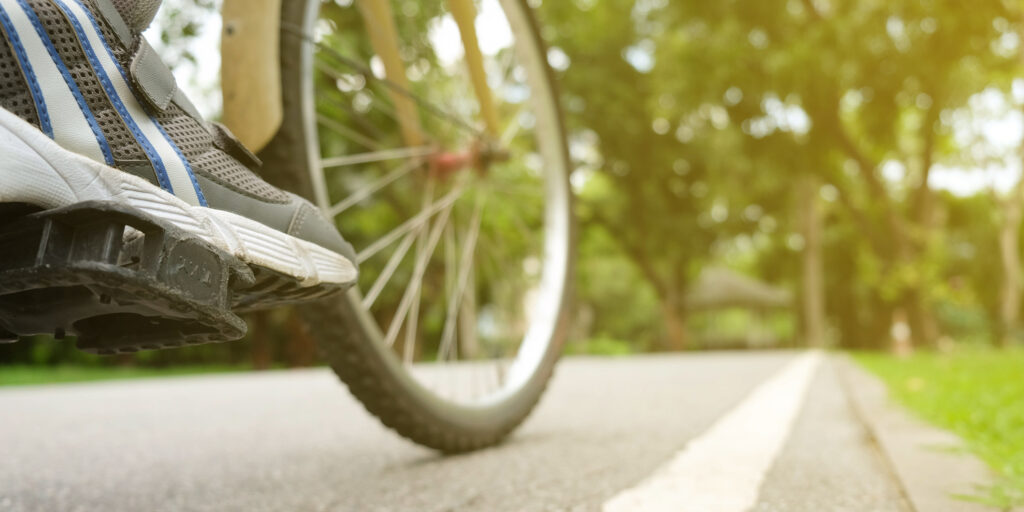 The Trans New Hampshire Bike Ride: One Man's Road to Advocacy
By Rebecca Hume | Tuesday, May 30, 2023
ESPN Digital Producer Nevin Steiner has found his life's mission in sharing the message that "it's not what you can't do in this life, but what you can." Diagnosed with Becker muscular dystrophy (BMD) at six years old, Nevin's accomplishments are a testament to that message. Nevin played varsity tennis in high school, graduated from Loyola College in Maryland, married the love of his life, became a father of two beautiful children, and found his true passion as an advocate for the neuromuscular disease community.
For Nevin, the journey to advocacy started with a 70+ mile bike ride, a ride that he credits as one of the greatest accomplishments of his life. Nevin and his father participated in the in the Trans New Hampshire Bike Ride (TNHBR) in 2010, 2011, and 2012. This year, the 2023 TNHBR is being dedicated to Nevin.
Riding for a cause
The Trans New Hampshire Bike Ride is a two-day, fully supported bicycle ride that benefits the Muscular Dystrophy Association. The ride covers over 100 miles over two days and is designed for riders of all skill levels. Gravel and paved route options spanning 65-75 miles make up each day of the event, with riders starting in Portsmouth and ending in Concord on the first day and riding from Concord back to Portsmouth on the second day. The annual event celebrated its 35th anniversary last year, raising almost $100,000 towards finding treatments for neuromuscular disease.
Nevin and his father, both avid bikers, first connected with the MDA and became involved with the bike ride in 2010 when they were looking for a charity event that meant something to them personally. Nevin, who lives with Becker muscular dystrophy, shares that his opportunity to participate in the TNHBR and ride more than 70 miles was one of the major highlights of his life.
"My favorite thing about the TNHBR is the camaraderie," Nevin says. "Everyone is at different levels and everyone talks each other up. It can be a daunting task to ride 70+ miles and when you hear, 'You got this,' you go out on the road with confidence."
Nevin is excited to share in that camaraderie and support again this year on Saturday, June 24th and Sunday, June 25th. While he is no longer able to ride a bike due to the progression of his disease, he is honored to attend this year's ride as the event's honoree.  Nevin will speak at the event, sharing his insights into the importance of supporting MDA and advocating for those living with neuromuscular disease, before cheering on the riders and offering the same encouragement that helped him ride years ago.
A calling to advocacy
Opportunities to advocate, increase awareness, and raise funds for research and treatment are incredibly meaningful to Nevin. As BMD has become more apparent in his life, Nevin shares that he has found his true calling in advocacy work. After the then Chief of Staff at MDA reached out to Nevin in 2020 to request his participation in a marketing video, he recognized that he had the ability – and desire – to make a difference using his voice to advocate for others.
"Advocacy is really important to me because I want to be a voice for those living with MD and raise awareness with the hope of finding a cure," Nevin says. "I have Becker Muscular Dystrophy, a family, and a career. And it's important that I am a role model for the younger generation to show them that having MD doesn't stop you from living your life, instead it makes you stronger!"
---
Next Steps and Useful Resources
Disclaimer: No content on this site should ever be used as a substitute for direct medical advice from your doctor or other qualified clinician.