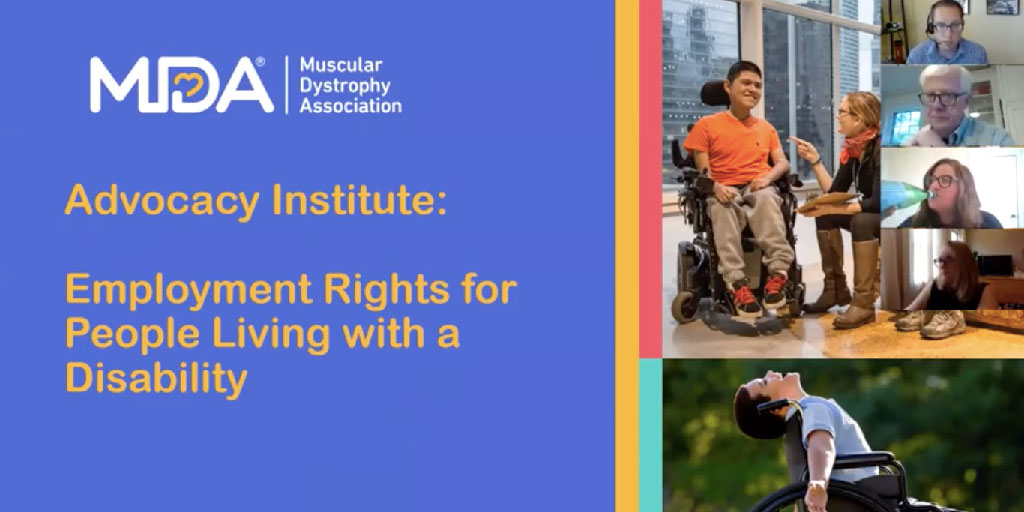 Do you know your employment rights?
By Mark Fisher | Friday, October 30, 2020
As we wrap up National Disability Employment Awareness Month, it is vital those living with a disability know their employment rights, learn what to do if they feel their employer is not making accommodations required by law, and see how they can take action on legislation that would provide even more incentives for companies to hire and retain workers living with disabilities.
During this month's Advocacy Institute webinar session, MDA brought together experts from Nixon-Peabody LLP to answer key questions, including:
What are your employment rights?
What accommodations must an employer make?
What can you do if you run into an issue?
If you aren't sure what your employment rights are, watch our webinar:
In addition to learning about your rights, you can also reach out to elected officials on issues related to employment for those living with disabilities. The Disability Employment Incentive Act (S.255 / H.R 3992) would incentivize hiring and retention by:
Creating tax credits to help retain workers living with disabilities
Increasing tax credits to help employers provide accommodations
Increasing tax credits to help employers eliminate barriers to workplace accessibility
You can urge your lawmakers to cosponsor this bill by taking action on MDA's Advocacy website.
Disclaimer: No content on this site should ever be used as a substitute for direct medical advice from your doctor or other qualified clinician.