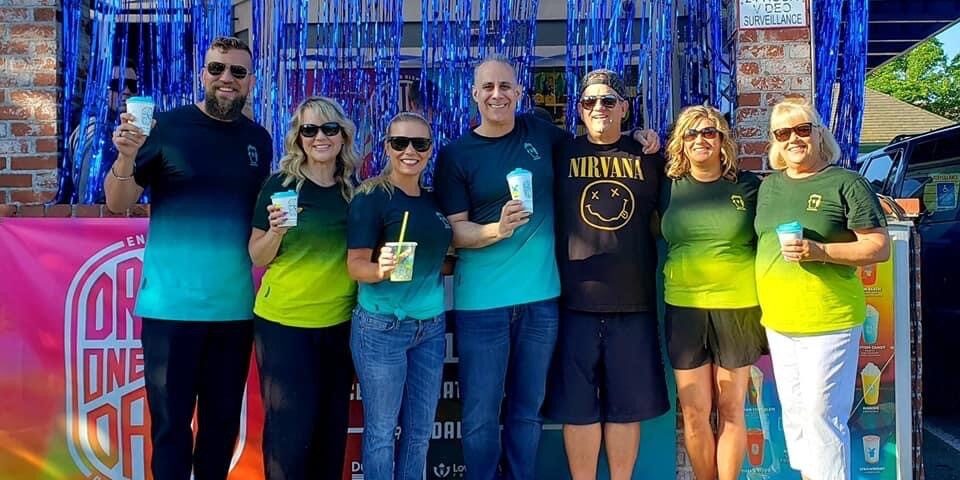 Drink One for Dane: A Legacy of Love
By Rebecca Hume | Thursday, May 18, 2023
Anyone who has had the opportunity to visit one of the over 700 Dutch Bros locations can agree that Dutch Bros knows good coffee. But Dutch Bros serves their community much more than just a morning cup of joe, especially the neuromuscular community.
Started by brothers Travis and Dane Boersma in 1992, the drive-thru coffee company serves handcrafted, specialty coffee, smoothies, teas, and a Dutch Bros Rebel™ energy drink. In addition to providing quality product and top-tier service, the Boersma brothers built their business with a mission to give back to their community. Through its foundation and retail locations, the company donates millions of dollars each year to various causes.  Dutch Bros designates specific "giveback" days, where profits and proceeds are donated to a specified non-profit or cause.  Raising awareness and funding for ALS research is one important cause at the heart of the Dutch Bros family.
Coffee for a cause
When co-founder Dane Boersma was diagnosed with ALS, he and his family quickly recognized the need to raise awareness and the desire to support funding for ALS research. Dane began receiving care at an MDA Care Center in Portland, where he connected with MDA staff and saw the opportunity for a powerful partnership.
MDA is the leading non-profit organization in ALS research, care, advocacy, and educational and professional programming. While there is currently no cure for ALS, the current pipeline of prospective treatments and the innovative research that is allowing scientists to begin to better understand this disease are offering hope to the ALS community.
"The important thing to know about the ALS research space is that there are so many new developments and treatments in the pipeline right now. It's the promise of what is to come and all that we are on the verge of," says Erin Feliciano, Vice President of Corporate & Foundation Relationships at MDA. "I think that's the important thing about our partnership with Dutch Bros and all that we do at MDA."
The Boersma family partnered with MDA to create Drink One for Dane, a giveback day in support of ALS. What started as a small fundraiser at a handful of Dutch Bros shops 17 years ago has evolved into MDA's biggest fundraiser for ALS, raising millions of dollars for ALS research and care.
Dane's legacy
"Dane lost his battle with ALS in 2009," Katie Hutchinson, Vice President of Philanthropy at Dutch Bros Coffee, shares. "When he was diagnosed it was pretty clear that people wanted to rally together for support, and not only for fundraising, but also to raise awareness."
In addition to raising millions of dollars imperative to research progress, Drink One for Dane is an opportunity to shine a spotlight on the disease itself. The campaign raises awareness not only for Dutch Bros' employees and their large, loyal customer base, but for the broader community as well. As the giveback day has grown over the years, the enthusiasm and excitement to be part of something so meaningful has also grown.
"Over the years, it's grown to this big, big, big, big day," Katie elaborates. "Our crews take service to the next level. It's an opportunity to get our customers excited about the day. Some of the customers come through and they're like, 'Oh, I don't really drink coffee, but I want to be part of what you're doing. I want to support a cause that matters to you and be part of something too.' It's all love, it's relationship. We're doing something together as a group for a greater mission."
Love and relationships are huge aspects of Dane's legacy. Those who knew Dane, fondly refer to him as "the wiseman" for the many ways in which he lived his life and shared his mission through love and community. Today, his legacy and mission live on at Dutch Bros, even for those who did not have the privilege of knowing Dane personally. "There is this huge element of our culture and who we are as a company that still lives on and carries his legacy forward," Katie continues. "And I think part of that is loving another person. Dane used to say, love abounds."
Drink One for Dane
Dutch Bros considers their ever-growing company to be one big family, a family filled with love and meaning. That love for others and community is shown through the kindness offered daily to their many customers, but it extends beyond just a cup of coffee. Through Drink One for Dane, they have created an opportunity for their customers, neighbors, and crew of dedicated workers to make a massive impact in the lives of those with ALS. The opportunity and motivation to be part of something so much bigger than oneself is something that makes the day truly remarkable for every member of the Dutch Bros staff.
Kinsey Fischer, Project Administrator at Dutch Bros Coffee, shares that she was lucky to experience the love and magic of working in one of the Dutch Bros shops on Drink One for Dane day. "The energy is electric," she says. "You feel it. It is contagious. I was honored to work that day. Dane's legacy truly carries on and you feel it in every portion of the day."
The unity and commitment to a cause within such a large and widespread company is awe inspiring. Kinsey and Katie offered two key pieces of advice to other companies who might want to develop their own program and rally their employees around a common mission in such an impactful way. First and foremost, having a strong sense of your mission as a company is paramount to being able to inspire others to take on that mission as their own. Dane used to say, "We sell coffee, but we're in the relationship business." That authentic focus on serving people and prioritizing relationships is essential to the overwhelming unity of mission that surrounds Drink One for Dane. Second is choosing a cause that matters to your employees and developing an excellent partnership with a nonprofit that truly supports that cause.
Who are you drinking one for?
Drink One for Dane's 17th annual give back day is being held on Friday, May 19. Those who live near a local Dutch Bros shop can participate by visiting, buying a drink, sharing the sense of community and love, and thanking the crews working hard to support the cause. For those who do not live in close vicinity to shops, there are options to donate online to support the cause financially, and there is an exciting opportunity to participate and experience the sense of community through this year's social media campaign.
After noticing the growing social media presence that Drink One for Dane has garnished, Dutch Bros recognized the possibility of connecting with an even broader community through social media. "We said, we're drinking one for Dane, but who are you drinking one for?" Katie shares. "And it created a momentum where others were able to say, my aunt had ALS or my neighbor. Or I don't really know anybody with ALS but now that you mentioned it, I want to drink one for anybody that's experienced this terrible disease as well."
"It's created a different type of action and awareness, to just pause and think about those in your lives that may have experienced this disease or any other neuromuscular disease. And this year, people can participate in the social media campaign and be part of what we're doing by sharing who they are drinking one for," Katie continues. "It's about awareness and uplifting those that are experiencing this disease and their caregivers and their community as well. It's about creating hope with these families."
As we drink one for Dane and all of those impacted by ALS, we spread Dane's legacy of love and community while supporting the groundbreaking research that is truly bringing hope to our community.
---
Next Steps and Useful Resources
Disclaimer: No content on this site should ever be used as a substitute for direct medical advice from your doctor or other qualified clinician.