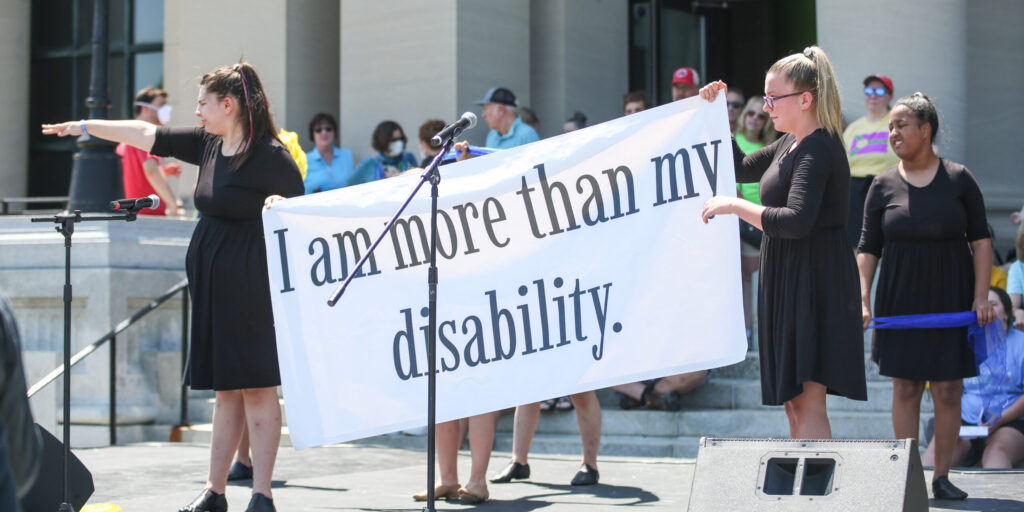 FestAbility Celebrates Disability Pride and Community
By Rebecca Hume | Monday, October 2, 2023
As the 2023 FestAbility event approaches, Sarah Schwegel is excited to once again gather, connect, and celebrate with members of the disability community. Sarah, who lives with spinal muscular atrophy Type II (SMA), is one of the founders of this one-of-a-kind, unifying, disability event held each year in St. Louis.
Festability is the nation's largest disability pride celebration, boasting more than 2000 attendees and dozens of vendors. The all-day event, held this year on October 7 at the Missouri History Museum and Dwight Davis Tennis Center in Forest Park, is an inclusive and accessible festival filled with interactive activities, music, food, fun, and – most importantly – a sense of community and belonging.
Creating a space to celebrate
In 2018, Sarah and a group of disability service providers in the St. Louis area met to brainstorm an ADA celebration. The team sought to create an event that would provide an opportunity for camaraderie and empowerment while celebrating the multitude of ways in which people living with disabilities add value to society. Structuring their event similar to Pride events for the LGBTQIA+ community, they planned and executed the first of what would become an annual disability pride festival. The team chose to host the event in October each year instead of during National Disability Pride Month because they July heat in St. Louis is not accessible for many people with disabilities.
The planning team navigated the difficult process of setting up a 501c3 to obtain nonprofit status and then raised funds necessary to execute the festival. In order to offer fair wages to the numerous performers and event planners, the team raises between $50,000 and $75,000 each year. "There is a loophole in the Fair Labor Standards Act that allows disabled people to be paid subminimum wage. We aim to fight the stigma that the loophole perpetuates, a stigma that says disabled people don't add value to society," Sarah says. "By paying everyone a fair wage, we can help disabled people fully participate in all aspects of society."
FestAbility, which is planned by and for members of the disability community, is now an annual event that provides an accessible space for people with disabilities to have fun while gaining a stronger sense of community and connection. "It is empowering to see so many people with varying levels of ability come together to celebrate their disabilities and all that makes them unique," Sarah says. "So often people with disabilities feel like they don't belong in community spaces. We make sure everyone feels welcome and has access to activities and entertainment."
This year's event will be the largest festival yet as FestAbility continues to grow in size, attendance, and support. Activities this year include a bubble bus, accessible dance party, adaptive rock climbing, adaptive baseball, tennis, and soccer, arts and crafts, a drum circle, children's story time with authors who are part of the disability community, the sale of fine art by artists living with disabilities, and much more. With a focus on show-casing the talents and abilities of individuals living with disabilities, the FestAbility planning team procures vendors and musicians who are members of the disability community. Local DJ, Rush, who lives with a spinal cord injury, will be MCing the event and performances on the Main Stage, which include Without Limits Dance Co, DSA Rocks, an open mic opportunity for anyone with a disability to perform, and this year's headliner, Ali Stroker. Ali Stroker is a Tony Award Winning Broadway actress, singer, author, and new mother, who also lives with a disability.
"I am excited to have her share her experiences and empower other people with disabilities to pursue their dreams," Sarah says.
Empowering others through community
Sarah, who is currently pursuing her graduate degree in Occupational Therapy at the Washington University School of Medicine, knows firsthand the importance of recognizing your worth and abilities, and the power of building and embracing community. One of Sarah's motivating factors in planning and executing FestAbility each year is her desire to create a space where adults in the disability community can make meaningful connections and support each other. "Having a network of support is crucial to success for people with or without disabilities. But disabled adults are often isolated due to stigma and environmental barriers," Sarah says. "Having friends and people who can relate to your experience is incredibly helpful when navigating the complexity of life with a disability."
Born and raised in St. Louis and active in the MDA community since a young age, Sarah has always found a sense of belonging and community that she hopes FestAbility can provide across the disabled community. St. Louis has a long history of being at the forefront of the Disability Rights Movement and is also home to an annual MDA Telethon hosted by award-winning, news anchor Mike Bush; this year's event was held on August 27. "Mike Bush has been a strong advocate for people with disabilities," Sarah says. "He has inspired me to help bring a similar sense of connection to the larger disability community."
She hopes that FestAbility can inspire others to feel seen, included, valued, and empowered. "I want everyone to have a sense of belonging," Sarah says. "I hope folks leave the event or exit the livestream feeling empowered to live the life that they want and not to let their disability limit them. I want people to know that disability is a natural part of human existence, and it is not a bad thing. And that they don't need to wait for a non-disabled person to tell them that it is okay to do something."
As Sarah continues to pursue her dreams of bringing her community together with a sense of pride and belonging, her advice to others is to be bold in their own goals and dreams. She urges others to find support within the community, connections that can guide and empower individuals on their own journeys – and FestAbility is the perfect place to create and celebrate those connections.
Join the celebration

Those who aren't local to the St. Louis community can still participate and connect at FestAbility through the festival's live stream. Follow @festabilitystl or visit Festability.org for more information on this year's festival and for the link to live stream on October 7, 2023, from 11 AM until 5 PM CST.
---
Next Steps and Useful Resources
Disclaimer: No content on this site should ever be used as a substitute for direct medical advice from your doctor or other qualified clinician.