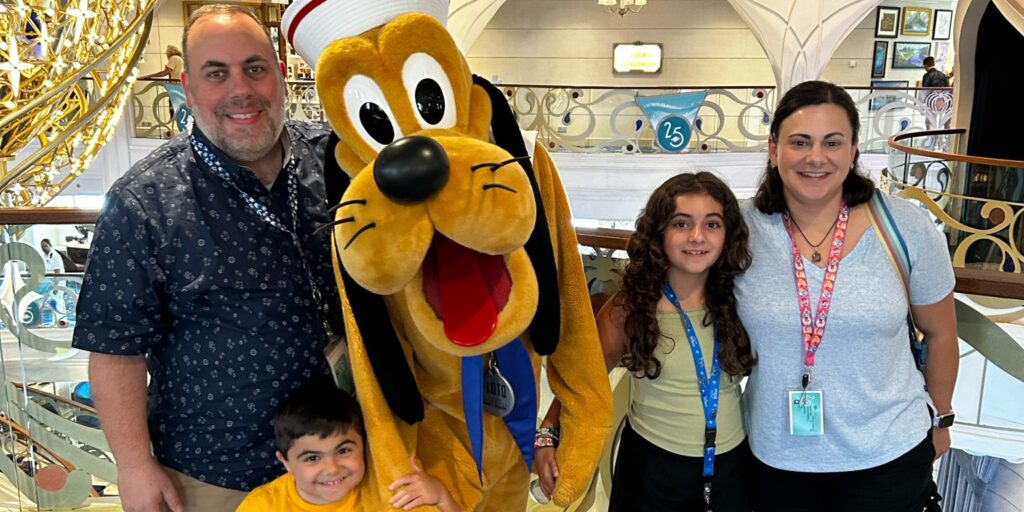 Insurance Denials for Gene Therapy Treatment Delay Access to Care
By Rebecca Hume | Friday, September 29, 2023
The FDA approval of ELEVIDYS (delandistrogene moxeparvovec-rokl), the first-ever, gene therapy treatment for young boys living with Duchenne muscular dystrophy (DMD), brought unprecedented hope to families living with DMD. Designed to target the underlying cause of the disease and significantly limit symptoms and progression, access to the gene therapy treatment has the potential to truly change – and save – lives. But for some families, that hope is being overshadowed by frustration and unexpected barriers to care as insurance companies deny coverage.
When Bill and Teresa Pompilii first learned that their son, Will, was eligible for the new gene therapy treatment, they were excited and hopeful. "Dr. Brandsema, the MDA Care Center Director at Children's Hospital of Philadelphia (CHOP) laid everything out and there was really no question that we wanted this treatment for Will," Teresa says. While they were aware that there would be several hurdles to overcome, including antibodies, timing, and paperwork for insurance, they did not anticipate that gaining insurance approval would prove to be such an arduous challenge.
The fight for approval and access to treatment
The Pompilii family's hope and excitement were quickly replaced with surprise, anger, and frustration when their insurance provider, Highmark, denied approval for Elevydis on the basis that treatment did not qualify as a medical necessity. "It was very stressful and overwhelming for all of us," Teresa says. "We just couldn't understand how Highmark could deem this treatment medically unnecessary."
Unwilling to accept the decision and allow their child to be denied life-saving treatment, Teresa and Bill channeled their frustration into action and advocacy. "Teresa really led the charge," Bill says. "She contacted several different outlets for help. She contacted the Muscular Dystrophy Association's (MDA) Gene Therapy Support Network, asking them to be advocates for our family. She went to our State Representative's office and filed a complaint with the Pennsylvania Department of Insurance." As Teresa gathered reinforcements, Bill was in daily communication with his HR representative and their insurance representative. MDA's Gene Therapy Support Network immediately responded with the full support of the organization.
In addition to contacting outside agencies for assistance and the exhausting daily back-and-forth with the insurance agency, the Pompilii's used social media to raise awareness, ask for help, and locate influential sources. Teresa created a Facebook post that was shared by family, friends, and even strangers. Her brother used his LinkedIn network to find avenues up the chain of hierarchy at Highmark to bring the issue to their attention and advocate for change.
"There was definitely a sense of urgency, which only added fuel to the fire to get Will approved for treatment as soon as possible," Teresa says. The gene therapy treatment is only available to four- and five-year-old boys and Will would be turning six soon. Once a child turns six, they are no longer eligible for treatment, but if a treatment is approved before or on the child's sixth birthday then they will still receive treatment even after they turn six.
After over a month spent fighting for Will's access to treatment, time in which he could have already been preparing to start receiving care, and with the help of an army of advocates, the Pompilli's won their battle. Highmark approved Will's treatment, finally acknowledging the medical necessity that should have been clearly understood with the original submission for approval.
Relieved to finally have access to the treatment that her child requires, Teresa hopes that insurance companies will do better for other families. "Our message to insurers would be for them to look at the whole picture and not just the numbers," she says. "Envision themselves in the situation of the family and patient. Listen to the doctors and families."
And her advice to other parents navigating the challenges of insurance approvals is to gather the support of their community and fight. "Fight for it. Get people behind you to fight on your behalf," she says. "Never back down."
The power in community
Unfortunately, the Pompilii's experience is not unique or rare in the treatment landscape for newly approved therapies and medications. Many families are faced with the challenges of appealing denials and tasked with proving medical necessity for treatments. As Teresa learned, seeking support, resources, and advocates to join the pursuit of access to care is monumental in obtaining a positive outcome.
Nora Capocci, MDA's VP of Healthcare Services, knows firsthand the importance and influence of community support. "There truly is strength in numbers – and the power in the neuromuscular community is a big force in instances when FDA approved drugs are challenged to be medically unnecessary by insurance providers," she says. "Anytime access to an FDA-approved treatment for the NMD community is threatened, MDA urges insurance provides to reconsider their approach."
MDA was one of the many agencies with whom the Pompilii's connected for resources, guidance, and support. The MDA Resource Center Specialists and MDA Care Center Network provided support and tools to navigate the appeals process. MDA's Gene Therapy Support Network also offers an outlet for increased support for families pursuing gene therapy. MDA Gene Therapy Support specialists provide expertise to both clinicians and families and guidance to access care.
"We can assist with things like figuring out the right questions to ask your care team, filing insurance appeals, helping to locate available assistance for travel or accommodations during monitoring, and connecting you with other families who are also eligible for gene therapy," Stephanie Erbacher, an MDA Gene Therapy Support Specialist, says. "We can help families with filing appeals in situations where insurance is denying gene therapy treatment for patients. We also have a media toolkit available to help families where public appeals may be necessary."
Understanding barriers and advocating for change
Paul Melmeyer, the VP of Public Policy and Advocacy at MDA, and Joel Cartner, the Director of Access Policy at MDA, shed light on the significant challenges to gaining insurance approval for new treatments.
"These therapies are expensive, so insurers are eager to find any reason not to pay for them," they say. "The recent trend in denials has also affected treatments that are approved by the FDA via the accelerated approval pathway, and insurers seem to be using this as justification for denying care."
As the Pompilii family's experience demonstrates, public and consistent pressure on insurance company's regarding their coverage decisions can be very effective. It is also key to work closely with healthcare providers to ensure that appeals of denial are as detailed and effective as possible. In order to support families as they champion against insurance denials to critical care, MDA is currently developing a resource guide on how members of the community can advocate for themselves in an effort to reverse denial decisions.
On a larger scale, the advocacy team is working on a number of fronts to improve access to FDA-approved therapies. "From a regulatory perspective, we're working to make sure barriers to access, such as prior authorization, are limited," Paul and Joel say. "Legislatively, we're supporting legislation that would limit discriminatory practices denying healthcare because of a disability and working to improve the transparency of Pharmacy Benefit Managers, and much more."
While navigating insurance denial to critical treatment is a frustrating and challenging experience, every patient has the right to appeal an insurance decision and advocate for approval. Advocacy efforts that are supported and bolstered by resources and community in order to gain access to care and, ultimately, aim to eliminate these unnecessary barriers to necessary treatments.
---
Next Steps and Useful Resources
Many institutions across MDA's Care Center Network are providing access to Elevydis, a novel FDA-approved treatment for Duchenne muscular dystrophy (DMD), along with other gene therapies, clinical trials, and treatments. To learn more about MDA's recently launched Gene Therapy Support network, check out org/genetherapysupport or contact the MDA Resource Center and one of our dedicated MDA Specialists can support you at ResourceCenter@mdausa.org.
Learn more about insurance coverage and access to care with MDA's Access to Insurance Workshop
Follow MDA on social media: @MDA.org
Join our advocacy network to learn even more about how you can advocate on these and many other issues as well! Visit mda.org/advocacy today!
Stay up-to-date on Quest content! Subscribe to Quest Magazine and Newsletter
Disclaimer: No content on this site should ever be used as a substitute for direct medical advice from your doctor or other qualified clinician.