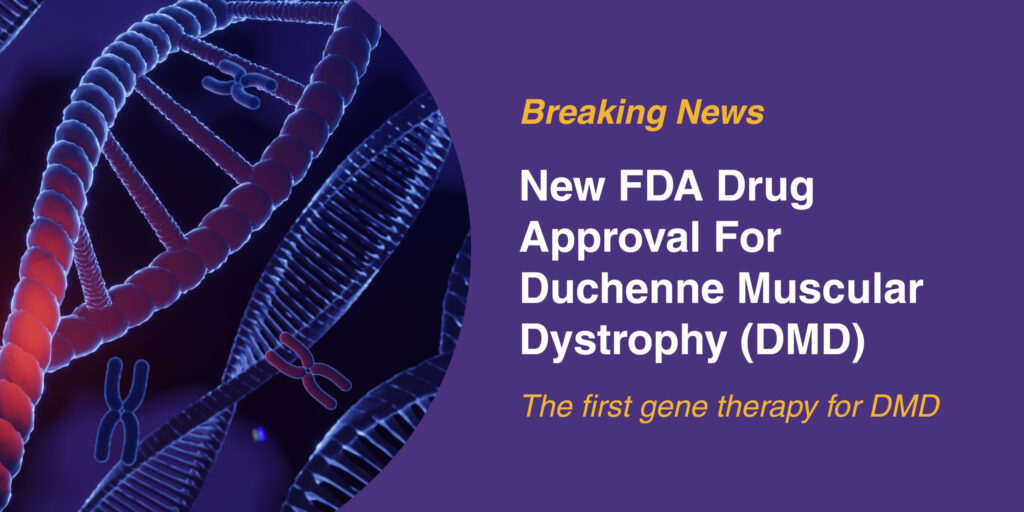 FDA Approves Sarepta's ELEVIDYS for Treatment of DMD
By Sujatha Gurunathan | Thursday, June 22, 2023
On June 22, the US Food and Drug Administration (FDA) granted accelerated approval of ELEVIDYS (delandistrogene moxeparvovec-rokl) for the treatment of ambulatory pediatric patients aged 4 through 5 years with Duchenne muscular dystrophy (DMD) with a confirmed mutation in the DMD gene. ELEVIDYS is the first gene therapy for DMD, and is designed to target the underlying cause of the disease. ELEVIDYS will be made available and marketed in the United States by Sarepta Therapeutics.
DMD is caused by mutations in the dystrophin gene (DMD) on the X chromosome that result in little or no production of dystrophin, a protein essential to keeping muscle cells intact. People with DMD experience progressive muscle degeneration and weakness. Over time, DMD becomes fatal as muscle degeneration disrupts lung and heart function.
In the last six years, four targeted drugs have been approved by the FDA to treat DMD: Exondys 51, Vyondys 53, and Amondys 45 from Sarepta Therapeutics, and Viltepso from NS Pharma. These drugs use a technology called "exon-skipping" that allows the body to produce more of the dystrophin protein. Exon-skipping therapies require regular intravenous infusions. ELEVIDYS is a different type of technology known as gene replacement therapy that requires one-time administration to be effective. ELEVIDYS uses an adeno-associated virus (AAVrh74) to introduce a shortened version of the dystrophin gene (mini-dystrophin) into muscle tissue of boys with DMD, partially compensating for their lack of a functional dystrophin gene and addressing the underlying genetic defect that causes DMD.
"This is really happening. We went from hope to actually seeing an amazing gene therapy. Being able to buy 5 to 10 years for Conner is, especially for Duchenne, a miracle," said Christopher Curran, whose 12 year old son, Conner, was diagnosed with DMD at age 4.
"This is an exciting time as more gene therapies for neuromuscular diseases enter clinical translation. The approval of ELEVIDYS is ground-breaking as it represents the first gene therapy for DMD, and is designed to target the underlying cause of the disease," said Sharon Hesterlee, Ph.D., Chief Research Officer, MDA." MDA has been there from the very beginning of gene therapy and we have recently created a Gene Therapy Support Network to provide resources and guidance for clinicians and families as more gene therapies enter the market."
MDA recently announced expanded support for all families the organization serves through the newly created MDA Gene Therapy Support Network (GTx) which offers support and guidance on newly approved gene therapies like ELEVIDYS.
About Duchenne muscular dystrophy 
Duchenne muscular dystrophy (DMD) is a rare and progressive genetic muscle disease caused by the lack of a critical membrane-stabilizing protein called dystrophin, which results in muscle degeneration and weakness. DMD symptom onset is in early childhood, usually between ages 2 and 3. The disease primarily affects boys, but in rare cases it can affect girls. In Europe and North America, the prevalence of DMD is approximately 6 per 100,000 individuals. Doctors often diagnose the disease between ages 3 and 6 when children show early signs of significant muscle weakness, such as delayed ability to sit, stand, or walk and difficulties learning to speak. Over time, DMD becomes fatal as muscle degeneration disrupts lung and heart function.
There is no cure for DMD, however, lifespans have been extended and quality of life has been improved for many through physical therapy and medications to address certain symptoms.   With the latest approval, ELEVIDYS becomes a new therapeutic option for people living with this rare form of muscular dystrophy.
Clinical trials support approval of ELEVIDYS 
ELEVIDYS was evaluated in three on-going clinical studies: SRP-9001-101, SRP-9001-102 and SRP-9001-103. The FDA granted accelerated approval primarily based on data from SRP-9001-102 and SRP-9001-103, which demonstrated expression of ELEVIDYS micro-dystrophin in patients treated with ELEVIDYS. More than 80 treated patients across the three studies contributed to the safety profile of ELEVIDYS. The most common adverse reactions in clinical studies were vomiting, nausea, liver function test increased, pyrexia (fever) and thrombocytopenia (low platelet count).
ELEVIDYS is also being studied in Study SRP-9001-301 (also known as EMBARK), a global, randomized, double-blind, placebo-controlled phase 3 clinical trial in 126 participants with DMD between the ages of 4 to 7 years. Consistent with the accelerated approval pathway, Sarepta has committed to the completion of a confirmatory trial. EMBARK will serve as the post-marketing confirmatory trial and is fully enrolled with top-line results expected in late 2023.
Muscular Dystrophy Association's investment in DMD research and gene therapy development
Watch MDA's Gene Therapy Story – Duchenne Muscular Dystrophy – here.
MDA has been at the forefront of advancements in DMD for over 7 decades. Since its inception, MDA has invested almost $227 million in research for DMD and Becker muscular dystrophy (BMD), including over $10 million in DMD grants in the last five years, and almost $2 million in DMD grants in 2022 alone. MDA recently partnered with CureDuchenne and Parent Project Muscular Dystrophy to collaborate on a research grant to focus on re-dosing gene therapy in DMD. Read about the grant here. In the 1980s, MDA's Genetic Task Force led the way to the discovery of the gene that causes DMD, laying the foundation for breakthroughs in genetic medicine.
"In the early years few people believed that gene therapy would ever work. However, the MDA believed in my ideas, and without their support, the (micro-dystrophin genes) that are currently being tested in clinical trials for Duchenne muscular dystrophy would have never been developed," said Jeff Chamberlin, MD, University of Washington.
MDA has invested over $125M in the development of gene therapy for neuromuscular diseases, and was recognized by The American Society for Gene and Cell Therapy (ASGCT) for its significant contributions to the field of genetic medicine. In 2019, MDA was the recipient of the ASGCT's Sonia Skarlatos Public Service Award, which recognizes a person or group that has consistently fostered and enhanced the field of gene and cell therapy through governmental agencies, public policy groups, public education, or non-governmental charitable organizations.
---
Next Steps and Useful Resources
Disclaimer: No content on this site should ever be used as a substitute for direct medical advice from your doctor or other qualified clinician.