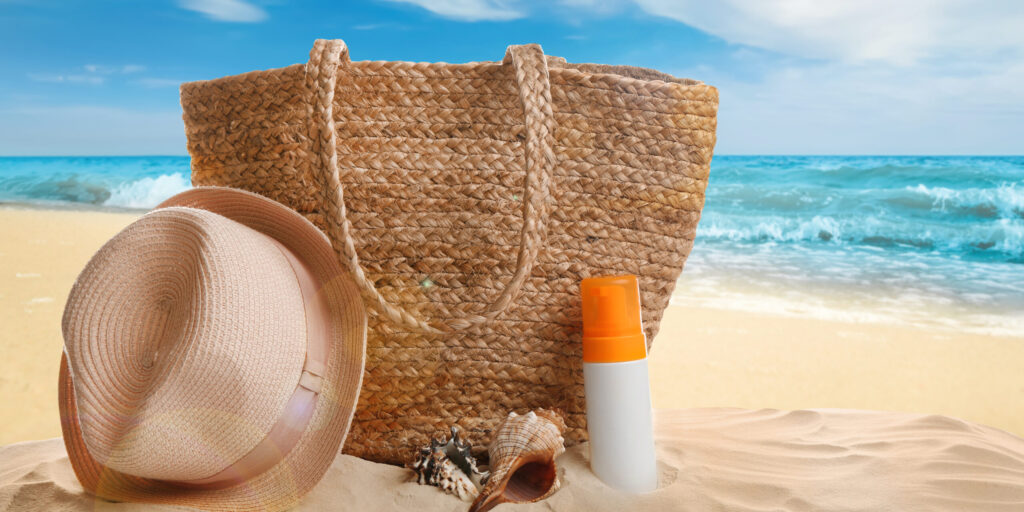 Summertime Travel Go-Anywhere Products and Tips
By Rebecca Hume | Wednesday, June 21, 2023
Packing for vacation when you live with a disability requires a little extra planning and preparation. Travel often demands additional considerations to provide easy access to essentials and ensure that health and safety needs are met. For those living with neuromuscular disease, it is also important to be prepared to stay cool in the summer heat.
These go-anywhere travel products and tips can help you pack smarter and stay comfortable, whether you are on the go exploring a new town while on vacation or spending the day on the beach.
Packing smart
Packing cubes make it easier to stay organized and fit more into your luggage. With a wide variety of brands, sizes, and price points, travel organizer bags allow travelers to compress and compartmentalize their belongings.
Wheelchair bags and backpacks, like Handy Bag, are designed to attach to the front, back, side, or underneath section of a wheelchair. While not large enough to serve as a suitcase, their design is perfect for an accessible carrying bag for day trips while on vacation and for day-to-day needs.
Wheelchair attachable luggage bags, like the Phoenix Instinct travel bag system, attach to the back of a traveler's wheelchair using a wheelchair compatible trolly fitted with multi-directional wheels. The bags are designed so that the trolly bears the weight of the luggage instead of the wheelchair. The system can even accommodate more than one piece of luggage!
Bonus tip: Save space by packing clothing that can be easily mixed-and-matched to create a variety of different outfits with layering options. While traveling, fold dirty laundry to allow for efficient re-packing when traveling home.
On the go
Around the neck passport bags store IDs, cash, credit cards, passports, cell phones, and more in a safe place that is within easy reach. Even when traveling domestically and a passport is not required, these bags are fantastic for day-to-day easy access and safekeeping of personal items.
Wheelchair lap tray and storage bags, like the Trabasack Curve, are ergonomically designed to offer a comfortable and sturdy tray space for eating, working, playing, etc., provide additional space for storage, and can easily be transformed from a tray to a carrying bag.
Soft pouch water bottle holders, like the Think King Soft Buggy Cup, can be attached to wheelchairs, walkers, rollators, and more with easy-to-use Velcro straps. The unique mesh design can be used as a drink holder (holding up to a 32-ounce bottle or a large fountain drink) or as an "everything bag" with a drawstring tie to keep essential items close by.
LED lights for wheelchair are a huge safety perk when exploring new towns, parks, and areas in the evening and nighttime hours – especially traffic areas that might not be well lit. There are a variety of LED light kits made specifically for wheelchairs and/or that can easily be adapted to add to a wheelchair.
Carabiners are a versatile and low-cost multifunctional travel tool. When attached to a wheelchair, they can be used as hands-free carrying clips for shopping bags, light luggage bags, purses, umbrellas, and more.
Portable chargers are a traveling must for anyone with or without a disability. Portable chargers are available in multiple styles, sizes, and price points. A fully charged portable charger can carry enough energy to recharge multiple devices while out and about.
Bonus tip: Wear light layers while on the go so that an all-day outfit can be easily adjusted as temperatures change throughout the day.
Staying cool and comfortable
Rechargeable mini fans that easily attach to a wheelchair (like the Amacool portable fan and others marketed as stroller fans on Amazon) or that can be worn around the neck (like the Flymuda portable neck fan) are an easy way to stay cool in the summer heat.
Adjustable umbrellas with universal clamps are incredibly lightweight and versatile. Umbrellas like the Sport-Brella Versa-Brella have a universal base clamp that easily attaches to chairs. The angle of the shade canopy can be repositioned from multiple hinges along the umbrella shaft, providing protection from the sun all day. Most adjustable umbrellas on the market provide UPF 50+ UV protection.
Travel medicine cooler bags can prevent daily medications from heat damage. These insulated bags are sold from a wide variety of vendors and come in many different sizes and styles.
Wearable microfiber towels usually have adjustable closures or Velcro, making it easier to wrap around and stay in place. Microfiber also dries quickly, repels sand, and is much lighter and less bulky to pack than typical terry cloth towels.
Lotion applicators have a long handle with a foam head at the end that allows for easier lotion application in hard-to-reach-places. For those with limited reach, this is a fantastic tool when independently applying sunscreen.
Bonus tip: Prior to packing a cooler for a day in the sun, freeze a number of full, plastic water bottles. Once frozen, the bottles can initially be used to keep the cooler and its contents cold. As the day progresses and the ice melts, the bottles can be used for drinking water. Also place a couple wet washcloths or small hand towels in the cooler. These will stay cold and can be used as cooling devices.
---
Next Steps and Useful Resources
Disclaimer: No content on this site should ever be used as a substitute for direct medical advice from your doctor or other qualified clinician.