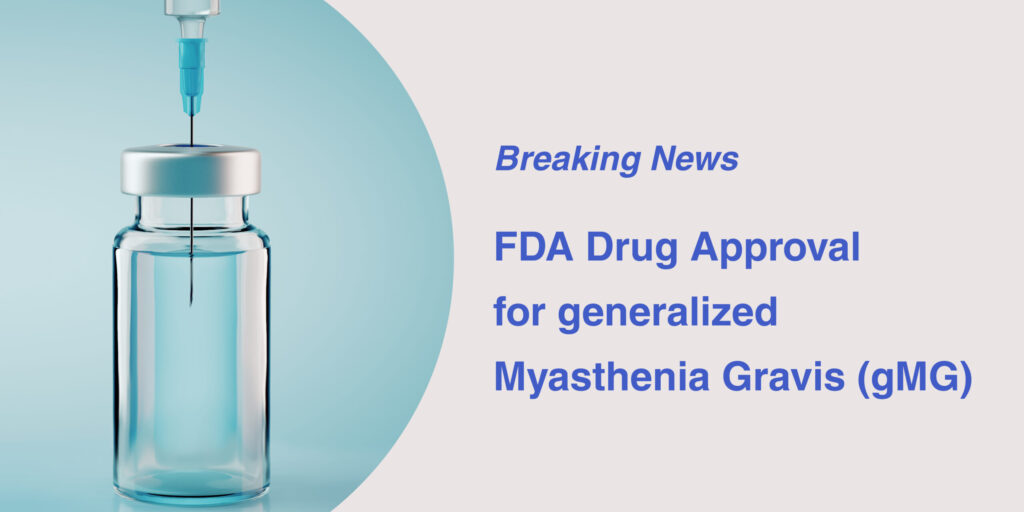 FDA Approves argenx's Vyvgart Hytrulo for Treatment of gMG
By Sujatha Gurunathan | Tuesday, June 20, 2023
On June 20, the US Food and Drug Administration (FDA) granted marketing approval of subcutaneous (SC) Vyvgart Hytrulo (efgartigimod alfa and hyaluronidase-qvfc) for the treatment of generalized myasthenia gravis (gMG) in adult patients who are anti-acetylcholine receptor (AChR) antibody positive (ab+). Vyvgart Hytrulo is the first FDA-approved SC injectable for gMG and will be made available and marketed in the United States by argenx.
Vyvgart was initially approved for use in the US and Europe in 2021 as an intravenous (IV) infusion administered once weekly over a period of four weeks by a healthcare professional in an infusion center. The new SC formulation can now be administered as a single injection (1,008 mg fixed dose) at home or in a physician's office.
MG is a rare and chronic autoimmune disease where immunoglobulin G (IgG) autoantibodies disrupt communication between nerves and muscles, causing debilitating and potentially life-threatening muscle weakness. Approximately 85% of people with MG progress to gMG within 24 months, where muscles throughout the body may be affected. Recommended treatments for gMG include drugs that may alleviate symptoms, such as cholinesterase inhibitors, or treatments that may alter the disease course, such as immunosuppressive drugs or surgery (thymectomy). Over the past six years, three therapies have been approved by the FDA to treat adults living with AChR ab+ gMG. These include eculizumab (Soliris), efgartigimod (Vyvgart), and ravulizumab (Ultromiris), all of which are administered by IV infusion.
Vyvgart is a human antibody fragment that binds to the neonatal Fc receptor (FcRn), resulting in the reduction of circulating IgG antibodies and is currently the first-and-only FDA-approved neonatal Fc receptor blocker and the first approved therapy designed to reduce IgG antibodies, an underlying driver of gMG. Although treatment with Vyvgart will not cure gMG, it could lead to functional improvements that improve the daily life of individuals with gMG.
"This is a significant and timely approval as June is Myasthenia Gravis Awareness Month," said Sharon Hesterlee, Ph.D., Chief Research Officer, MDA. "The approval of an additional formulation of Vyvgart is another important step toward treating gMG, a disease that, up until a few years ago, had no approved therapies. Now those living with gMG will have the choice to receive a subcutaneous injection of an effective disease modifying therapeutic."
Clinical trials support approval of SC Vyvgart  
The FDA based its decision to grant approval to Vyvgart Hytrulo on the positive results of the ADAPT-SC phase 3 trial, which evaluated the relative safety, efficacy, and dynamics in the body of Vyvgart Hytrulo compared to IV-infused Vyvgart in 110 participants with gMG. In the ADAPT-SC study, the primary endpoint of noninferiority to IV Vyvgart was met and Vyvgart Hytrulo demonstrated reduction in anti-AChR antibody levels at day 29 after treatment comparable to the effects of IV Vyvgart in adult gMG patients. Additional key secondary endpoints were also met, demonstrating comparable efficacy to IV Vyvgart.
Vygart Hytrulo was generally well-tolerated in trial participants, with the most common adverse events being injection site reactions (ISRs).
Muscular Dystrophy Association's investment in gMG research 
MDA's commitment to research on myasthenia gravis (MG) began many years ago when little was known about the cause of MG and its mortality rate was high. In the early 1970s, MDA-funded researchers helped establish the autoimmune nature of MG, demonstrating that people with the disease have a reduced number of acetylcholine (ACh) receptors and that antibodies to the receptors can induce MG in preclinical studies. These discoveries led swiftly to the lifesaving use of immunosuppressant drugs to treat the disease.
MDA-supported scientists in countries around the world are working to reveal numerous facets of MG, from identifying possible causes and triggers to understanding the disease's molecular underpinnings to developing specific treatment strategies. For more, see Research.
---
Next Steps and Useful Resources
Learn more information about generalized Myasthenia Gravis can be found here.
MDA's Resource Center provides support, guidance, and resources for patients and families, including information about gMG, open clinical trials, and other services. Contact the MDA Resource Center at 1-833-ASK-MDA1 or ResourceCenter@mdausa.org
Stay up-to-date on Quest content! Subscribe to Quest Magazine and Newsletter.
Disclaimer: No content on this site should ever be used as a substitute for direct medical advice from your doctor or other qualified clinician.