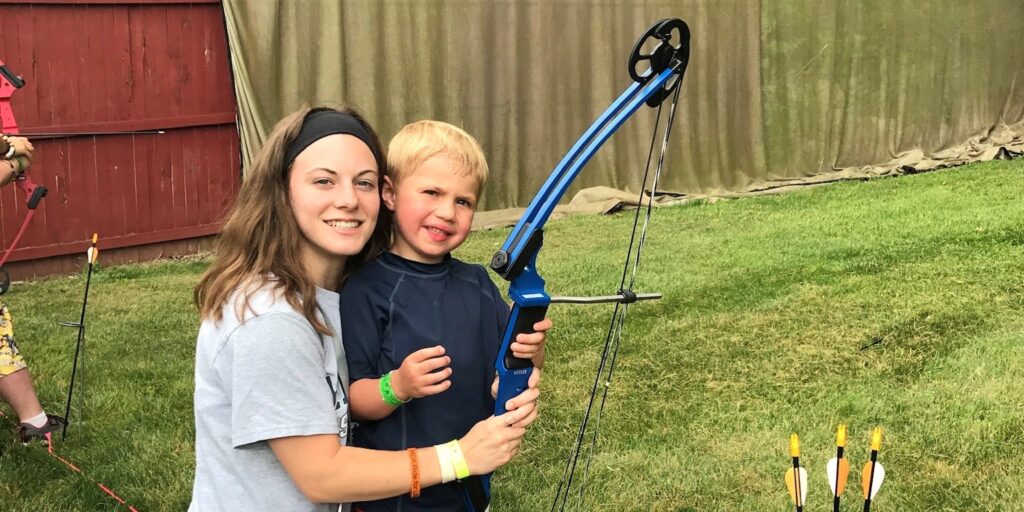 How MDA Prepares and Supports Summer Camp Volunteers
By Rebecca Hume | Wednesday, February 22, 2023
MDA Summer Camp is a magical place where truly anything is possible. Every summer, youth living with neuromuscular diseases have the opportunity to attend week-long sessions of overnight camp filled with accessible adventures – from swimming, fishing, zip-lining, and horseback riding to dancing under a disco ball, singing around a campfire, and gaining valuable life skills and lifelong friendships.
Many campers readily describe summer camp as their favorite week of the year; a week that would not be possible without the dedication of volunteer camp counselors. Volunteers serve as counselors at camps across the country to help create a safe, fun, and memorable experience for campers. They provide support with personal needs, mealtime, and during adaptive camp experiences and activities. It is an amazing experience to serve as a mentor, friend, and confidence-builder to young campers, but it is also an incredible responsibility to take on the role of a one-on-one caregiver for a child living with a neuromuscular disease.
Based on the level of responsibility required by this role, it is of no surprise that someone might feel hesitant when considering becoming a summer camp volunteer for the first time. In fact, many veteran volunteers share their own personal hesitations before their first week of camp.
Walid El Akkari, a 23-year-old hospital Patient Care Technician who volunteered as a camp counselor in 2019, recalls his initial feelings of trepidation when accepting the role. "I was definitely hesitant at first, given the role of camp volunteer and the responsibility that would come with that role, since this was the first time in my life that I would have someone else dependent on me, and I was nervous about the care that I would have to provide," Walid says. "I definitely did not want any campers to get hurt or injured under my care, which was something that concerned me at first. But the training, protocols, support, and extensive safety measures set by the camp made me feel more comfortable in fulfilling my role to the best of my ability."
The MDA Summer Camp team works year-round to ensure that volunteers are trained, prepared, and supported during every aspect of summer camp.
Orientation and preparation
"MDA recognizes the immense responsibility and commitment it is to be a camp counselor, so we provide a lot of support!" says Alicia Dobosz, the Vice President of Community Engagement at MDA. "Before volunteers even arrive at camp, they complete an interview with an MDA staff member who provides information about the counselor role, a typical day at camp, and types of care they may need to provide. We also provide an in-person orientation at camp the day before campers arrive. This training provides information about neuromuscular disease, considerations for working with youth, hands on experience to practice lifts and transfers, and much more."
The full day of training and education before campers arrive at camp allows volunteers to acclimate with the intricacies of their role and become familiar with the camp facilities. Volunteers receive detailed training on the different types of neuromuscular disease, mobility equipment, shower aides, and much more. On-site medical staff provides a detailed overview of general first aid, various medical concerns, and how to identify signs of an issue. Orientation is also an opportunity for volunteers to meet Camp Directors, fellow counselors, and medical staff, learn about the needs of the campers that will be in their cabin, get to know the other volunteers and their Cabin Leader, ask questions – and enjoy some social activity with the other counselors before starting the busy week.
"I was nervous about being someone's around the clock care because that is something I never experienced before. That concern faded as soon as I met the other counselors in my cabin and realized we would all be working together to give the campers in our cabin the best week!" Hannah Tapia says of her first year volunteering at MDA Summer Camp. "The training the day before campers arrived was so beneficial, especially my first year. Prior to training, I had no idea how to operate the electric wheelchairs, hoyer lifts, or chest machines, but I felt prepared before my camper arrived. I also think having a cabin leader was so helpful, because they were always there to provide assistance immediately when I was unsure of what to do."
Hannah, a 25-year-old professional tutor, volunteered at camp for three summers, eventually becoming a Cabin Leader herself.
Camp Directors, Medical Staff, and Cabin Leaders
While orientation is an invaluable day of preparation, the real-time support consistently and readily available to volunteers every day throughout the camp week plays an even bigger role in ensuring the health, safety, and happiness of both campers and counselors.
MDA Camp Directors are employed by MDA and help manage every aspect of the camp program. Directors oversee training, cabin assignments, daily schedules and activities, and are always available and accessible to offer guidance and support as well as address emergencies, medical issues, and any potential conflicts. Each camp session also has on-site medical staff, volunteer nurses and doctors who oversee medication management, provide medical care in case of injury or illness, offer advice, and are always available in case of emergency.
And each cabin is assigned a Cabin Leader, typically a counselor with past experience who can provide advice, support, guidance, and periods of respite to the other counselors in their cabin. Cabin Leaders have an immediate line of communication to both the Camp Directors and the medical staff, so counselors can always reach out regarding issues or questions at any time and receive support.
Cabin Leaders and the Camp Directors gather for team meetings at the end of each camp day to discuss any issues, concerns, or questions – and also to celebrate successes and special moments. (Because remember, camp is fun!) Directors review the schedule of activities for the following day so that Cabin Leaders can share up-to-date plans with the campers and other volunteers in their cabin.
Additionally, the carefully selected facilities that MDA partners with have amazing staff and programming teams that help troubleshoot anything that comes up during the week.
"There are a variety of people and supports in place to ensure all counselors feel supported and comfortable in their role as a counselor," says Alicia. "There is a team of people working together to make the camp week the best it can be for everyone involved!"
From role to relationship
Serving as a volunteer counselor is hard work, but it is also incredibly rewarding. Volunteers have the unique opportunity to be part of the incredible joy and growth of their campers as they share new experiences and create life-long relationships.
"My favorite part of volunteering was seeing the joy on the campers' faces every day," Hannah says. "They were constantly encouraging each other to participate and try new things and to work through fear. I was surprised by the courage of all the campers and their willingness to try new things. It was so amazing to see! It was inspiring to watch all the campers, from the oldest to youngest, become a family for the week where they felt accepted instead of feeling like they don't belong."
As many campers can attest, the relationships that they build with their counselors is often as strong as the relationships that they build with their peers. Many campers keep in touch with their counselors long after the last day of camp. Hannah served as a counselor to the same camper, Ryan, for three summers and they developed an extremely special bond. "My camper is being raised by his grandma and she does an amazing job, but it is challenging for her," Hannah shares. "We have truly become family with them and visit a few times a year. I was even able to help start fundraising efforts for her as she transforms their house to be accessible. I just had my first baby and Ryan and his grandma drove over two hours to come to my baby shower. I can't wait to go out and visit them so they can meet my daughter!"
Walid shared how much he valued the connections that he formed with the campers and with the other volunteers. "After spending an enormous amount of time together, you create a bond with each other and gain a sense of trust and friendship almost immediately. We learned how to all work together and how to make each other comfortable with each of the activities that were planned for us," he said. "My individual camper and I got to know each other rather quickly and actually shared a bunch of interests which we would talk about daily, strengthening the connection between us."
Advice for potential future volunteers
Walid and Hannah both offered valuable advice to anyone who is considering volunteering at MDA Summer Camp but might feel slightly intimidated by the commitment and responsibility that this role entails.
"My advice would be that even though the responsibility might seem intimidating at first, just know that you are never alone. You are surrounded by such a strong team composed of camp directors and staff, other camp counselors like yourself, and especially your cabin leader who has previous camp experience. Never be afraid to reach out for help because everyone is working towards the same goal of giving the campers the best weeks of their lives, so working together as a team truly makes the experience easier and more enjoyable for all of us," Walid says.
Hannah echoed the power of teamwork and the level of support and camaraderie that she experienced at summer camp. "I totally understand the fear, but my biggest advice is to just go for it! There is a ton of support from the MDA staff, camp directors, and medical staff," she says. "Beyond that, you will probably become very close with the other volunteers in your cabin. I was overwhelmed by the idea before I went to camp, but the various levels of support make it so comfortable once you are at camp. While you are generally assigned a camper, the responsibility is not just on you. Everyone works together to make sure all the campers have a great week and are taken care of."
MDA Summer Camp is such an impactful experience for youth living with neuromuscular disease, and for counselors it so much more than a simple volunteer opportunity. It is an opportunity to create memories and magic for people that will last a lifetime. As Hannah and Walid can both attest, there are few things that are more rewarding than helping a camper expand their boundaries and achieve things they never thought possible.
---
Next Steps and Useful Resources
If you're passionate about connecting with people, working hard, having fun, and joining a great team—we'd love to hear from you! Find out more at: https://www.mda.org/volunteer
Disclaimer: No content on this site should ever be used as a substitute for direct medical advice from your doctor or other qualified clinician.