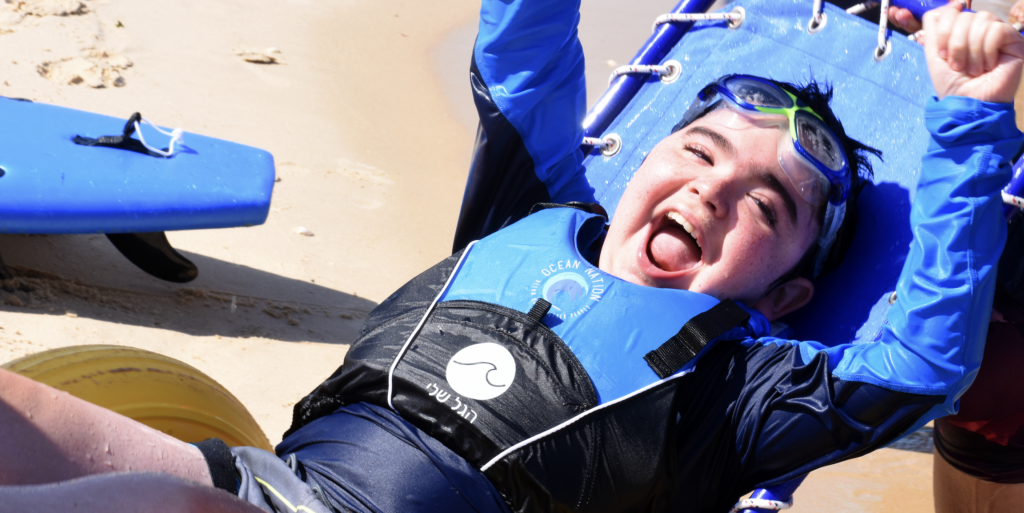 International Day of Persons with Disabilities: The State of Neuromuscular Disease Advocacy Around the World
By Larry Luxner | Thursday, December 1, 2022
Earlier this summer off the coast of Bat Yam, a suburb of Tel Aviv, a dozen Israeli boys in wetsuits gripped specially modified surfboards as they glided through the sparkling blue waters of the Mediterranean Sea.
The boys all have Duchenne muscular dystrophy (DMD) or Becker muscular dystrophy (BMD), and their frolicking is part of an innovative adaptive surfing program — offered for eight weeks in July and August every year — that gets the kids moving and teaches them balance and self-confidence.
"It's a very cool activity and they can do it while laying on their stomachs. It's hydrotherapy that we do as a community," says Tali Kaplan, executive director of Little Steps (Tza'adim K'tanim in Hebrew), a nonprofit group that represents 300 or so boys with DMD and BMD in Israel.
"We told all the patient associations in Europe about our surfing activity, and now a group in the Netherlands is interested," Tali says. "I'm happy that the project we established here in Israel may help other Duchenne and Becker kids in other countries."
On Dec. 3, the world will celebrate International Day of Persons with Disabilities. The theme for this year — which also marks the 30th anniversary of its observance by the United Nations (UN) — is "Transformative solutions for inclusive development: the role of innovation in fueling an accessible and equitable world."
Much as MDA serves the neuromuscular disease community in the United States, organizations in other parts of the world are also working to advocate and improve care for people living with neuromuscular diseases. Each is trying to do their part to fulfill the UN's vision of an accessible and equitable world.
Common goals
MDA is unique as an umbrella organization representing more than 40 neuromuscular disorders in a single country. Organizations representing neuromuscular diseases are active in Canada, China, India, and across the European Union, but elsewhere in the world, many such organizations focus on a small number of diseases — often the most common, DMD or spinal muscular atrophy (SMA) — or form coalitions of smaller organizations across different countries.
For example, Paris-based Eurordis, founded in 1997, represents more than 1,000 patient organizations in 74 countries, including many outside the European Union. These range from the Neurohereditary Diseases Charity Association of Armenia to Child & Youth Care of Zimbabwe.
The World Duchenne Organization, based in the Netherlands, brings together more than 60 patient advocacy groups from Argentina to Vietnam, all united toward a common goal, according to its website: "to find a cure and viable treatments for DMD, to promote good standards of care, and to inform parents and people living with the condition around the globe."
However, people living with neuromuscular diseases in countries that are poor or isolated may have no coalition or local organization to represent them.
That's the case for Daily Suarez Mestre, the mother of 7-year-old twins with DMD in the central Cuban town of Camagüey.
Her sons, Jean Carlos and Jeandy Daniel, were diagnosed in 2018 — but Cuba has been subjected to a US trade embargo for the last 60 years, and the island's tourism-dependent economy has been further devastated by the COVID pandemic, hurricanes, and mismanagement by Cuba's communist regime.
Daily, a dentist, says her boys are on corticosteroids, but supplies are running low. "This country is on the point of economic collapse," she wrote in an email in Spanish. "For the past four years, I've been in contact with so many people looking for help, and all I hear is 'no.' But I will not give up on them."
Making a difference
International neuromuscular disease organizations are having positive impacts in the countries in which they operate.
For example, SMA Europe, established in 2006, has affiliated organizations in 23 countries and focuses on key issues, such as access to drugs like Spinraza, Zolgensma, and Evrysdi; aiding the SMA community in Ukraine; and convincing countries to include SMA in their national newborn screening programs.
"We face a lot of issues, the biggest of them inequalities with regard to access to therapy and care across Europe," says Kacper Ruciński, who represents SMA Poland within the larger European group. "There are countries that reimburse for one, two, or all three available therapies for SMA, and some that don't reimburse for a single therapy. Also, the scope of reimbursement varies greatly between countries."
Kacper, the past president of SMA Poland, now sits on the steering committee for the European Alliance for Newborn Screening in SMA. He got involved because his daughter was diagnosed with SMA in 2010 at the age of 1.
"There was very little information about the disease at the time, and there were few networks or peer support for families," he says.
Kacper estimates that Europe is home to between 12,000 and 15,000 SMA patients.
"One of our flagship projects is called OdySMA," he says, referring to a project in development. "It's an online system where you can see access to diagnostic therapies and standard of care for each country. It will display a map and allow users to select a country and get information on available therapies or select a treatment and see where it's available. This will help visualize access to SMA care on our continent, so that nobody is left behind."
For the moment, all European countries cover the cost of Spinraza, except Albania, Belarus, Moldova, and possibly Kosovo. On the other hand, he says, "the Nordic countries don't provide access to Spinraza for adults."
About a dozen European nations cover the one-time gene therapy Zolgensma, which carries a retail price of $2.125 million.
Some countries, including Poland, reimburse it only for children up to age 6 months, while France reimburses for children up to age 9 months. Most countries reimburse for type 1 SMA, while the UK also allows type 2.
"Germany is the most liberal of all," Kacper says. "They reimburse for all types for patients weighing up to 21 kg, but it's not a patient right. Clinicians make the decision, and it is very rare to give Zolgensma to kids older than 2 years."
Another priority for SMA Europe is helping SMA patients whose lives have been shattered by Russia's war in Ukraine, now in its 10th month.
"Before the war, the Ukrainian SMA registry included around 370 people, of which about 50 were living in Poland, where they could access therapy," he says. "After the war started, 150 families crossed into Poland, and the vast majority have stayed there. In the beginning, we were working day and night to help families leave. Now the situation is stable because the war is localized, and some families have gone back to Ukraine."
---
Next Steps and Useful Resources
MDA is dedicated to advocating for policies and programs that help save and improve the lives of kids and adults living with neuromuscular diseases. Learn about the Advocacy team's current issues and how you can get involved.
Disclaimer: No content on this site should ever be used as a substitute for direct medical advice from your doctor or other qualified clinician.