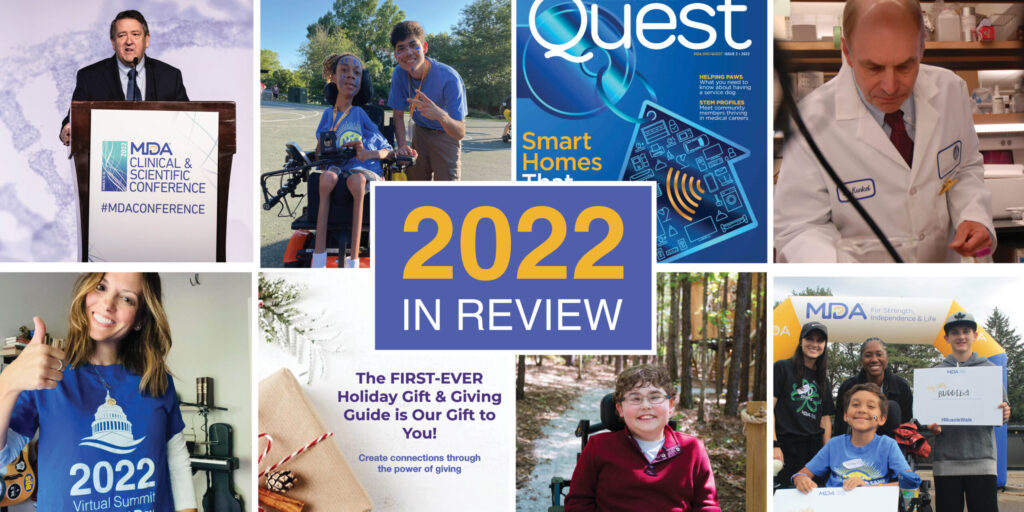 2022 Highlights – The Year of Independence
By Donald S. Wood, Ph.D., President and CEO, Muscular Dystrophy Association | Friday, December 9, 2022
Throughout 2022 MDA's impact continued to grow as we advanced our mission to empower the people we serve to live longer, more independent lives while building on our legacy of making the impossible possible. The work we have done this year and over the past 70 years is leading to breakthroughs never seen in neuromuscular disease and genetic medicine.
MDA is thrilled by the announcement from Sarepta Therapeutics that the Federal Drug Administration (FDA) has granted priority review for Sarepta's gene therapy for the treatment of ambulant individuals with Duchenne muscular dystrophy (DMD). This represents the first gene therapy ever to treat DMD. Over its existence, MDA has funded the research that laid the foundation for developing gene-based treatments for neuromuscular diseases.
We were also privileged to celebrate the FDA approval of three new drug treatment options in 2022: Relyvrio for the treatment of amyotrophic lateral sclerosis (ALS); RADICAVA ORS, a new delivery method for the previously approved RADICAVA IV for ALS; and Ultomiris for the treatment of generalized myasthenia gravis (gMG) in adults who test positive for the anti-acetylcholine receptor (AChR) antibody.
In continued support of the pipeline of promise for neuromuscular disease treatments, we announced this year that MDA would award 70 new grants totaling over $17 million toward advancing research discoveries and new therapy development in multiple areas including amyotrophic lateral sclerosis (ALS), Charcot-Marie-Tooth disease (CMT), Duchenne muscular dystrophy (DMD), facioscapulohumeral muscular dystrophy (FSHD), limb-girdle muscular dystrophy (LGMD), spinal muscular atrophy (SMA), myasthenia gravis (MG), myotonic dystrophy (DM), and many more.
Our MDA Clinical & Scientific Conference remains the biggest and most comprehensive conference of its kind in the world. In 2022 we broke all earlier records, with 1028 in-person attendees from 15 countries, 675 virtual live-stream attendees from 15 countries, 32 Sessions with one full day of clinical trial updates and more than 120 speakers. We also added our new Annual Insights in Research Investors Summit—the first U.S.-based forum bringing together research and investment stakeholders focused exclusively on neuromuscular disease.
In 2022, MDA also led the way in caring for people living with muscular dystrophy, ALS, and related neuromuscular diseases, with the largest nationwide network of multidisciplinary MDA Care Centers. This year we were pleased to announce the addition of 13 new hospitals and health institutions to the 150+ Care Centers which make up the MDA Care Center Network. These included 10 new Care Center grant awards and three Care Center affiliates promoted to MDA Care Center status.
MDA declared 2022 The Year of Independence, referring to our ability to use our collective voice and platforms to be the catalyst for change. This was particularly evident in our advocacy work. In addition to our ongoing work to pass the Newborn Screening Saves Lives Reauthorization Act, earlier this year MDA officially co-sponsored the nomination for DMD to be added to the Recommended Uniform Screening Panel (RUSP) for newborn screening. MDA joined with other nonprofit organizations who collectively serve the LGMD community to celebrate the finalization of ICD-10-CM codes for LGMD and several of its subtypes. This milestone is the culmination of over two years of collaborative efforts between LGMD advocacy organizations (including MDA), leading LGMD clinicians and researchers, and grassroots advocates. Our work to implement the Accelerating Access to Critical Therapies for ALS (Act for ALS), which was signed into law last December, continues. Making air travel more accessible remains a priority, including participating in a Department of Transportation (DOT) meeting about the experience wheelchair users face when traveling by air; urging DOT to make lavatories more accessible on airplanes, advocating for the Air Carrier Access Amendments Act, releasing first-person testimonials from MDA advocates on their experiences traveling by air; and by taking part in many blogs and podcasts throughout the year. Finally, we're proud that after a three-year hiatus, MDA advocates went back to Capitol Hill, but this time virtually. Advocates and staff held 100 congressional meetings, urging Congress to act on three key legislative issues: improving air travel; increasing access to genetic counselors; and passing FDA & clinical trial reforms.
MDA also implemented The Year of Independence as a key content pillar for the Quest Media platform. We repositioned Quest as the new adaptive lifestyle content platform, representing the change in our own perspective to include anyone living with a disability, in all its forms. At MDA we are committed to using our initiatives and programs to shine a light on all that is possible for people with disabilities. As part of The Year of Independence, Quest has shared personal stories, celebrated successes, and acknowledged the challenges individuals face in their daily lives. We helped people find their voice, tap into their inner strength, and build the confidence to pursue the goals and purpose they seek.
There is no better way to acknowledge The Year of Independence than by looking back at our 2022 MDA Summer Camp sessions—the first in-person sessions in two years.  Our campers were able to get away and interact with their peers. Campers spent time outside; they swam, fished, zip lined, learned archery, and rode horses. They indulged their creativity with arts and crafts and preparing for the talent show. They shared details of their adventures around the campfire. We continued the MDA Virtual Summer Camp option and will do so going forward.
MDA's community education program supported The Year of Independence by supplying the information and resources to help community members live as independently as possible. In 2022 we presented 35 community education programs ranging from workshops, disease-specific symposia, and seminars to webinars and roundtable discussions. We also created print-ready educational materials on topics including genetic testing, emergency room alert cards, and at-home physical therapy guides for SMA and Pompe disease.
Our talented staff at MDA is on the road 24/7, working and advocating for the neuromuscular disease community. From the White House and Capitol Hill to high-impact conferences around the world, MDA is there. In 2022, we launched our new MDA On the Road LinkedIn series, beginning with the recent participation by MDA staff members in the Chan Zuckerberg Initiative's Rare as One project at Facebook, Smithsonian Science Education Center's Zero Barriers in STEM Summit, and the FinancialForce Leadership Summit.
To round out an impressive year, we were proud to launch the first-ever MDA Holiday Gift and Giving Guide  curated by MDA Ambassadors. The Guide features product categories for anyone and everyone who either lives with a disability or loves someone who does, with inclusive products for every ability and age range.
In my first full year as President and CEO, we continued to build on our legacy of making the impossible possible, leading the way as demonstrated in the 2021 Annual Impact Report. This year, we've gained momentum for our mission, and celebrate all that we have achieved. There remains much work ahead, but MDA is here for you today, and every moment along the way. From all of us at MDA, please accept our heartfelt best wishes for a joyful holiday season and a healthy new year.
Disclaimer: No content on this site should ever be used as a substitute for direct medical advice from your doctor or other qualified clinician.