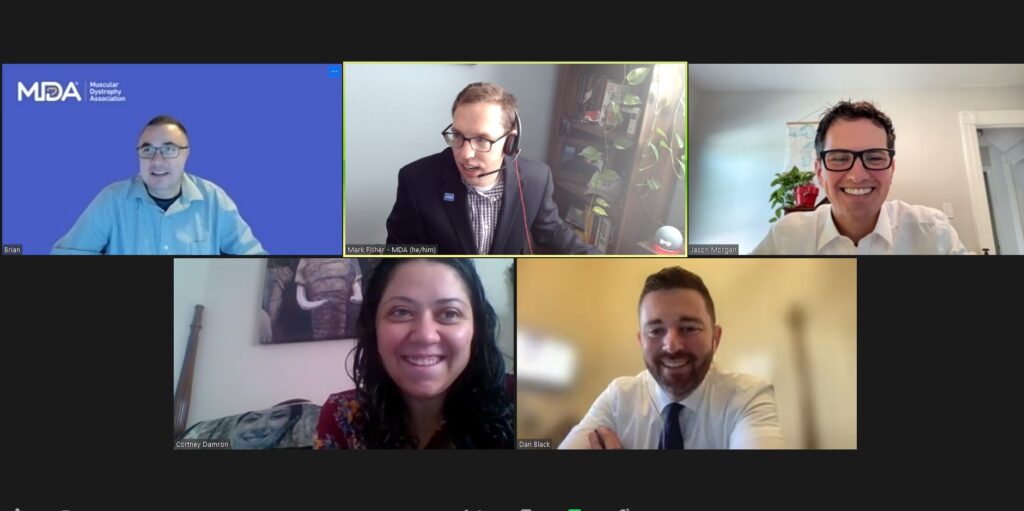 MDA Advocates Returned to Capitol Hill (Virtually)
By Mark Fisher | Tuesday, October 25, 2022
After a three-year hiatus, advocates went back to Capitol Hill, but this time virtually. On September 28th and 29th,  families from across the country raised their voices and urged lawmakers to take action on crucial issues impacting the neuromuscular community during the Virtual Summit & Hill Day. Here is a quick recap of this empowering event!
A Classic Event, Reimagined
With the ongoing pandemic and Congressional staff routinely working from home, visiting lawmakers in Washington D.C. is more difficult than ever.
However, MDA advocates used this challenge to their advantage, and were able to make an impact via a 100% digital event. Instead of long days of in-person training, participants attended two virtual trainings, where they learned the issues and crafted their unique, powerful stories they would deliver to lawmakers.
Rather than moving from office building to office building in a traditional Hill Day, advocates were able to meet with lawmakers online in the comfort of their own home. This allowed advocates to attend more meetings, touching more lawmakers, creating more opportunities to urge Congress to act on vital issues affecting the neuromuscular community.
Advocating on the Key Issues
Although there is much more we need to accomplish to truly empower the neuromuscular community, MDA advocates were ready to share their stories and urge Congress to take action on three key legislative issues.
1.Improving Air Travel
From broken wheelchairs to issues getting on and off airplanes, we know traveling by air can be a nightmare for the neuromuscular community. Advocates urged Congress to finally act and pass policies to make air travel more accessible during the 2023 FAA Reauthorization.
2.Increasing Access to Genetic Counselors
Before receiving a final diagnoses, too many in neuromuscular community face years of doctor's visits, many tests, and plenty of misdiagnoses. Increasing access to genetic counselors and services is one way to shorten this diagnostic odyssey. Advocates urged members of Congress to cosponsor the Access to Genetic Counselor Services Act (H.R. 2144 / S. 1450), which would improve access to these vital services.
3.FDA & Clinical Trial Reforms
From outdated clinical trial design to a lack of diversity, there are many challenges in developing lifesaving therapies for the rare diseases. However, advocates urged Congress to make much needed changes in upcoming legislation to reform the way the FDA handles rare disease clinical trials and drug approvals. This would lead to more neuromuscular therapies, at a quicker pace.
By the Numbers
MDA advocates were busy during the Virtual Summit & Hill Day, and it made a big difference. Here are some quick numbers and the pictures to prove it!
100 total Congressional meetings
78 advocates and staff participated
28 states represented
However, we know the impact of the Virtual Summit & Hill Day goes beyond the numbers. Participating advocates not only made a difference on Capitol Hill, but were also able to connect with fellow volunteers from all over the country.
The Work Doesn't End
Even though MDA advocates made a big impact during the Virtual Summit & Hill Day, our work does not end. We need more people coming together and urging Congress to pass legislation that truly empowers the neuromuscular community.
Join us now at www.mda.org/advocacy!
Disclaimer: No content on this site should ever be used as a substitute for direct medical advice from your doctor or other qualified clinician.