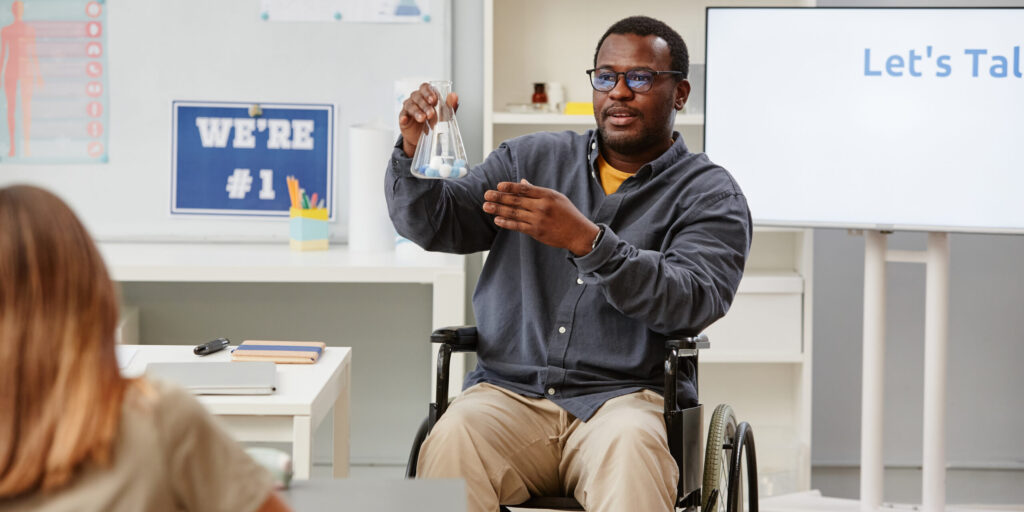 MDA Announces Youth Mentoring Program
By Marissa Lozano | Monday, August 14, 2023
MDA is committed to providing program options for teens and young adults that build independence and confidence while fostering lifelong relationships. The MDA Mentorship Program provides a unique opportunity for young people to connect with experienced mentors and explore potential career pathways. This 5-week virtual program connects established professionals in a variety of careers with youth and young adults living with neuromuscular disease in order to explore a variety of employment pathways through interactive discussions and activities. It is provided at no cost to teenagers and young adults ages 14-21.
There are two sessions to choose from:
Session 1: Career Exploration
September 11 through October 9
Youth ages 14-18 will rotate through several mentorships while completing hands-on activities to discover their strengths and interests in various fields.
Session 2: STEM Exploration
October 18 through November 15
Youth and young adults ages 16-21 who are specifically interested in STEM careers (science, technology, engineering, and math) will work with mentors from a specific field to complete an interactive project while also diving deeper into the ins-and-outs of STEM related fields.
Why mentoring?
Research has shown that youth mentoring programs enhance youth's self-confidence, strengthen their relationships with parents, teachers, and peers, and increase their ability to make vocational and educational choices.[1] Kids entering high school are often just beginning to think about what they want to do after graduation. It can be difficult for any teenager to know what path to pursue, but youth living with a disability may especially feel that their options are limited. MDA wants to provide youth and young adults with the tools and supports they need to make educational and employment choices with confidence. Through the Mentorship Program, we can help them see their true possibilities.
In addition to representing many different careers, several of our mentors are also living with a neuromuscular disease, which makes the program even more impactful. Someone once said, "If you cannot see where you are going, ask someone who has been there before"[2]. This is what the MDA Mentorship Program is all about – providing a tangible experience with support from someone who has been there before.
What does the mentoring program look like?
Mentors volunteer their time and expertise by identifying a project related to the field that they represent, sharing guidance on how the mentees can work on that project. Each participant receives a kit in the mail with the materials needed to complete the project. Mentors then meet with the youth in a  group setting twice per week for 90-minute video sessions. During these video sessions, mentors share more about their career field, including insights into the level of education needed, the job searching process, the day-to-day of the job, and more. They also take the youth through their selected project and provide positive feedback. Mini-challenges, trivia questions, articles, and more are posted to the virtual discussion board throughout the week, providing opportunities for additional learning and interactions.
For youth and young adults, this program provides an opportunity to connect with and learn directly from professionals in the field.  It gives them the chance to identify their interests and strengths and explore how those might translate into a career.  They also have the opportunity to learn job readiness skills like resume writing and interviewing. A big part of the program is the formation of meaningful connections with both their mentors and their peers.
Ella, a program participant in 2021 and 2022, shared, "For me, it was an introduction to possible careers, but most importantly, it was encouragement to what can be achieved while coping with the limitations of neuromuscular disease." Ella is currently a full-time college student online at the University of Memphis. While her major is still undecided, she is interested in pursuing a career in STEM.
Another program participant, Ben, age 16, commented, "I learned a couple career paths that I might want to pursue in the future, as well as the importance of self-advocacy in the school and the workplace."
This program is provided at no cost to families, but youth must complete an application.  Professionals interested in volunteering as a mentor are also required to complete an application, a background check, and an interview with MDA's Community Education Specialist. For more information or to fill out an application, click here.
Deadlines to Apply
Session 1: Career Explorations
Mentors: August 15, 2023
Youth/Young Adults: September 1, 2023
Session 2: STEM Explorations
Mentors: September 15th, 2023
Youth: October 6th, 2023
---
For additional questions, please reach out to MDA at 1-833-ASK-MDA1 or email us at resourcecenter@mdausa.org.
[1] https://www.dol.gov/agencies/odep/program-areas/individuals/youth/mentoring-youth-with-disabilities#:~:text=Enhanced%20self%2Desteem%20and%20self,Improved%20interpersonal%20skills
[2] https://www.togetherplatform.com/blog/inspirational-quotes-about-mentors
---
Next Steps and Useful Resources
Disclaimer: No content on this site should ever be used as a substitute for direct medical advice from your doctor or other qualified clinician.