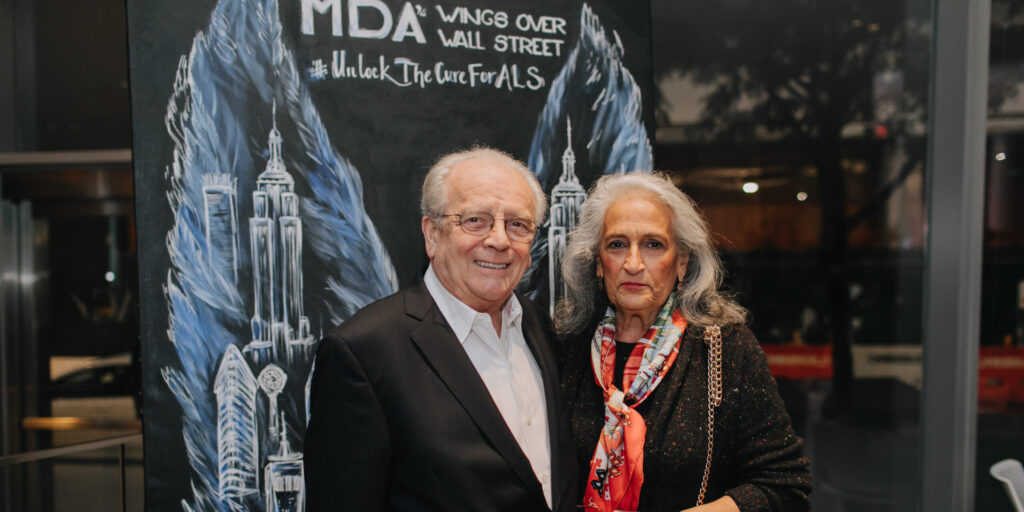 MDA Honors the Life and Legacy of Victor Wright
By Chris Anselmo | Thursday, December 22, 2022
Hope for a longer, more independent life is now becoming a reality for patients with muscular dystrophy and related diseases. Many stakeholders have played a vital role over the years in helping the Muscular Dystrophy Association (MDA) fulfill its mission to our community, including board members such as Victor Wright. For nearly 40 years, Wright supported MDA in numerous ways with his time and expertise. One of his favorite programs was MDA Summer Camp.
Our campers describe Summer Camp as "the best week of the year." To Wright, it was also a highlight of his year. He understood the importance of camp on an intellectual level but visiting every year allowed him to experience MDA's mission even more deeply. He always encouraged people to attend or volunteer at Summer Camp and to experience the profound impact it has on people.
Wright, a tireless champion for the neuromuscular disease community who served nearly 40 years as a board member at MDA, passed away at his home in Harrison, New York on December 17 at the age of 77. Wright was the proud father of daughters Jennifer and Samantha and beloved husband of wife Joann. Together they were looking forward to celebrating fifty wonderful years of marriage.
Career and Philanthropic Endeavors
Victor Wright was born in the Bronx, New York in 1945. At the age of 17, Wright began his career on Wall Street and in 1969 joined Goldman Sachs as a securities trader. He would spend the next 34 years of his career at the firm, retiring as an Advisory Director in 2003. However, Wright continued to stay involved in finance, lending his expertise by serving on numerous committees in the securities regulatory space.
As his career progressed, Wright became involved in several philanthropic causes reflecting his commitment to healthcare and education. He would serve as Board Chair of St. Barnabas Hospital in the Bronx and as Chairman of the NASDAQ's Educational Foundation. He also served on the Board of Directors at Rye Country Day School and at Georgetown University.
Involvement with MDA
Throughout the decades, Victor was heavily involved with MDA. For more than half of MDA's existence, Victor served on its Board of Directors, inspired by a personal connection to the organization's mission. During his tenure, Wright assumed a variety of leadership roles, including as Board Treasurer and Executive Committee member. One of Wright's main responsibilities was to leverage his professional expertise and vision to help ensure the long-term financial viability of MDA so that it could fulfill its mission for many years to come.
At his side always supporting MDA was Joann. She was heavily involved with MDA's holiday greeting card program, which used artwork created by the community to raise money for the organization and awareness of the talents of people with neuromuscular disabilities.
Wright also served on the organizing committee for several New York-related events, including the annual New York Muscle Team and Wings Over Wall Street galas. A die-hard Yankees fan, Wright was overjoyed to meet Yankees legend Derek Jeter at the 2018 New York Muscle Team gala and engage Jeter in MDA's life-saving mission.
Mentor and Friend
Wright's impact on MDA extended well beyond dollars and cents. He was the type of person anyone wanted in their corner, tenacious when necessary but always caring.
"Victor believed deeply in me, and in the talents and promise of people living with neuromuscular disabilities in general," says Dr. Chris Rosa, Vice Chair of MDA's Board of Directors. "He worked tirelessly to empower us to live rewarding, productive, independent lives, fully included in our communities.
Adds Rosa: "He is the most important mentor I've ever had – coaching me through every important career and life decision over the past 30 years. I will always love him for this and will join our Board in honoring his legacy by ensuring that MDA remains laser-focused in its efforts to foster the wellness and independence of people living with muscle disease."
A Life of Service
Whether it was drawing on his financial background to steward the finances of the organization, organizing fundraisers, or volunteering at community events, MDA was always near and dear to Victor's heart. "He was a mentor to many and a friend to all," says Kristine Welker, MDA's Chief of Staff. "His passing leaves a substantial void at MDA. However, his legacy will live on for years to come."
At MDA we like to say strength in unity, strength in community. Victor embodied that motto, and we are tremendously grateful for his decades of dedication and support to our community.
MDA sends its deepest condolences to Joann, Jennifer, Samantha, and the rest of Victor's family and friends.
Disclaimer: No content on this site should ever be used as a substitute for direct medical advice from your doctor or other qualified clinician.