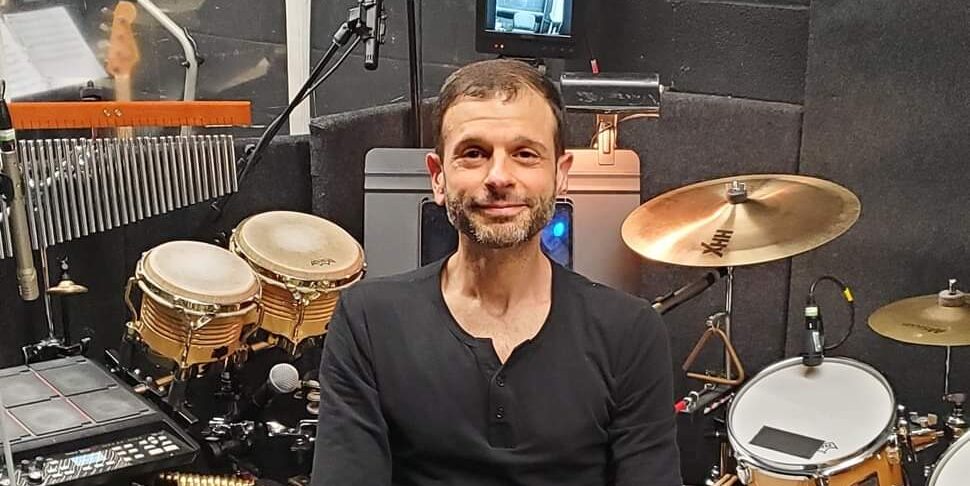 Quest for Success: Peter Saleh
By Rebecca Hume | Thursday, December 22, 2022
5 Second Summary
Quest for Success explores the different paths that individuals with neuromuscular disease have taken to reach their potential and pursue dreams. This series spotlights individuals from our community and shares their journey to independence and accomplishment.
As the Muscular Dystrophy Association (MDA) continues our commitment to empowering people living with neuromuscular disease, we are excited to present the final instalment in our 2022 blog series: "Quest for Success".
Success looks different to everyone and this monthly blog will detail the different paths that individuals with neuromuscular disease have taken to reach their potential and the steps they took to get where they are today. Each month we will spotlight one individual from our community and share his or her journey to independence and accomplishment. We hope that these stories empower and inspire our readers to unlock the possibilities in their own lives…because the possibilities are limitless.
Percussionist Keeps the Beat at the 2022 Radio City Christmas Spectacular
Peter Saleh rocks. The 45-year-old professional percussionist and musician has been making music and keeping the beat across the globe for over two decades. He has performed chamber music in over 400 concerts, including cultural envoy work in Ecuador, and has played for a wide variety of theater productions, on and off Broadway. Primarily in New York City at the moment, Peter is playing in a Yiddish Revival of Fiddler on the Roof, serving as a dance accompanist at The Julliard School, and playing as a substitute timpanist with the 2022 Radio City Christmas Spectacular, starring The Rockettes.
Living with Charcot Marie Tooth (CMT), Peter has had to find creative and innovative ways to overcome his physical limitations.  The main challenges being barriers with the physical set up of his percussion instruments, access to pedals at the correct angle while wearing AFOs, and the need to quickly switch sticks with limitations in speed and balance. Never one to allow a barrier to hold him back, Peter has developed various modifications to increase his access and ability to play. He even developed and patented a percussion accessory table that allows for quick changes between sticks. While working on Broadway, he designed the Switchboard Percussion System in part around his own specific limitations, but it also serves as a valuable tool that all percussionists can benefit from using.
Early days of music, independence, and determination
Peter started making music when he was ten years old. He began playing the trumpet but quickly realized that, while he loved music, the trumpet was not the instrument for him. When he picked up a pair of drumsticks, he knew that he had found his calling. Peter found that playing percussion came naturally to him. Without any formal training, he could already play…and play well. Always an innovator, he built a makeshift drum set with a toy cymbal, a Pittman & Davis orange box, and an ironing board. He jokes that that first set was one of the best sets that he has played on.
Peter was diagnosed with CMT around the age of five, but his parents never treated him as though he had many physical limitations. A very independent child, his catchphrase was "I will do it myself" and he navigated living with a neuromuscular disease with a mix of self-reliance and defiance. While he did not need specific accommodations in school, he was tasked with the responsibility to "self-limit" in gym class and with other physical activities.  As a determined teenage member of the school band, jazz band, and marching band, he shares that he decidedly did not "self-limit" on the field with the marching band.  And when a doctor told him at sixteen years old that he wouldn't be able to play the drums for very much longer, he rejected that prediction and just kept playing.
Growing up with a busy single mother, Peter's passion and determination served him well on what was often a solitary journey in his quest for success. He worked at K-Mart as a teenager to pay for his first private lessons, lessons that he found his way to at 8 AM every Saturday morning. As an adult, Peter teaches private lessons, serving as both a coach and mentor for young musicians. Mentoring is a role that he values for providing him the opportunity to give others what he didn't necessarily have as a young man.
An impressive career
Peter obtained his undergraduate degree at Rutgers University, where he primarily studied the marimba. The marimba is an instrument similar to a xylophone that frequently uses four mallets, two in each hand, which created quite a dexterity challenge for Peter. As his opportunities and interests evolved, Peter expanded out to embrace more of the percussion world. He earned a masters in percussion performance at the University of North Texas, where he was a graduate student and teaching fellow.  He learned to recognize the need to continually re-evaluate his abilities, play to his strengths, and make his own accommodations in the music world.
"Music doesn't care what your issues are, if you want to sound good you have to live up to the expectation. Whatever gets the results," Peter says. Peter found ways to overcome obstacles with the many different instruments that he plays.  A perfect example of his creative problem-solving is illustrated by how he resolved a barrier that he encountered when playing the timpani for the 2019 Broadway show Beetlejuice. Timpani, also known as kettledrums, is particularly challenging for Peter because he wears AFOs and his foot is locked at a 90 degree angle. Timpani are usually tuned and played using a specific ankle motion, a motion that Peter cannot do. Instead, he had to find the exact right position of the pedal and use his whole leg. "I ended up figuring out how to work around my particular limitations and make this particular passage work by using kitchen towels as spacers under the timpani pedals to change the range of motion," Peter says. "Lack of muscle ability or movement gets replaced by problem solving and ingenuity."
Peter's determination, problem solving skills, and high level of ingenuity have served him well in his many professional accomplishments. From the heavy metal band that he played in with friends in high school to the percussion group "Exit 9" that he joined in college and played in for 20 years to the multitude of stage productions that he has performed in, Peter has paved his own path in the music industry.
In addition to the many shows already mentioned, Peter also played the drums for the 2022 world premiere production of Jerry Lewis's Nutty Professor at the Ogunquit Playhouse. Playing in this show was an especially prestigious opportunity as the show featured the last score written by composer Marvin Hamlish, an EGOT and Pulitzer Prize winner. The production struck a personal chord with Peter because of the connection between Jerry Lewis and MDA. "It kind of dawned on me in the middle of that run, the significance of what I was doing and the connection between what the MDA has done for me and setting up the potential for that to happen," he says.
Navigating and networking in the music world
The hiring process in the professional music industry is unique compared to the corporate world. Peter doesn't necessarily apply for positions or participate in interviews. In fact, his role with the Radio City Christmas Spectacular is the only job that he has ever actually auditioned for. The majority of his performances have come to fruition from networking and collaborating with other musicians and composers. Fellow musicians and industry elite that he has met throughout his performances have opened doors for future performances, which then opened doors for other future performances. He builds his career by networking and accepting various jobs, both temporary and prolonged, that add up over time to create the busy schedule that he now navigates.
Peter generally doesn't find it relevant to disclose his diagnosis when accepting various positions. "I have grip issues, so every once in a while, I will say something like, 'my hands don't do that, can you do that for me?' I don't really address it beyond that," Peter says. "Talent speaks for itself. Musicians care about talent and personality. What is your personality and energy? Can you play and can you hang?"
Networking and accepting a wide variety of musical roles have helped Peter to build his resume. But it's truly his talent, his personality and sense of humor, his determination, and his innovation when it comes to accommodations that have led him to success.
Persistence is the key to success
In addition to the challenge of overcoming physical limitations in order to play the music that he loves, Peter also relishes the many opportunities to grow as a musician, to teach others, to serve as a leader, and to master new skills. He enjoys the social aspect of the music world as much as he enjoys playing. "I like being around people," Peter says. "There is a lot of teamwork and making sure that everybody is able to use their strengths. Music is a great example of the saying, 'Many hands make light work.'"
While his passion and talent have taken him all over the world, Peter currently considers New York City his professional home base. He lives alone in New Jersey and uses both private and public transportation to get to and from his many jobs in the city.
Peter recognizes that there is a long line of people who want to do the kind of work that he is doing in NYC. "I am grateful for that and aware of it," he says. "I try to stay cognizant that it is my persistence that has brought me to where I am now."  Crediting that persistence and determination for his level of success, he advises others to be persistent with their dreams. Echoing Christopher Deane, his mentor and former professor at North Texas University, Peter says, "If you stick with it, it will work. If you don't, it won't." He has translated that advice in his own life while tempering his ambition with self-assessment and honesty regarding his abilities and ensuring that the roles that he chooses are the right fit for him.
"If there is something that you want to do, do it now. Life does not wait," Peter advises others. "Stay in the game and don't give up."
---
Next Steps and Useful Resources
Connect with Peter Saleh at http://petersaleh.com/.
Disclaimer: No content on this site should ever be used as a substitute for direct medical advice from your doctor or other qualified clinician.