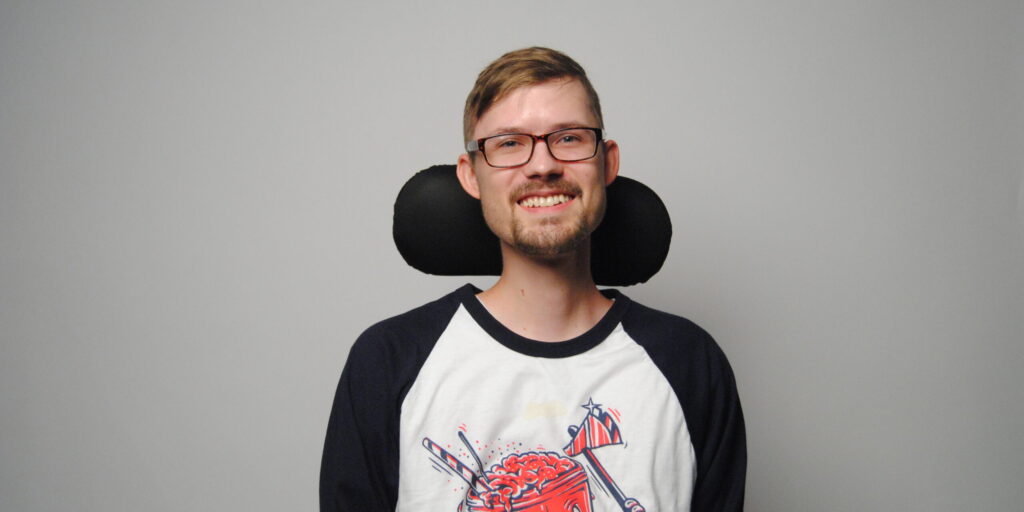 MDA Shamrock's 40th Birthday T-shirt: The Mind Behind the Design
By Rebecca Hume | Thursday, March 17, 2022
Graphic design background and technology
Dustin obtained his bachelor's degree in visual communication and design from Ohio State University and now works as a freelance designer. He loved drawing as a child and recognized that he had a knack for design when he participated in a multimedia technology program in high school. Graphic design afforded him the opportunity to use technology to turn his passion into a profession.
His advice to high school or college students interested in graphic design is to choose a reputable design school with a program that will provide the necessary skills to adapt to diverse situations throughout their career. Dustin credits his experience in OSU's Visual Communication Design Program for instilling the confidence in him to tackle any design problem and adapt accordingly while advancing technical skills. College is an expensive endeavor for many, and Dustin shares that he was able to benefit from programs developed for students with disabilities. He received funding for majority of his tuition through a program called Opportunities for Ohioans with Disabilities (OOD). Many states offer similar programs and/or scholarships and grants for students with disabilities.
Graphic design is a professional field that is made accessible with a variety of assistive technology devices. Due to hand contractures and some limited dexterity, Dustin also relies on trial and error to identify the best navigation tools to fit his needs. He was able to find the computer mouse that worked best for him by testing various gaming and computer mice.
Dustin primarily uses what he calls "low tech" methods for design; a pen, a notebook, his laptop, and Adobe programs like Illustrator and Photoshop serve as his mediums for creation. He advises anyone interested in graphic design to spend as much time as possible learning and navigating Adobe Creative Suite of programs. There is also a wealth of knowledge and inspiration that can be accessed via Youtube, Pinterest, and by following industry leaders on social media. A few of his favorite accounts to follow are Aaron Draplin (@draplin), @logos.ai, and @designboom. Dustin also takes certain measures to increase accessibility while using online design programs.
The creative process: An evolution of logos
When MDA first approached Dustin to design the commemorative MDA Shamrock's 40th Birthday T-shirt, he immediately started envisioning variations of shamrocks.  Using a pen and paper, he sketched different versions of shamrocks, playing with curly cues and Celtic knots.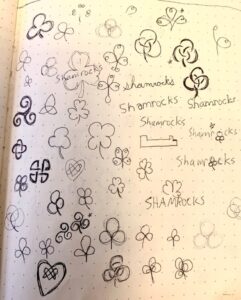 As those sketches became solid ideas, he moved to the computer and began building those options in Adobe Illustrator. Iterating his early ideas and playing with different fonts, Dustin created the first versions of his proposed logos.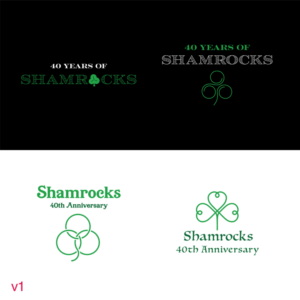 Once he had created 3-5 viable options, he shared his initial images with the MDA Marketing Team. Thus began Dustin's favorite part of the creative process: working with his client to determine, finesse, and ultimately achieve the client's vision.
After exchanging multiple e-mails, Dustin was able to identify the marketing team's favorite aspects of his first draft designs. Dustin's artistic style brings organic elements to design, like adding a paint slash behind a logo or image, so that his work offers character and personality rather than dry, technical design. Combining this element to the feedback that he had received, Dustin chose favored characteristics of his first draft designs to create three new logo options.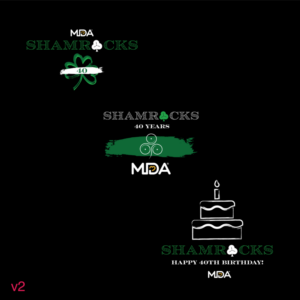 Dustin and the marketing team collaborated to select the shamrock shape that would become part of the final design. This shamrock shape has been a traditional aspect of the MDA Shamrock campaign since the very beginning. Opting for a simple and clean design, with a painted look adding just enough personality, Dustin moved on to testing various numerical font options.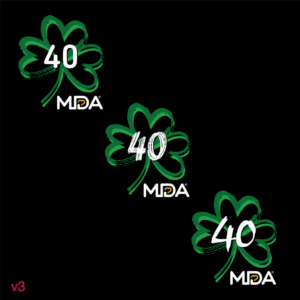 As his process brought him closer to the final project, Dustin and the MDA team chatted through final details – adding the word Shamrocks and deciding which MDA logo served the design best. The final product did not disappoint!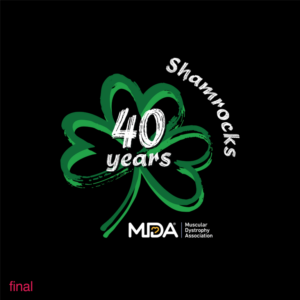 A final product with impact
Dustin learned in design school that the key difference between art and design is that design is not for the artist himself but is a service to others.  One of his greatest joys in designing is using his creative vision to provide clients with a design that they love. The other aspect that brings him the most satisfaction is working on projects that serve a purpose, especially those that benefit individuals with disabilities.
His passion and purpose are evident in his design, and we are excited to share the MDA Shamrocks 40th Anniversary logo and T-shirt with you!
Donate today to receive a lucky clover to celebrate Shamrock's 40th Birthday!
To see more of Dustin's incredible work, check out his website.
Disclaimer: No content on this site should ever be used as a substitute for direct medical advice from your doctor or other qualified clinician.