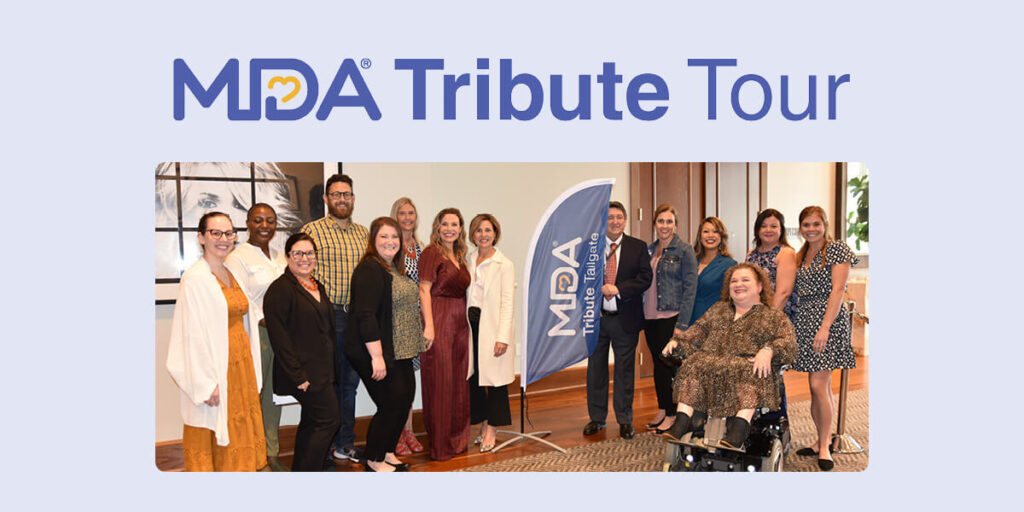 MDA Tribute Tour Takes Houston: A "Family Reunion" to Remember
By Mindy Henderson | Tuesday, June 7, 2022
Thursday night, June 2, 2022, individuals from the Muscular Dystrophy Association (MDA), along with local volunteers, MDA families and MDA partners descended on Hotel ZaZa in Memorial City, Houston, Texas for what was truly a magical night.
The evening consisted of a never-ending photo-op station, lots of conversation and reconnecting with friends, food AND the presentation of three MDA Tribute Awards. The MDA Tribute Award honors the legacy and life's work of those who have been tireless in their efforts to support the patients and families we serve.
MDA President & CEO, Dr. Don Wood opened the evening with a warm welcome to all, and poignantly noted, "Communities are at the heart of MDA's mission to improve the lives of people living with neuromuscular disease…All of you here today and all the thousands and tens of thousands of people around the country that come to events like this and support MDA are helping us to make the impossible possible."
"The reason we're here for a tribute tour is to say, 'thank you,' to all of you who have supported MDA. To all of your predecessors and those who have supported MDA over the years, we would never have created this type of successful organization with patients living longer, people doing better, without your help. Thank you very much. That's why we are here, is to say, 'thank you.'"
It has been years since I, personally, have had the opportunity to attend an MDA event, and I struggle to find the words to describe how it feels to be in a room full of MDA Staff, volunteers, partners and families. The mission we all share is bigger than the words I can find to describe them, so suffice it to say, it was a special evening full of special people.
The first Tribute Award went to Dr. Stanley Appel. Dr. Appel's award was presented by his long-time friend and colleague, Dr. Rod Howell. Both doctors are pioneers in the clinical work around Amyotrophic Lateral Sclerosis (ALS), and it was no mistake that these awards took place on 'Lou Gehrig Day,' as proclaimed by Major League Baseball. In fact, Dr.Howell's father-in-law, as he shared with us, was Lou Gehrig's doctor.
Dr. Appel is the Director of the Ann Kimball and John W. Johnson Center for Cellular Therapeutics, Houston Methodist Research Institute; Director, MDA's ALS Research and Clinical Center, Houston Methodist Neurological Institute; and Emeritus MDA Board Member. Known for his world-renowned pioneering research on therapies for the neurodegenerative diseases of ALS and Alzheimer's Disease, Dr. Appel established MDA's first multidisciplinary ALS Research and Clinical Center at Houston Methodist Hospital 40 years ago. He is an Emeritus Member of MDA's Board of Directors.
Doctors and staff who have served under Dr. Appel joined us to celebrate and support him. His legacy is clear in the affection and respect they all showed for him. One of the members of his staff read a poem Dr. Appel wrote for one of the medical students who studied under him, which he is apparently known to do. I was personally struck listening to Dr. appeals acceptance speech. His selfless nature was reflected in his words, which were all about other people and how they had affected him and his life and work.
I had the honor to present the night's second Tribute Award to recipient, Marcus Mann. As a teacher, former MDA Ambassador and leader in the neuromuscular community, Mann helped launch the MDA Emerging Leaders group in Houston. As an MDA ambassador, Mann grew up sharing his story on MDA telethons and at fundraising events to build upon the movement to fund critical research, care, and advocacy for the community.
His humble and unassuming acceptance speech showed us all just how deserving he was. He was gracious and even took a moment to wish his wife a happy birthday. Of course, we couldn't resist the opportunity to sing "Happy Birthday" which added to the celebratory feel of the night!
The final award of the night was presented by MDA board member, Mark Smith, to Maanav Gupta. Gupta, an MDA family member living with Duchenne muscular dystrophy (DMD), continues to raise awareness and pursue his passion for sports broadcasting with his own YouTube program called "Maanav's Sports Talk."
At only 18 years old, it didn't take him long to charm the crowd and win us over with his acceptance speech. Having already secured interviews with high-profiled athletes and broadcasters, such as J. J. Watt, Rich Eisen, Kay Adams, Jose Altuve, Alex Bregman, Eric Gordon, Brandin Cooks, and even our own MDA national spokesperson, Nyheim Hines, Maanav has a bright future ahead.
While in Houston, MDA leaders couldn't resist the opportunity to visit he Houston Methodist Neurological Institute's MDA ALS Research and Clinical Center, MDA summer camp, and MDA supporters at Burn Boot Camp and Dutch Bros. The MDA Tribute Tour in Houston culminated at the Houston Astros celebration of Lou Gehrig Day on June 6.
It was a beautiful several days and the opportunity to connect with our Texas family was one for the books!
Keep an eye out for additional MDA Tribute stops near you!
Disclaimer: No content on this site should ever be used as a substitute for direct medical advice from your doctor or other qualified clinician.