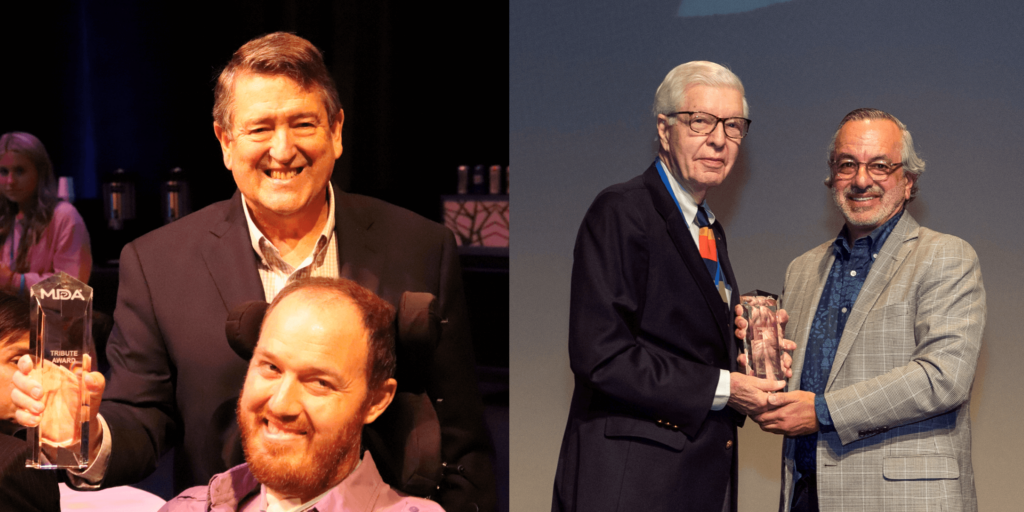 MDA Tribute Tour Takes Nashville: A Night at the Grand Ole Opry
By MDA Staff | Tuesday, May 3, 2022
Building on MDA's legacy of innovation in research, care, and fundraising, MDA brought families and the community together on March 17th for a Volunteer Tribute Reception in Studio A at the Grand Ole Opry House in Nashville, TN.
Declared an official "Day of Recognition" by Tennessee Governor Bill Lee, the celebration honored three local champions with MDA Tribute Awards: Broadcast TV pioneer Harold Crump, former Director of the MDA Care Center at Vanderbilt University Medical Center, Dr. Peter Donofrio, and former Tennessee Titan Tim Shaw, who lives with ALS. During his acceptance speech, Shaw joked, "I was expecting an oversized check presentation. Wait, what? There's no money?"
In a "Who's-Who" of Nashville, Bill Cody, "the voice of country music" and the Grand Ole Opry opened the evening. MDA Board member, Governor Brad Henry of Oklahoma and Nashville's Deputy Mayor Brenda Haywood welcomed the crowd to Music City. Other notable music celebs in attendence were singers Dion Pride, Charlie Pride's son, and Wendy Moten, who came to national attention as a finalist on The Voice.
MDA President & CEO Dr. Don Wood and MDA Chairman of the Board Steve Farella did the honors of presenting the MDA Tribute Awards.
The event was a heartwarming reunion, bringing together Nashville-area families, volunteers, supporters, partners, and celebrities. Dean Hayes and Kyle Gunden, buddies who met at MDA Summer Camp, got to see each other in person for the first time in 3 years.
"We had a wonderful time," noted Dina Casali Peebles, a generous MDA supporter. "It was a privilege to meet the people who make MDA work, to talk with board members, supporters, and kids who benefit from the mission."
Check out this veritable family "photo album" from the reception:
The Beam Family
"Thank you so much for all you gals did! It was a great event…Loved being with you guys and seeing other MDA families! You guys and MDA are such a blessing!"
The Hayes Family
"It was great to see y'all! We had a wonderful evening, and we were glad to have a chance to meet with MDA leadership. Can't wait to see the photos from the evening, and to see you, Johanna, and Joy again soon!"
Corrine Grgas
The Harris Family
The Gunden Family
Disclaimer: No content on this site should ever be used as a substitute for direct medical advice from your doctor or other qualified clinician.