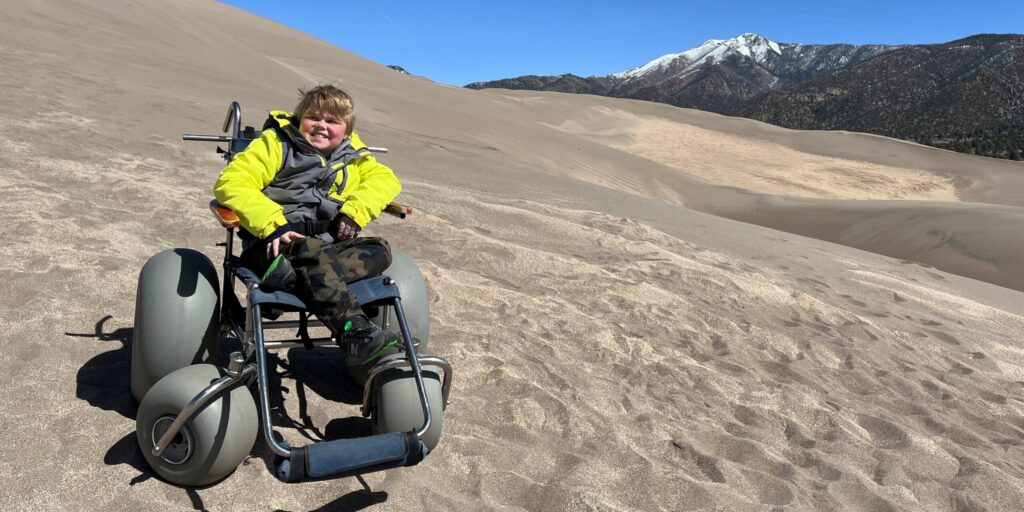 Outdoor Recreation Opportunities for Everyone
By Claire Sykes | Tuesday, May 10, 2022
Ben Schwartz doesn't let Duchenne muscular dystrophy (DMD) stop him from enjoying the great outdoors. This 9-year-old from Des Moines, Iowa, has wheeled up massive sand dunes at Great Sand Dunes National Park and Preserve in Colorado, strolled paved trails at Guadalupe Mountains National Park in West Texas, and skied down a snowy slope at a recreation park Boone, Iowa.
Wonderful places like these are part of the growing number of parks, playgrounds, and recreation areas that answer to people like Ben who are looking for adventure and fun with accessibility.
While the Americans with Disabilities Act (ADA) requires new and renovated parks to include features such as accessible parking spaces, barrier-free access to facilities, and accessible bathrooms, many parks go beyond the minimum requirements, creating outdoor-recreation opportunities for all levels of physical ability.
Exploring nature
Ben and his family — mom Jen, dad Brian, and siblings Annabelle, 13, and Nate, 6 — went on a 10-day, 3,000-mile RV road trip in 2021, which included visits to Great Sand Dunes and Guadalupe Mountains, as well as Carlsbad Caverns National Park in New Mexico.
At Carlsbad Caverns, Ben, who can walk but often uses an adaptive stroller, could have taken the elevator down to the caves. Instead, he walked most of the paved, 1.25-mile Natural Entrance Trail that switchbacks down 750 feet. On the steepest parts, his parents gave him piggyback rides.
At Guadalupe Mountains, Ben hiked a good distance on the paved trails and rode in his stroller when he was tired. Great Sand Dunes was a trip highlight for Ben, who was excited to use one of the park's loaner sand wheelchairs. Their wide, inflatable tires allowed him to explore the sandy hills. "We took him up significantly high," Jen says. "Without the wheelchair, he wouldn't have made it very far."
"We did whatever we needed to adjust to Ben's energy level and ability, but, generally, he was able to do everything we did," Jen says of their trip.
Recreation close to home
Many local park systems also have accessible recreation options, such as Virginia State Parks, which is known for their dedication to accessibility. At Mason Neck State Park in Northern Virginia, the wheelchair-accessible paved 300-yard Beach Trail leads to an elevated platform with a stunning view of Belmont Bay. First Landing State Park's 8-foot-wide boardwalk trail, with handrails and edge barriers, takes nature lovers to Chesapeake Bay, where mats for wheelchairs and strollers stretch across the sandy shore right to the water's edge. At Sky Meadows State Park, west of Washington, DC, the compacted-gravel paths and wide boardwalks of the Sensory Explorers' Trail, designed for those with visual and hearing impairments, also are accommodating for people with mobility issues.
Nancy Heltman, visitor services director at Virginia State Parks, explains that the park system is committed to helping everybody experience what nature has to offer. "Virginia State Parks are a tonic for the mind, body, and spirit, as our trail guides say," she says. "Being out in nature can reduce stress and improve your overall mental and physical health. Also, when you experience the wilds of nature, you can connect with how the natural world is a part of your everyday life."
As cities and towns update playgrounds, many are opting to make them accessible. Cynthia Burkhour, owner of Access Recreation Group, helps recreation providers include individuals with disabilities in their recreation offerings. She says the most important accessibility feature for playgrounds is the ground surface. "It should be a rubber composite or something flat and safe that's not wood chips, sand, or pea gravel," she says.
Some playground designs go beyond accessibility. "Side-by-side monkey bars at different heights, one for people in wheelchairs, let those with different abilities play together," she says. "Inclusivity is as important as accessibility."
Finding recreation
When John and Denise Szymczak, of Racine, Wisconsin, want to visit an outdoor destination with their kids, Joshua, 17, and Holly, 14, who live with limb-girdle muscular dystrophy (LGMD), they do research first. Then, Denise emails the park to ask what works with their limitations: Both kids can walk short distances and on stairs that aren't steep or narrow, with their parents' help. For longer distances, they use wheelchairs.
"Once we're at the park, the rangers are great at pointing out specific accessible trails and picnic tables, and which areas have nearby accessible restrooms," she says.
The Szymczaks have visited Great Smoky Mountains National Park in Tennessee and North Carolina three times. "We love the paved nature trails there. And you can borrow a sand wheelchair and push it down a ramp to the sandy riverbank," Denise says. Because of spotty cellphone service in the Smokies, she and John always bring two-way radios with up to a 35-mile range, in case of an emergency. They also carry a hand-held GPS unit to mark favorite points on trails, so they're easier to find the next time they go.
Outdoor fun also can be found at privately run recreation parks and resorts, like Seven Oaks Recreation, in Boone, Iowa, where Ben went last winter. Adaptive Adventures, a mobile adaptive-sports program, met him at the ski slope. Strapped in a chair with skis instead of wheels, with an expert skier assisting, Ben glided down that hill, again and again.
"It's great that Ben can have the same outdoor experiences as his siblings," Jen says. "He can do anything; we just have to make adjustments."
Resources
National Parks: Learn about accessible features in the National Park Service's more than 400 natural and historic areas. Get free admittance with the Access Pass.
State Parks: For a list of state parks, see the National Association of State Park Directors' site and click on "locate a park."
Trails: Find trails based on activity or accessibility at AllTrails.
Playgrounds: Look for an accessible playground near you in the Playground Directory.
Disclaimer: No content on this site should ever be used as a substitute for direct medical advice from your doctor or other qualified clinician.