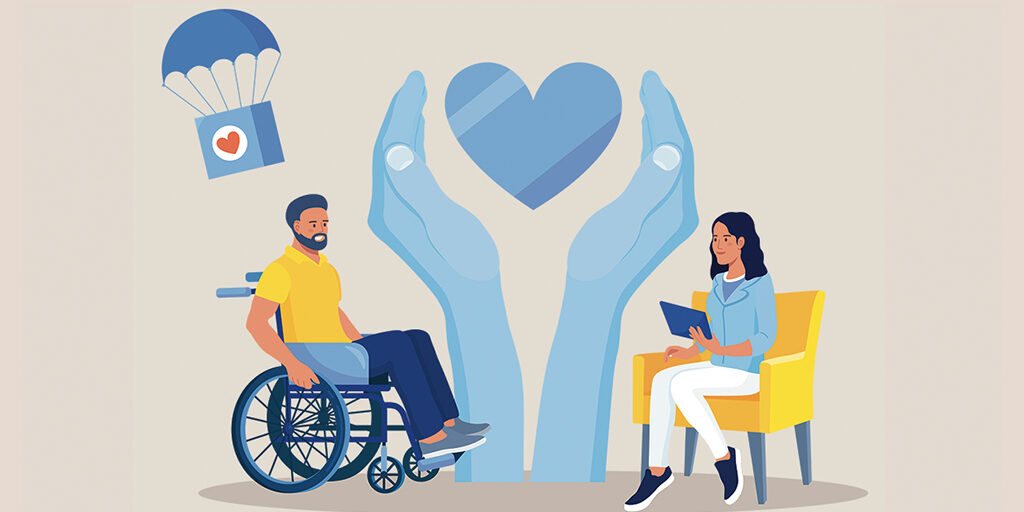 Overcome Embarrassment of Asking for Help in Daily Life
By Andrew Zaleski | Tuesday, August 8, 2023
For Jess Hetzel, a 22-year-old living with spinal muscular atrophy (SMA), getting assistance on everyday tasks is a normal part of life. Her friends and family know she might need a hand using the
bathroom or opening a door. It's so ordinary for Jess that now she tells people she's meeting for the first time that they shouldn't be alarmed by her power wheelchair and need not feel awkward if she asks for a drink of water.
"I prefer to tell people what I need at the beginning of the friendship. It makes my life easier and less stressful when I'm hanging out with them," she says.
But Jess wasn't always this forward. As a teenager, she struggled when it came to asking people for help and recalls not enjoying going to parties or eating out with friends.
"The fact that I needed help to eat was just very embarrassing for me," Jess says. "I had to rework my mindset and how I view disability and my life in general. And practice reminding myself that I am not a burden."
We all need help
Needing help is a common experience for everybody, but it can take on a different texture for people living with neuromuscular diseases. Being embarrassed by or uncomfortable with requiring assistance to navigate social situations can be emotionally difficult. Even the most basic tasks can leave one feeling like they're a problem.
After I was diagnosed with myotonic dystrophy (DM) at age 32, I felt sheepish asking others to open bottles for me when my hands were excessively cramped, a common symptom of DM. I started moving my hands more slowly to prevent cramps and make sure I could unscrew the cap on my own.
"A lot of people will just choose not to do the activity because they don't want to have to ask for help," says Brooke Aarvig, OTR, CBIS, an occupational therapist (OT) in Austin, Texas, who works with people who have a variety of neurological and neuromuscular conditions, including muscular dystrophy.
Yet overcoming the uneasiness and guilt sometimes associated with receiving help is an important skill for people living with neuromuscular diseases. And learning how to be appropriately assertive while teaching others — family members, friends, coworkers, and, in some cases, strangers — how to lend a hand is key for navigating daily life.
"You just have to get used to it because it will become a big part of your life," says AJ Likhatskaya, a 17-year-old entering his senior year of high school.
He uses a power wheelchair, like Jess, due to SMA, and he knows some mundane tasks, like pulling open a door, are impossible for
him. From an early age, his parents encouraged him to ask for help, and he has benefitted from a supportive group of friends who give him a boost when he needs it. An effective method he employs is dishing out in-the-moment tips on what his buddies can do to make activities easier for him.
For example, before he had surgery for scoliosis, AJ had a hard time holding up his head. His friends jumped in during those moments.
"I would give them directional cues," he says. "'Move my head more to the left, move it to the right.' I've realized that's the easiest way for people to understand."
Being direct is a great way to communicate immediate needs, according to Alisha Pollastri, PhD, a clinical child psychologist, as well as the director of research and evaluation at Massachusetts General Hospital's Think:Kids program.
"Ask very clearly, in words that anyone would understand," she says. "Clarifying a situation by making your need clear is more likely to get someone to behave in the way you want them to."
When possible, Dr. Pollastri recommends having a conversation about the help you need upfront. That might mean taking time before hanging out with a friend or visiting a family member to explain what help you might need and when you'll need it. After all, it might be the case that others want to help but are unsure about when or how to step in.
"Often, what gets in the way and makes things awkward is not knowing what to do," says Dr. Pollastri. "It activates those feelings of guilt or embarrassment."
I've found that if I tell my wife or other family members what to expect, it's much easier for me to just be myself. I let them know when I'm in pain or when my hands aren't working properly, and that's when they know to step in to help me do something, even if it's as simple as opening a bottle of water.
Pushing past the awkwardness is something Jess learned to do while attending MDA Summer Camp. She recalls the counselors telling campers that there was nothing burdensome about their needing help to go to the bathroom, eat and drink, or use their medical equipment.
"That was the first time people started talking about the fact that they're there to help me, and it's not really a big deal," Jess says.
It was also a growing experience for her brother, who's four years older and does not have a neuromuscular condition. He was a counselor at Summer Camp for five years, starting at age 16, and Jess says the experience opened his eyes.
"The years before he went to camp, he didn't really understand the help I needed," she says. "But after he saw a different perspective, he noticed what I needed and was super accommodating."
Learn by doing
Becoming comfortable asking for help takes practice.
As an OT, Brooke coaches her patients through social exercises. That means, for example, going out somewhere and working on saying hello to people and making eye contact. Taking the time to deliberately insert yourself into social situations can not only help you learn how to ask for help; it can also demonstrate to others how to offer support. Sometimes the activity is as simple as asking a stranger to please open a door.
"I think if you can practice it enough times, it becomes a new norm, and it becomes a little more comfortable," Brooke says.
This is something Jess accomplished over time, first at MDA Summer Camp, and then as a student at Central Michigan University. She will graduate in December 2023 with a major in public relations and a double minor in event management and disability studies — a line of study that changed her own perspective on living with a disability. Courses that dove into how living in an often-inaccessible society leads those with disabilities to feel burdensome helped her recognize and let go of her internalized feelings of guilt. Jess grew more comfortable and more assertive in asking for help.
"It's not a big deal to ask. It's not embarrassing. It's just stigmatized — but that doesn't mean it's true," she says. "You're not the problem, and your body is not defective or faulty. Remind yourself of that."
Andrew Zaleski is a journalist who lives near Washington, DC, and wrote about his experiences with type 1 myotonic dystrophy for GQ magazine in February 2023.
---
Here to Help: MDA Connect
The MDA Connect program makes it easy to ask for help as you navigate your neuromuscular disease journey. Members of the neuromuscular disease community — including parents and caregivers — can schedule 30-minute, one-on-one video calls with MDA Support Specialists. Our specialists can help locate resources, navigate care within MDA's Care Center Network, and share information on MDA programs and opportunities for engagement.
"Putting a face to a name is invaluable," says Crystal, who is living with mitochondrial myopathy. She used MDA Connect to get information about her local MDA Care Centers. "It makes a difference to have someone see your expressions and emotions, especially if you are discussing a heavy topic, such as a progression in your diagnosis."
Simply visit mda.org/connect, and select a specialist, date, and time. You'll be asked a few questions so the specialist can better serve your personal needs during your meeting. After scheduling, you will receive a confirmation email and a meeting link for your scheduled appointment.
---
Next Steps and Useful Resources
Disclaimer: No content on this site should ever be used as a substitute for direct medical advice from your doctor or other qualified clinician.