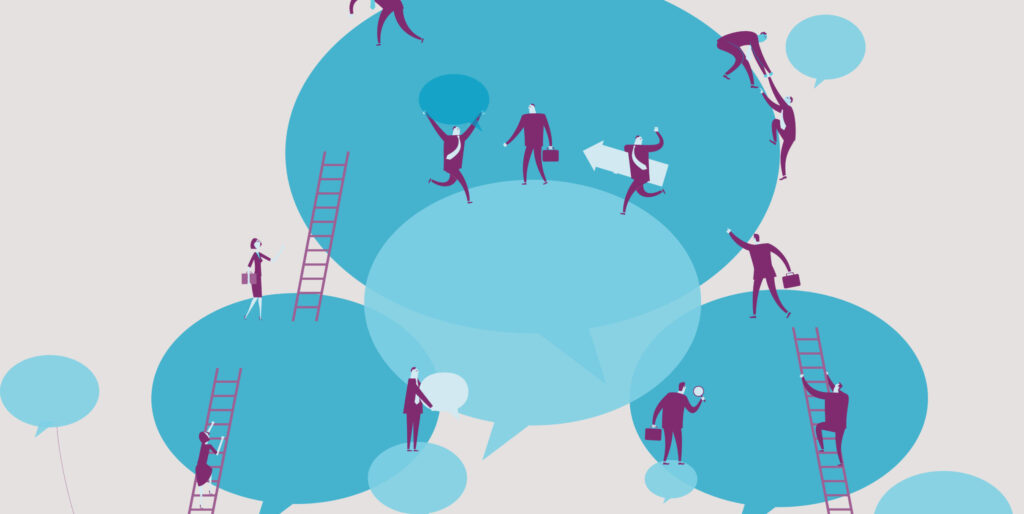 MDA Advocacy: Influencing Change in Washington D.C.
By Maggie Callahan | Tuesday, August 8, 2023
Every day, MDA's advocacy team works relentlessly to champion the issues important to those living with neuromuscular diseases. Along with promoting access to care, disability policy, and
accelerating drug development, the team also organizes and empowers MDA's grassroots advocacy network, made up of members of the neuromuscular disease community.
Quest spoke with MDA's Vice President of Public Policy and Advocacy, Paul Melmeyer, and MDA's Director of Advocacy Engagement, Mark Fisher, to learn more about MDA's Advocacy Program and the team's essential work.
Why is advocacy important to MDA and its mission?
MDA's mission is to empower the people we serve to live longer, more independent lives, and the organization couldn't fulfill that mission without an advocacy team. Changes to public policy, particularly at the federal government level, can help our community access care, thrive, and lead the life they want. To achieve those policy changes, we advocate for those with neuromuscular diseases and work to ensure that public policy decisions support them.
What are people surprised to learn about MDA's advocacy?
People are sometimes surprised that organizations like MDA have an advocacy program and registered lobbyists on our team. We primarily work at the federal level because those decisions affect everybody with neuromuscular diseases across the country. But we do get involved at the state level if a state is making impactful decisions, such as those regarding public health, that may serve as a precedent for other states.
Lastly, grassroots advocates sometimes ask if their voices matter anymore. The answer is, yes! Members of Congress still need to hear from you. Your voice makes a difference.
Can you tell us more about the advocacy team's three focus areas: access to care, disability policy, and accelerating therapeutic development?
For access to care, we try to influence policy changes that would increase access and remove barriers to the healthcare that the neuromuscular disease community faces. This includes making clinicians, specialists, therapists, and medical equipment more easily accessible. We also work to reverse or prevent policy changes that would create barriers, such as health insurance plan limitations, and try to remove challenges caused by geographic barriers.
For our focus on disability policy, we try to knock down the societal barriers preventing those with neuromuscular disabilities from living their best lives. This includes obstacles and discrimination that make travel, employment, and education less accessible for someone living with a disability. Currently, one of our focus areas is making air travel more accessible. We are also working to increase employment opportunities by ensuring that those living with neuromuscular diseases can continue to receive vital federal benefits while working. We also advocate for policies that empower employees to hire and retain individuals with disabilities.
Our third focus area, accelerating therapeutic development, is important because there are still far too few therapies approved by the US Food and Drug Administration (FDA) available to our community. So, we work with Congress and the FDA to ensure that more and better therapies become available to our community more quickly.
There are so many issues the advocacy team could get involved in. How do you decide where to focus your efforts?
The list of things we want to work on is never-ending, and it is a continuous challenge to prioritize our efforts. To ensure we put our time and resources where they will be most impactful and best serve those with neuromuscular diseases, we look at the different advocacy opportunities in front of us and evaluate each opportunity based on several factors, including:
The issue's importance to and impact on the neuromuscular disease community
If any other advocacy groups are working on the issue
How urgent the issue is
How much of an impact MDA could make
From the grassroots perspective, we look for the best opportunities for volunteers to weigh in. We know our volunteers have busy lives, and we want to give them opportunities that are meaningful to them.
How does the team advocate for these critical issues?
Our team goes to Capitol Hill in Washington, DC, and discusses these issues with policymakers, using compelling facts, statistics, and policy arguments to explain why we promote or disagree with a particular change. We also hold virtual and phone meetings with members of Congress; submit written comments and testimony to lawmakers, committees, and government agencies; and work with coalitions to achieve all our public policy goals. It's a challenging and fun job. Every day is different. The legislative process is unpredictable, so we must be flexible and ready to react to anything they decide to do.
Combining our efforts with the voices from the grassroots advocacy network lets policymakers know how a policy affects someone personally, and it's an extremely powerful combination.
What should the MDA community know about the grassroots advocacy network?
MDA's grassroots network is a place for the community to have their voices heard on MDA's advocacy issues. Our volunteer advocates are engaged in several issues, like ensuring that vital public insurance programs, like Medicare and Medicaid, stay strong and well funded; supporting efforts to strengthen and modernize the newborn screening program; and improving accessibility in air travel and other transportation.
Grassroots volunteers email, call, or tweet their members of Congress, and our website allows them to do that with just a couple of clicks of the mouse. We also encourage folks to contact government agencies, such as the Department of Transportation (DOT), which makes decisions about air travel.
Some volunteers visit their members' of Congress offices for in-person meetings, both in their districts and in Washington, DC. To effect change, the best thing someone can do is meet with their member of Congress or staff in person, and we can provide that opportunity.
To educate the community, the Advocacy team offers monthly webinars on topics such as specific policies we are trying to change, our work with the FDA, or even issues like voting and employment rights. We hope more people will be comfortable taking action after participating in a webinar. We also have opportunities for volunteers to write about an advocacy issue on our blog.
Collaboration is a crucial part of MDA's advocacy mission. Can you tell us more about this?
We know we can't do it all on our own, so we look to work with others within and outside the neuromuscular disease community to further the mission. For example, if we're working on an access to care issue, we may work with another nonprofit advocacy organization that focuses on a different disease with similar access challenges. This has been a successful approach.
In addition to working with outside organizations, the  Neuromuscular Advocacy Collaborative, led by MDA,  convenes other neuromuscular disease advocacy organizations that tend to focus on a specific neuromuscular disease community. This includes organizations focused on Duchenne muscular dystrophy (DMD), spinal muscular atrophy (SMA), amyotrophic lateral sclerosis (ALS), limb-girdle muscular dystrophy (LGMD), and others. Doing this brings together 20 to 25 organizations' voices, rather than only MDA's. Together, we work on a shared set of public policy changes that can benefit the entire neuromuscular disease community.
---
Advocacy Win: Access to Care
The MDA advocacy team and grassroots advocacy volunteers' efforts led to Medicare prescription drugs being capped at $2,000 per year in out-of-pocket costs, starting in 2025.
---
Advocacy Win: Access to Care
MDA and other organizations successfully prevented a policy that would have added work requirements to the Medicaid program. The additional bureaucratic hurdle would have caused many in the MDA community to lose their Medicaid.
---
Advocacy Win: Access to Care
With the help of other organizations, MDA's advocacy team and grassroots volunteers successfully advocated for the Centers for Medicare and Medicaid Services to begin covering seat elevation systems for most power wheelchairs. Previously, individuals had to pay out of pocket for these expensive systems.
---
Advocacy Win: Therapy Development
Last year, several FDA programs were reauthorized and reformed, making clinical trials more diverse and accelerating new treatments, particularly gene therapies.
---
Advocacy Win: Access to Care
With the help of our grassroots volunteers, the advocacy team successfully encouraged CMS to give LGMD its own diagnostic codes, which could shorten the time to diagnosis, help clinicians deliver more precise medical care, improve clinical trials, and increase future access to targeted treatments.
---
Advocacy Win: Disability Policy
After many years of advocacy from MDA and other disability organizations, restrooms in single-aisle airplanes will become more accessible. Grassroots advocates helped by emailing and calling the DOT to advocate for this.
---
Next Steps and Useful Resources
Add your voice to MDA's Grassroots Advocacy Network. Sign up at MDA.org/advocacy.
Listen to a conversation with advocates pushing for advances in accessible air travel and transportation policies at MDAQuest.org/podcast/ accessibility-DOT.
Stay up-to-date on Quest content! Subscribe to Quest Magazine and Newsletter.
Disclaimer: No content on this site should ever be used as a substitute for direct medical advice from your doctor or other qualified clinician.