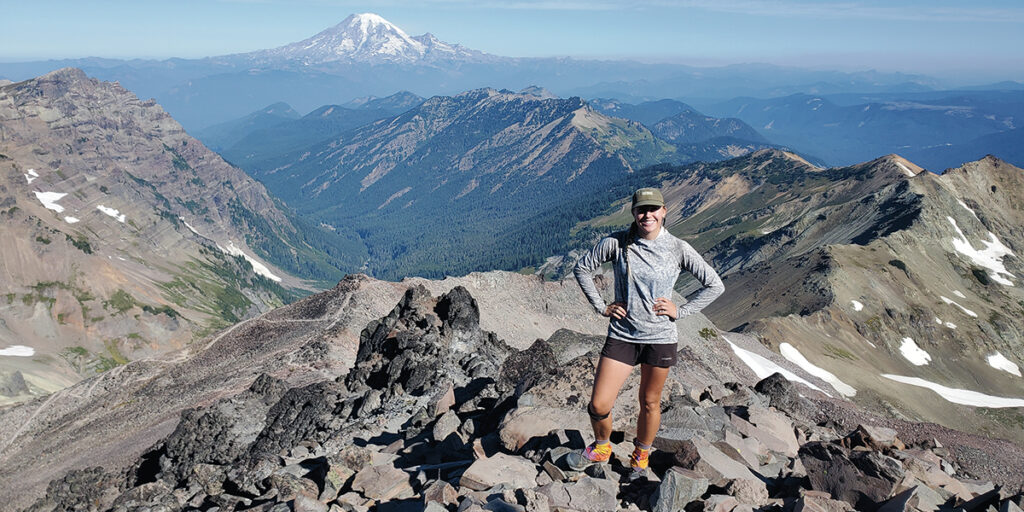 By MDA Staff | Wednesday, February 16, 2022
Hiker Skye Lemmen raised funds for MDA while trekking the Pacific Crest Trail
When Skye Lemmen, of Grand Rapids, Michigan, decided to hike the Pacific Crest Trail, she knew she wanted her endeavor to support MDA and the neuromuscular disease community.
So, while hiking the approximately 2,650 miles of trail, which extends from the Mexican border to the Canadian border in the Western United States, Skye raised more than $5,000 for MDA through Donor Drive. Inspired by her dad, who lives with facioscapulohumeral muscular dystrophy (FSHD), Skye wanted to support MDA for the assistance her family has received over the years.
"MDA helped us through the tough time when he was first diagnosed," she says. "My dad has always been a big proponent of MDA's goals, and we support everything MDA does, from Summer Camp to research."
Her dad 100% supported her ambition. "When Skye decided to do the Pacific Crest Trail and collect donations for MDA, it just made me feel really good," her dad, Walt Thebo, said in a video on Skye's blog. He hopes MDA's funding for clinical trials and research will lead to advances in treatments for FSHD.
As Skye made friends and a "trail family" during the journey, she also was able to spread awareness about neuromuscular disease. "When people found out I was raising money for MDA, they asked more about it," she says. "It helped form a bridge between people with similar struggles, and I found out about people who I didn't even know were dealing with other diseases."
Skye blogged throughout her journey, striving to educate readers on neuromuscular disease, and she shared breathtaking photos on Instagram (@skye.lemmen).
From watching the sun rise from the top of Mount Whitney, the highest peak in the contiguous United States, to feeling the impact of forest fires, Skye says the experiences of the trail will be with her for the rest of her life.
Learn about opportunities to donate or fundraise for MDA here.
Disclaimer: No content on this site should ever be used as a substitute for direct medical advice from your doctor or other qualified clinician.