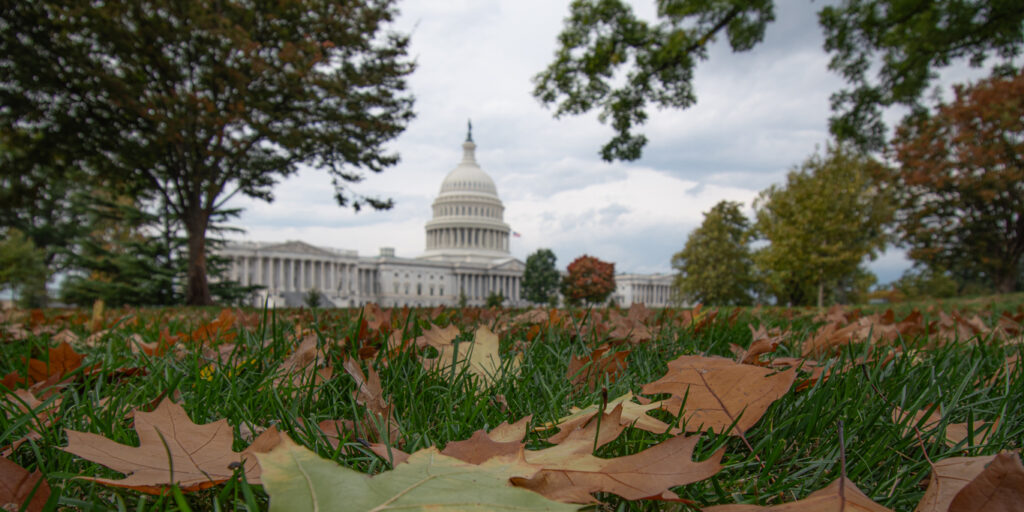 What Makes You Uncomfortable About Advocacy?
By Jori Houck | Monday, October 16, 2023
What makes us uncomfortable? Maybe it is speaking up when we feel uncertain about something, or perhaps starting a new project, new job, or another major life change. For MDA's Advocacy team, one of the most important responsibilities that we have is to ensure that members of the neuromuscular disease community who want an advocacy role feel comfortable using their voices to advocate for the issues that are the most important. When we encourage folks to take action and contact their Members of Congress, or other decision makers, it is our goal to make you as comfortable as possible when engaging in advocacy.
However, it is important to acknowledge that engaging in advocacy can sometimes be uncomfortable. You might be wondering, "Who do I meet with?" "What do I say?" "Do I know enough to talk about this?"
Luckily, we've got you covered! Read on to learn more about three of the most common questions about advocacy!
Who do I advocate to?
There are a lot of officials across all levels of government, each with different responsibilities within the policymaking process. While there is really no limit to the number of decisionmakers you can engage with, there are a few groups to keep in mind:
Members of Congress
Federal and state agency officials
If you aren't sure who your federal representatives are, MDA's Action Center automatically matches you with your lawmakers when you enter your address to contact them! You can visit MDA's Action Center to obtain a complete list of your federal officials and methods of contacting them. Government agencies may have different protocols for accepting communications from the public, but their contact information can typically be obtained from a quick Google search. Contact us for help with this if you need assistance!
What do I talk about?
Sometimes, it can seem like legislation changes rapidly and it feels like too much to keep track of, or maybe you simply prefer to avoid engaging in an often-polarizing political environment. In addition, many people are not familiar with the intricacies of the legislative process, including how bills are drafted, debated, and passed.
That's okay!
MDA Advocacy offers a variety of advocacy resources through the Action Center to help form the foundation of your messages to policymakers. Organization wide, MDA has a wide variety of materials that will help you learn more about the neuromuscular disease community and the issues working their way through government that matter to this community. It is up to you to decide which issues resonate with you, personally, and you have the freedom to choose where to focus your energy in the advocacy process.
Ultimately, policymakers want to hear about YOUR lived experiences to improve their understanding of our community. While policymakers do appreciate your knowledge of policy, the legislator cares most about your story, how you are affected daily as a member of the neuromuscular disease community, and your personal insights, rather than how much policy you can cite.
Remember, you are the author and expert of your story, and no one else can tell your story quite like you! Your authenticity is greatly appreciated by policymakers and resonates with them. You can control the narrative and highlight the aspects of your journey that are most meaningful to you.
Am I important enough to be an advocate?
You may think your voice isn't all that important or won't be heard, but all policymakers want and need to hear from constituents who are impacted by their decisions. Advocacy is about adding your individual voices to a highly engaged group of voices, and collectively, they become a force for change. Lawmakers and their staff members rely on resources, including from MDA and our advocates, to keep them knowledgeable and up to date.
However, if your voice is missing from the conversation, policymakers won't be able to get the best picture of the challenges that those in the neuromuscular disease community face and understand how they can be helpful. YOU as an MDA advocate are one of the most effective resources that we have to drive positive change in Washington and beyond. If you have comments or suggestions for MDA's advocacy work, please don't hesitate to reach out to us.
Remember, with all the demands that policymakers are balancing, it is always important to remember how essential it is for them to hear from you! Change often occurs incrementally, and persistence is key. Keep these tips in mind, and your voice will continue to help MDA Advocacy have a strong impact on Capitol Hill.
---
Next Steps and Useful Resources
Disclaimer: No content on this site should ever be used as a substitute for direct medical advice from your doctor or other qualified clinician.