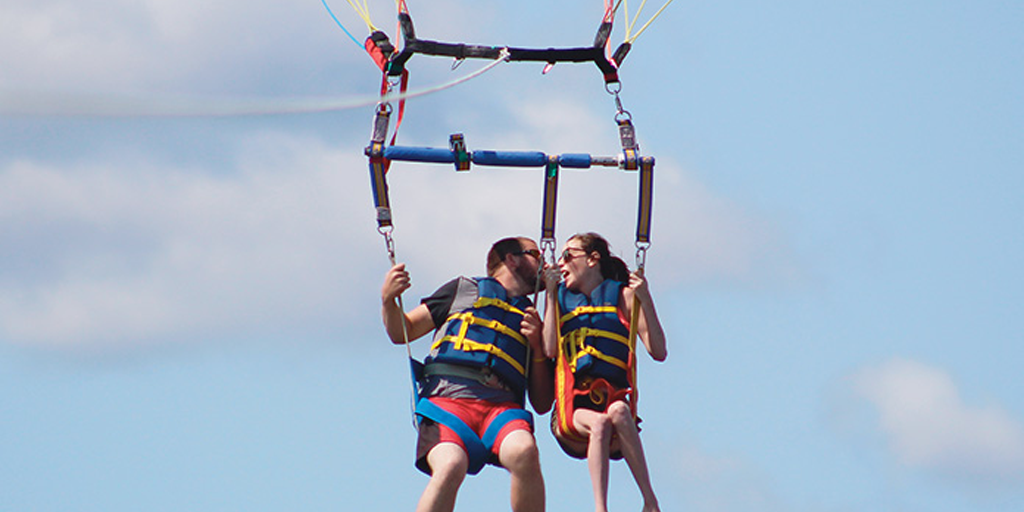 2020 Reader Photo Contest Winners
By MDA Staff | Friday, December 4, 2020
Walking on air
Congratulations to Julie MacIntyre of Millville, NJ, our Lasting Impression Photo Contest winner.
Julie, 32, was three months post-heart transplant when she and her boyfriend, Barry, went parasailing during a weekend trip to Ocean City, NJ, in 2017.
"It was the first time I realized that I can do things now that I wasn't able to for a really long time," says Julie, who lives with limb-girdle muscular dystrophy (LGMD). "It was one of the best experiences I've had, even to this day."
Just months before, Julie's heart function had plummeted, and she was placed on a transplant list. Two weeks later, she got the call that would change her life: She would receive a new heart the next day.
Since the transplant, Julie's muscle strength and stamina have improved significantly, and she hasn't stopped embracing her second chance at life — from parasailing to going back to school to study medical billing to educating elementary school students about muscular dystrophy.
Julie is grateful to her heart donor and the donor's family for giving her the chance to live and spend more time with her family and friends. "I never take a minute of my life for granted," she says.
Proud graduate
Congratulations to Paul An of Ontario, Calif., a runner-up in our photo contest.
This photo captures Paul's excitement about graduating from California State Polytechnic University, Pomona in May 2020. Paul, who lives with Duchenne muscular dystrophy (DMD), says this photo reminds him of all he overcame to graduate and be where he is today — a motivational speaker who shares his experiences to bring hope and disability awareness.
"There was pain along the way, but I had supportive people and determination to help me move forward," Paul says.
Playtime
Congratulations to Suzanne Hirt of Pickerington, Ohio, a runner-up in our photo contest.
Suzanne submitted this photo of her daughter, Jessica Evans, PsyD, who lives with LGMD, and her grandsons Hudson and Holden vying for lap space.
"I love the focus being on the pure joy and not on Jessica's wheelchair," Suzanne says. "It's the vision of true, fulfilling joy on that wheelchair instead of limitations. There is no barrier between this beautiful young lady and these vivacious young boys!"
Best friends
Congratulations to Jamie Russell of Lodi, Calif., a runner-up in our photo contest.
Jamie says this photo captures the incredible bond between her son Ethan, 13, who lives with DMD, and his dog, Charlie.
"No matter what kind of day Ethan has had, Charlie girl is always right there to shower him in unconditional love," Jamie says. "She can tell when it's a bad day, when his energy is low, or when he just needs extra snuggles. She brings him total peace just by being near him."
Disclaimer: No content on this site should ever be used as a substitute for direct medical advice from your doctor or other qualified clinician.