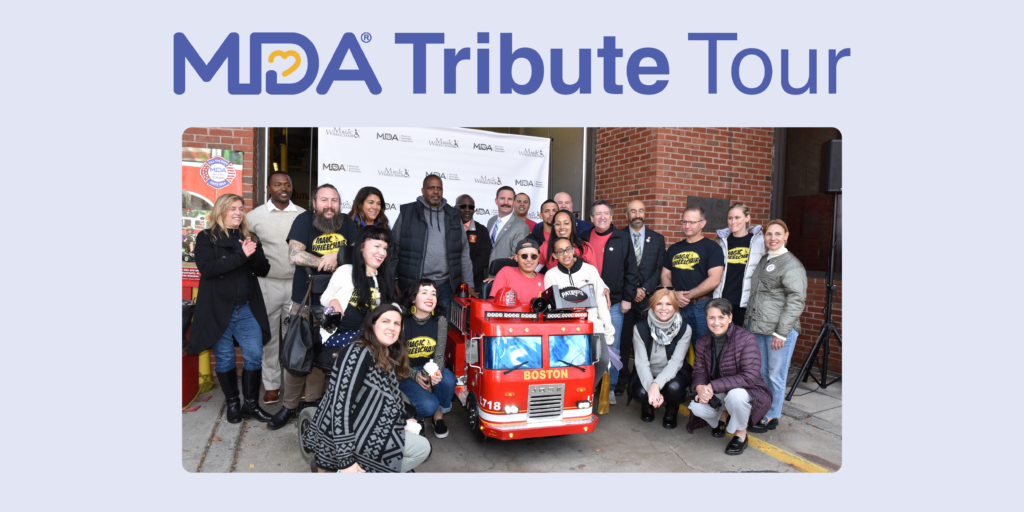 A Magic Collaboration at the MDA Tribute Tour in Boston
By Rebecca Hume | Sunday, October 30, 2022
Magic Wheelchair has been making custom, adaptable wheelchair costumes for seven years, having provided one-of-a-kind costumes to over 300 individuals living with a disability.  Just in time for Halloween, the Muscular Dystrophy Association's (MDA) collaboration with Magic Wheelchair was featured on the MDA Tribute Tour in Boston to honor the longstanding MDA partnership with the International Association of Fire Fighters (IAFF) at the birthplace of the iconic fire fighter Fill the Boot fundraiser – Boston Fire Local 718. Their collaboration goal? To provide an epic firetruck costume to Jose Bello, a Boston teenager living with Duchenne muscular dystrophy (DMD).
Making magic 
Magic Wheelchair is a nonprofit organization that promotes inclusive cosplay and self-expression for people living with disabilities. The organization creates a unique opportunity to bring imagination to life by pairing families with volunteer costume builders in their community.  The founder of Magic Wheelchair, Ryan Weimer, is a father of five children, three of whom live with spinal muscular atrophy (SMA). Ryan began building elaborate costumes to transform his children's wheelchairs. As the community took notice, Ryan recognized the joy that adaptive costuming could bring to many.
Now a national organization, Magic Wheelchair's mission aligns with MDA's to bring communities together by creating unforgettable moments for children and adults around the world as their wheelchairs are magically transformed. This experience promotes inclusion and self-expression while also raising awareness for rare disease and the barriers that people with disabilities face.
Executive director of Magic Wheelchair, Christine Getman, who lives with SMA, wears many hats in her role of bringing magic to life for families.  She works directly with families, on-boards volunteer builders, oversees marketing planning and partnerships, and handles all of the behind-the-scenes action and business matters. "I'm really grateful to bring my own lived experience into the equation when I'm orchestrating experiences for our recipients," Christine says. "I know what it's like as a wheelchair user and I try to leverage that when planning events and programs."
The incredible IAFF partnership
The MDA and Magic Wheelchair have collaborated to bring joy and empowerment to families living with neuromuscular disease for years, including many costume reveals with long-time MDA partners, the IAFF.
One of Christine's first experiences connecting with MDA was as a volunteer for the IAFF facilitated Fill the Boot program when she was younger, making this Halloween's collaboration feel extra special. "It really feels like a full circle experience for me," she says. "One of my earliest memories is doing Fill the Boot for MDA with my local fire station, so it's really magical for our organization to be a part of such a historical partnership."
Since the early 1950s, fire fighters across the country have collected critical funds in the community – one dollar at a time – as part of the Fill the Boot program to raise money for MDA. The IAFF designates MDA as its charity of choice and is dedicated to raising awareness and funds to ensure effective treatments and therapies are found for those living with neuromuscular disease. This commitment came to fruition when the founding family of the Fill the Boot and recipients of the MDA Tribute Award, the Graney family, urged the IAFF to adopt the mission of MDA across the country after helping a local family in Boston.
In 1952, the father of two sons with DMD approached George Graney, a firefighter at IAFF Local 718, asking for assistance to purchase wheelchairs for his children. With the assistance of 20 fire fighters at the station, they took to the streets of their community with cans and raised $5,000; this endeavor would set the foundation for today's Fill the Boot program. As part of the MDA Tribute Tour in Boston, Local 718 re-enacted this historical can collection on October 28, 2022. The replication event was held in honor of Tom Graney and family and included participation from Sam Dillon, President of Boston Fire Fighters Local 718 and Donald S. Wood, Ph.D., President and CEO, Muscular Dystrophy Association.
Shortly after the re-enactment, Local 718 geared up to host the reveal of Jose's Magic Wheelchair costume.
A special Halloween for Jose
Jose and his family have been active in the MDA community for years, participating in a variety of fundraisers and activities, most recently the MDA's Muscle Walk of Massachusetts held this past September in Boston Common.  Jose's mom, Stephanie, values their connection with MDA for the sense of community and support that it provides. "Our favorite part of Muscle Walk is always the ceremony that is done in the beginning," she says. "It is so amazing to hear about all the amazing work that people have done to raise money. And we love seeing other families just like ours."
Stephanie saw information about Magic Wheelchair on the MDA website and submitted an application for her son in 2020. Jose's dream costume: a firetruck.  "I picked a firetruck costume because I always wanted to be a fireman when I grew up and drive the firetruck," Jose says.
Jose's dreams of a Magic Wheelchair costume were brought to life this year when the MDA Tribute Tour came to Boston. It was the perfect opportunity to celebrate the IAFF program and for MDA to come together again with Magic Wheelchair, to collaborate and create an accessible, empowering firetruck costume for one special family.
That magic moment
Christine says that her favorite thing about her role at Magic Wheelchair is being able to witness the reactions to the costumes when they are finally revealed to families.  For Jose's family, that magic moment took place on October 28, 2022, with Local 718.  Before seeing the costume, Jose shared his anticipation and excitement, saying, "I know it is going to be awesome."
The epic, one-of-a-kind firetruck costume built by Magic Wheelchair's volunteer Shawn Thorsson did not disappoint. MDA staff and leadership, alongside Magic Wheelchair staff, IAFF Local 718 firefighters, and Jose's family shared in the special moment of joy, inclusion, and empowerment.
"For me, it makes me feel like all other kids that get to have a cool costume," Jose says. "It makes me feel strong and like I can do anything. It makes me feel brave like the firefighters."
MDA Tribute Tour: Boston
The presentation of this Magic Wheelchair costume  was part of the MDA Tribute Tour and Awards in Boston.  One day prior, on October 27, 2022, the MDA honored Louis Kunkel, Ph.D. of Boston Children's Hospital, Dr. Brenda Wong of UMass Chan Medical School, Natalie Jacobson, former anchor of WCVB Channel 5, and Tom Graney, son of George Graney and part of the founding family of the IAFF Fill the Boot fundraising program.  Jay Colbert, IAFF 3rd District Vice President, also attended the Tribute.
The MDA Tribute Award is presented to acknowledge the legacy and life's work of those whose extraordinary efforts support the patients and families we serve. The honorees have contributed to significant progress in accelerating research, advancing care, and advocating for the support of people living with neuromuscular disease. They have all been champions of progress whose accomplishments we are proud to recognize. The MDA Tribute Awards in Boston are notable because they honor individuals who have made extremely significant contributions specifically to progress for people living DMD, through scientific discovery, care, and fundraising.
Disclaimer: No content on this site should ever be used as a substitute for direct medical advice from your doctor or other qualified clinician.