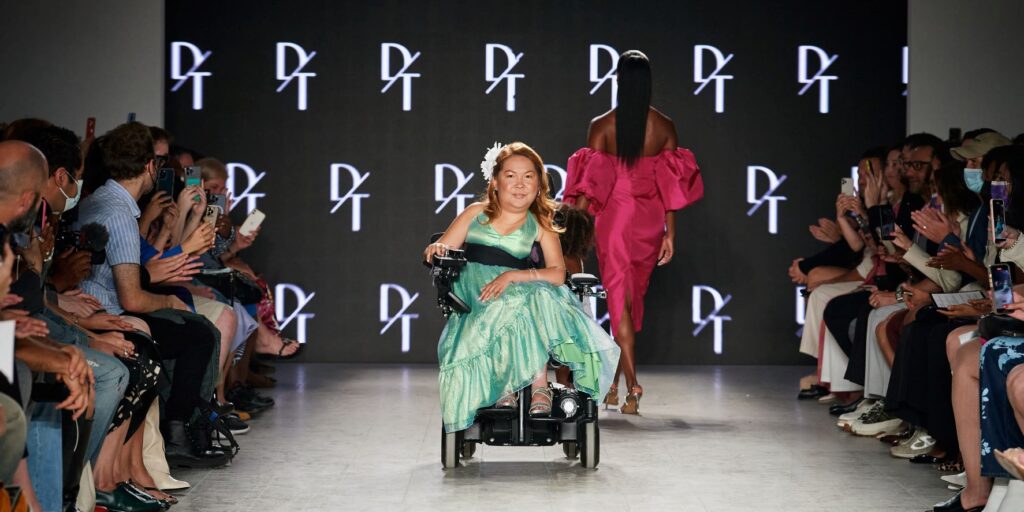 Accessible Fashion Hits the Runway with Double Take Fashion Show
By Rebecca Hume | Thursday, September 15, 2022
The Double Take Fashion Show, a collaboration between the spinal muscular atrophy (SMA) community, Genentech's SMA My Way, and Open Style Lab (OSL), kicked off 2022 New York Fashion Week on September 8th. The brainchild of a panel of individuals living with SMA, the fashion show was the first of its kind – an entire show featuring accessible fashion planned, executed, and modeled by members of the SMA community.
While the fashion industry has taken some strides towards inclusion, the unmet need for accessible, fashionable, and comfortable adaptive clothing remains high. Many individuals living with disabilities have experienced a challenge in finding clothing that is both functional and stylish. With style being a primary method by which people are able to express their individuality and personality, the lack of options creates a limitation for those living with a disability. The desire to address this limitation, create awareness among brands and designers, and establish notable change for inclusion was the motivation behind the idea for Double Take.
A meaningful collaboration
Every step of the planning process and execution of Double Take included members of the SMA community. Brought together through SMA My Way, an umbrella community commitment program by Genentech, members of the community connected with Open Style Lab and created a unique opportunity to spotlight the importance of accessibility in fashion.
Genentech is the biotechnology company responsible for the FDA approved SMA treatment, Evrysdi. As an organization, Genentech's commitment to the communities that they partner with and serve goes beyond just medicine.  Their unbranded program, SMA My Way, serves to unite the SMA community and Double Take is one of the larger initiatives under that program.
"We want people to do a double take, but for the right reasons and for self-expression and not for one's disability," says Michael Dunn, the senior marketing director for Genentech's neurological rare disease franchise. "The mission behind it is incredibly inspirational. Regardless of an individual being able bodied or not, fashion is a form of expression. One in four individuals in the US lives with a disability, but the fashion industry hasn't really taken those perspectives of disabled people into account when designing clothing.  It's hard to find stylish or adaptive clothing so that an individual can express their individuality while accommodating for differences that they might need. For me, the mission behind this has been inspired by the SMA community, on behalf of the broader disabled community, so that we can continue to move forward and have better and more accurate representation of individuals with disabilities in multiple industries, including the fashion industry."
An important aspect of inclusivity in the fashion world is the understanding that designers need to work with the disability community to better understand the needs of its members. The Double Take fashion show development process exemplifies the power in that partnership. The panel of individuals living with SMA joined with fashion designer fellows at Open Style Lab (OSL) to modify and create garments that would express the individual needs and style of each model.
Open Style Lab is a nonprofit organization dedicated to creating functional, fashionable, and wearable solutions for the disability community. OSL's primary objective is to create positive change in the fashion world and to make fashion accessible to everyone, regardless of cognitive or physical abilities. Jenna Dewar and Andrea Saieh are two of the OSL fellows who teamed up with the fifteen SMA community members planning and executing the show. Fellows worked closely with each participant to create a unique ensemble representative of individual taste, style, and needs.
A powerful message
In addition to drawing attention to the importance of functional and adaptive design in fashion, Double Take also aims to increase authentic representation of individuals living with disabilities. While there is some momentum in the industry, runways during fashion week are still very exclusive.
"I am really excited about the potential," Jenna says. "And I hope that more brands and stylists and designers can start thinking about their responsibility to be inclusive and to realize the innovation potential that is out there, and really start to include more voices in the creation process."
Part of what makes Double Take so special is the collaborative nature of the entire process.  As the brochure for the show states: "Double Take is the first ever fashion show with start-to-finish SMA community involvement — from conceptualizing the message, to collaborating on clothing designs, to walking and rolling the runway as a prelude to New York Fashion Week — and is dedicated to everyone living with a disability." Shane Burcaw and his wife, Hannah Burcaw, are both social media influencers and well-known members of the SMA community who are involved with the show.
Shane is the author of multiple books, including Laughing at My Nightmare, and oversees a national non-profit by the same name. Born with SMA, Shane has made it his mission to fight for equitable resources for those living with disabilities. He and Hannah are both active members of SMA My Way and openly share their experiences and perspectives on their YouTube channel in order to help others.  An openness that Andrea believes is paramount in creating space for others to join the conversation about the importance of inclusivity, stating that normalizing these conversations is imperative to making societal change.
Creating the runway looks
"We spent a lot of time in the beginning stages talking about what we wanted each of our outfits to represent about us," Shane says. "And so each piece that each model is wearing is a representation of who they are and their self-expression."
While most of the participants working with the OSL fellows selected garments to be modified to fit their individual needs, Andrea and Jenna worked with Shane to create an ensemble from scratch. "With Shane, it was pretty cool because we actually took a big risk and decided to do something from zero," Andrea says. "Which was a big challenge for Jenna and I with measurements. And for Hannah, who was doing measurements on their end. We were all doing a lot for the first time. But for us, it was very important for Shane's comfort."
Due to Shane's diagnosis, he spends majority of his time in a seated position which is often uncomfortable in clothes that were designed for standing. He shares that this issue is especially true when it comes to professional, business suits. Even with extensive alterations to his wedding tuxedo, Shane had never been able to comfortably wear what he describes as a "full-on, dapper suit." That never is no longer the case after his collaboration with OSL. With thoughtful, individualized design, the OSL fellows created an incredible three-piece suit for Shane to wear on the runway.
"My arms are stuck at 90 degree angles because of contractures – that, as you can imagine, makes putting on a long sleeve and form-fitting sleeve very challenging. One change we made was adding extra flexible fabric on the inner elbow that makes it easier to move my arms in the sleeves," Shane shares. "Lots of little things like that in the outfit that are ingenious but also feel very common sense."
With participants all over the world, the OSL fellows leaned heavily on technology and creativity to ensure that the modifications for each garment were perfect. The outcome serves as a powerful proof of concept for how technology can be used to make fashion more adaptable. Participants met with fellows on video chat, received shipped garments complete with measuring tools and pins, and walked through multiple virtual fittings, sending the garments back and forth each time. In each fitting, they collaborated on what felt right, what felt wrong, and what changes needed to be made.
Producing and directing for a cause
In order to combine the message, the models, and the tailored garments and create a professional fashion show on caliber with New York Fashion Week, the team enlisted the expertise and talent of Lynne O'Neill. A veteran New York Fashion Week show producer, Lynne is a renowned producer and director for fashion shows and events. Her over forty-year career also includes launch events with the Rolling Stones and Usher and fashion show consulting for television shows and movies.
Lynne joined the project as runway show director and was part of early planning meetings, working with the participants to take their ideas into account as she shaped the show. As an industry expert, Lynne led the coordination of creative contributors and helped plan the details of the show before directing rehearsal and calling the live show.
"I joined the project as a runway show director and producer to help realize this wide-reaching vision of the SMA community," Lynne says. "The goal of Double Take is to increase disability visibility, break down stereotypes and champion adaptive fashion – issues that affect not only people with SMA but everyone living with a disability."
Modeling inclusion, accessibility, and individuality
Double Take Fashion Show kicked off New York premiering the eve of the biggest week in runway fashion. "We are taking on fashion week," Shane says. "This is a big stage for fashion – obviously, the biggest in the world – and to see a fashion show that was created by the SMA community on that stage feels really profound."
Fifteen participants took the stage and created history as they walked and rolled in the first ever fashion show conceptualized, planned, and executed by the SMA community. Including Shane and Hannah, the show consisted of eleven participants living with SMA and four participants who are family members or partners.
James Ian, the singer and songwriter known for his song "Spaces" (the production of which was another SMA My Way initiative and was recently featured in a Quest podcast), sported a jacket featuring hidden magnetic buttons designed to look like buttons while eliminating the challenge of fastening and unfastening. Sawsan Zakaria, a model and actress, wore a haltered catsuit modified to fit her exact proportions.  Celine Domalski took the runway with her mother, Amber-Joi Watkins, wearing a shift dress with expandable side panels and bonus layer that can snap into place to increase length as she grows. Joe Lakhman wore a red leather jacket modified by removing the arms from the body of the jacket and replacing seams with a stretchable harness that allows for optimal movement when operating his wheelchair; he was accompanied by his sister, Miss New Jersey, Lexi Lakhman.
Tabi Haly, Laura Watson, Allegra Keys, Rachel and Otto Knutson, Kellie Cusack, and Scott Menzel rounded out the show with custom tailored and modified garments. Modifications included stretch panels to replace back zippers, Velcro closures, weighted hems, shoulder gussets to increase range of motion, and shirt openings to provide g-tube access. You can read more about each adaptation in the Double Take official brochure.
The show was an incredible opportunity to showcase the innovative potential and for accessible fashion and to draw attention to the need for inclusion in the industry. And, as Lynne said, "Double Take also creates an opportunity for the participants to be seen authentically, as people first, rather than being tokenized or defined solely by their disabilities."
Watch the full Double Take fashion show here.
---
Next Steps and Useful Resources
Learn more about SMA My Way: www.SMAMyWay.com 
Connect with Open Style Labs

Email: hello@openstylelab.org 

Connect with Jenna Dewar
Connect with Shane and Hannah Burcaw
Disclaimer: No content on this site should ever be used as a substitute for direct medical advice from your doctor or other qualified clinician.