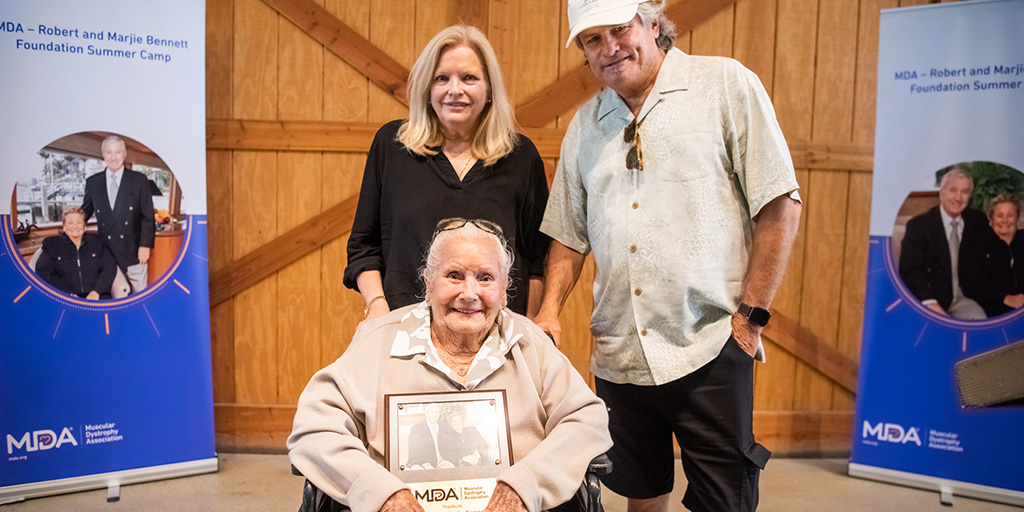 Bennett Foundation Donates $500,000 to Orange, Calif., MDA Summer Camp
By MDA Staff | Friday, July 12, 2019
July 9 at the Irvine Ranch Outdoor Education Center in Orange, Calif., home to one of MDA's nationwide Summer Camp programs, was a very good day.
Campers and MDA staffers gathered with members of the Bennett Foundation, who graciously donated $500,000 to the camp in honor of the late Robert (Bob) Bennett, president of MDA from 1995 through 2001 and chairman of MDA's Board of Directors from 2001 through 2005.
"My father, Bob Bennett, was a well-respected television manager," says Kelly Bennett, Bob's daughter. "He was also responsible for putting together the Love Network, a group of television stations that raised money for his favorite cause, the MDA. Dad went to heaven two years ago, but he would be proud to know that through his foundation, he will be providing happiness, fun, and good memories for the children who will attend MDA Summer Camp. It's a privilege to carry on my dad's legacy though our involvement with the camp." 
Now, when MDA takes over Orange's Irvine Ranch Outdoor Education Center, the camp will be honorarily known as the MDA Robert & Marjie Bennett Foundation Summer Camp. The foundation's donation will allow MDA to enhance the overall camp experience for campers and volunteers.
"MDA's camp program is vital because of the impact is has on the campers," says Jennifer Allebach, MDA's senior vice president of Recreation and Camp Programs. "As campers progress through their developmental milestones and come to camp each year, this experience fosters outcomes specific to their age. The weeklong experience provides campers with courage, confidence, and independence. Campers experience the outdoors and nature, they become a citizen of the camp session, and develop friends, learn problem-solving techniques, and develop new skills that provide them with a level of competence that they may not have arrived with on check-in day."
Each summer, children across the country attend life-changing, overnight MDA Summer Camps like the one in Orange at no cost to their families. These barrier-free spaces invite kids living with neuromuscular disease to just be kids, exploring the outdoors and gaining necessary life skills along the way.
Help support MDA Summer Camps all year long by joining us as a volunteer or by making a donation that makes an impact. Visit our Summer Camp portal to learn more.
Disclaimer: No content on this site should ever be used as a substitute for direct medical advice from your doctor or other qualified clinician.