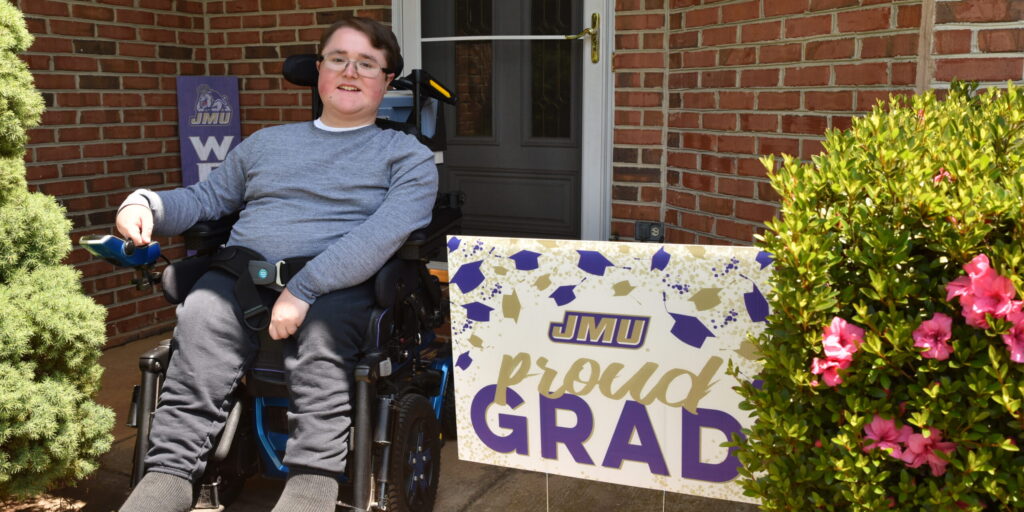 Celebrating Independence with the Juracks
By Annie Zimmerman | Thursday, July 6, 2023
Families like the Juracks are at the heart of all that the Muscular Dystrophy Association (MDA) embodies, representing strength, resilience, and hope.
The Jurack family of Manassas, Virginia is a close-knit unit who credits MDA for the role it has played in their lives and that of their son, Joshua, since he was diagnosed with Duchenne muscular dystrophy (DMD) in 2006 at age four. Kaaren and P.J. Jurack raised their five children (Joshua, Jonah, Joel, Caroline, and Catherine) with faith at the center of their family, which they say has brought them closer and has given them the strength they need to persevere in challenging times. "The diagnosis was life-altering; you have no idea what the next steps should be or even how to navigate that," Kaaren reflects. In the face of uncertainty, the Juracks drew upon their faith – and then turned to MDA as a support network, where they found encouragement, resources, and a strong sense of community. "We knew as we went through the care network that there were other people who had also been through this, who could help us prepare for what lay ahead in the progression of the disease," Kaaren says. One of the best pieces of advice Kaaren and P.J. received from Joshua's doctors was to be transparent and forthcoming with him about his diagnosis.
"Being honest with Joshua from the beginning served him very well: he is a tremendous self-advocate and is able to get out there to talk to others," explains P.J.
For Joshua, MDA has been a second family over the years, giving him a sense of purpose while advocating and being part of the organization's efforts to raise funds for research. "MDA has been a great outlet for me to share my story and encourage others to donate," Joshua says. Since they first connected with MDA while living in Chicago, Illinois, the Juracks have participated together in a variety of events, such as Muscle Walks. Attending MDA Summer Camp multiple years in a row not only provided Joshua with a social outlet, it also afforded him the opportunity to connect with other youth living with neuromuscular diseases. "It helped to talk about our difficulties and how we can overcome challenges," reflects Joshua. MDA Summer Camp set the stage for developing a sense of independence, which he has continued to build upon in his college years, while living away from his family and juggling demanding college courses. And sharing his experience living with DMD has helped him gain the confidence he needs to tell his story in a variety of settings.
The family has continually banded together to ensure that Joshua has the best possible care. The siblings take turns pitching in to help him with tasks and mobility around the house. "This really put the work that our parents were doing into perspective – and it made me understand the disease a lot more," Joel says. But it wasn't all work: the three brothers fondly recall afternoons spent in friendly competition playing video games together and more recently, have enjoyed visiting Joshua at James Madison University (JMU) in Harrisonburg, Virginia, where he graduated in 2023 with a Bachelor's degree in Intelligence Analysis. Reflecting on his college experience and the determination it took to complete his goal, Joshua is grateful for the chance to meet new people and challenge  himself. "I think it's important not to hide behind your disability, but to try to do as many things as you can and get out into the world," Joshua says. And he certainly took his own advice as he made friends at tailgates and cheered on JMU at football games. Joshua continues to serve as an example of perseverance and fortitude for other youth living with neuromuscular disease.
The Jurack siblings have a close relationship, crediting Joshua's diagnosis for further tightening their bond. "I think our family has a stronger sense of community because of the hardships – and it has made us appreciate the chance to celebrate the good times," says Joel. The younger brothers look up to Josh and cite him as a role model, not merely because of the strength he has shown in living with DMD but also for the person he is. "I admire how well-spoken Joshua is and his ability to stand out in a crowd," Joel reflects. He elaborates on how it takes a significant amount of courage to give public speeches and participate in high-profile events – and Joshua has done so fearlessly, serving as an MDA Ambassador in Virginia, Washington, D.C., and Fairfax County.
The brothers also revere him for his bravery and positive outlook on life. "Joshua's courage is contagious – and it makes you look into your own story and ask yourself where you can show more courage," Jonah comments. The siblings agree that one of the top characteristics Joshua embodies is resilience, describing him as "tough as nails." His family marvels at how well Joshua navigated the demands of his college courses without letting his limitations stand in the way or damper his outlook on life. Technological advancements such as voice dictation allowed Joshua to live more independently during his college years and a power chair facilitated his mobility without relying on the assistance of someone else.
As Joshua looks ahead to the next chapter, he knows he has the unwavering support of his family, as they cheer him on. "He graduated college with flying colors – and no matter what he does in the future, he has already made a difference beyond what he'll ever know," Kaaren marvels. Bolstered by his recent accomplishment, Joshua is prepared to tackle his career as an intelligence analyst, continuing to be a source of light and positivity to everyone he meets.
---
Next Steps and Useful Resources
Disclaimer: No content on this site should ever be used as a substitute for direct medical advice from your doctor or other qualified clinician.