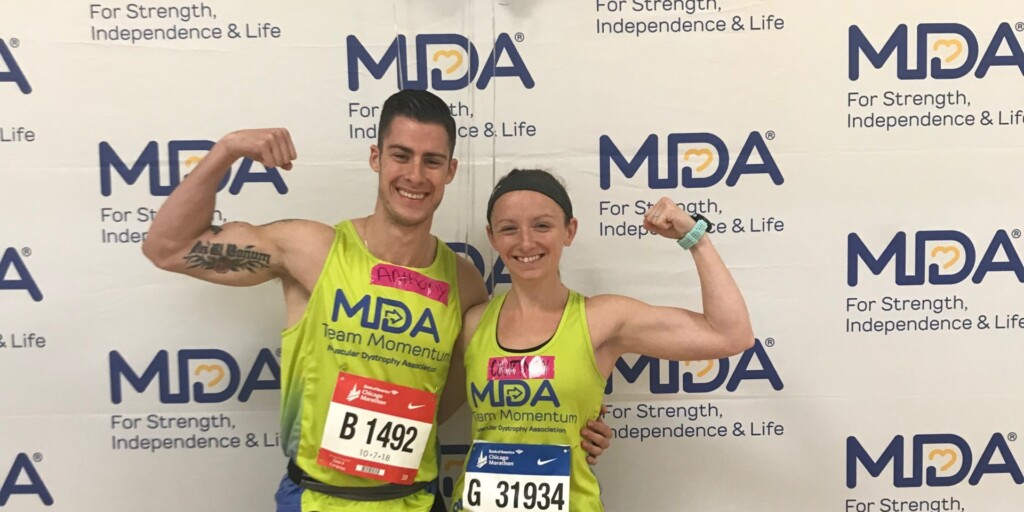 Do You Know ALS? Meet Anthony, Alicia, and Erin.
By MDA Staff | Monday, May 20, 2019
Team Momentum is a team of runners who dedicate their miles to help our community raise critical dollars that help MDA fund research breakthroughs and provide families living with muscle disease support and services. During ALS Awareness Month 2019, we are highlighting three Team Momentum runners — Anthony Accorsi, Alicia Martin, and Erin Westphal — who share why they are inspired to run for MDA and how their experience in joining the MDA community has been. Outside of believing in MDA's mission, Anthony shares how dedicating his miles to MDA led him to participate in three races across two new cities; Alicia shares how she has helped raise more than $50,000 for the MDA through events in Boston and the Marine Corps Marathon; and Erin, coming off the 2018 Bank of America Chicago Marathon, is preparing to run this year's TCS New York City Marathon.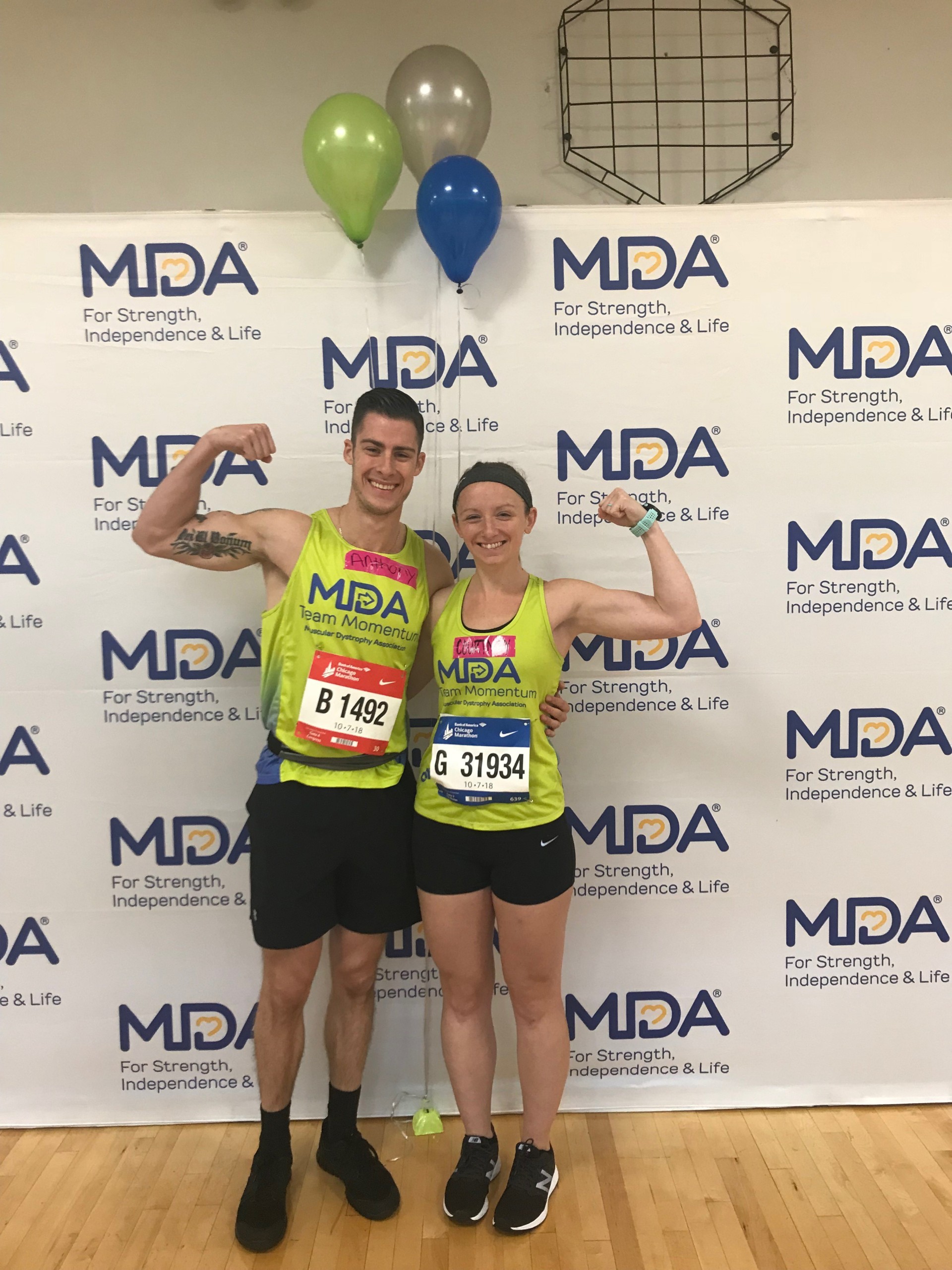 Anthony Accorsi
Why do you run with MDA and Team Momentum?
Anthony: Amyotrophic lateral sclerosis (ALS) has run through many generations of my family and has pushed me toward a career in research. I run with MDA and Team Momentum because I believe in the mission to help patients who are living with muscle diseases live unlimited. We move our muscles for those who can't.  It sounds cliché, but if you don't have passion for the patients or believe in the work by the organization, training on 90-degree days becomes much easier to say no to.
How have you been inspired by the people you run for? 
Anthony: There's something inspiring about watching someone who has been dealt a brutal hand in life, especially children, react to the world with a smile. When you wake up in the morning and you don't feel like it, or you're 10 miles into your 20-mile run and you're ready to stop, you picture the face of those smiling children who will never get to experience what you're doing, who would kill to feel the suck you're feeling, and then you remember that by quitting, you quit on them. And you not only keep going but you pick up the pace. You're not doing this for you, you're doing it for them. Being part of something bigger than yourself, something far more important than a notch on a bucket list, is the feeling of supporting those who need it.
What experiences has running with MDA allowed you?
Anthony: Running with MDA has allowed me to cross off a bucket list item three times. It's brought me, thus far, to two cities. It's taught me more about myself in those times of deep inner turmoil in the last three years than I've learned in every year before that combined. It's introduced me to some incredible people who I now consider close friends. The bonds that are sewn between like-minded people striving to do good for others is something that cannot be compared. It's a bit hard to explain but when you see a stranger at mile 20 with a Team Momentum shirt and you yell, "MDA!", you both smile and you get it. Brother/sister in arms.
Alicia Martin
Why do you run with MDA and Team Momentum?
Alicia: I run for two reasons: my son, Mason, who was diagnosed with a form of muscular dystrophy at the age of 3, and my Uncle Richard, who was diagnosed with ALS last year. I run for them because they are unable to. I run for them to help fundraise to help find a cure. I run for them to help raise awareness and hope that one day there will be a cure.
How have you been inspired by the people you run for? 
Alicia: I'm inspired daily by my son and his ability to overcome and adapt. I'm inspired by my uncle, who refuses to give up.
What experiences has running with MDA allowed you?
Alicia: It has allowed me the ability to help find a cure, raise awareness, and hope that someday soon there will be a cure.  It has allowed my son, Mason, the ability to participate in world-class races like the Marathon Corps Marathon and Boston's Run to Remember while inspiring others to dedicate their miles to MDA.
What does MDA's investment in care and research to accelerate the discovery of therapies and cures mean to you? 
Alicia: It means hope. Hope for my son that he will be able to lead a long healthy life and have a family of his own someday. It means hope for my uncle to help prolong his life and quality of life with the discovery of therapies and new drugs.
Erin Westphal
Why do you run with MDA and Team Momentum?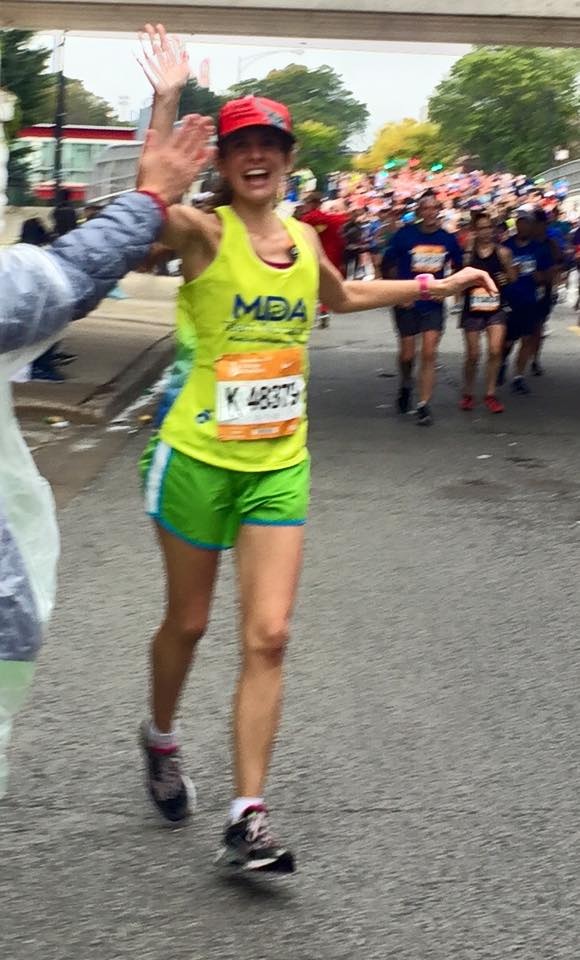 Erin: I run with Team Momentum for many reasons!  However, if I were to pick the most important reason, it's that the focus is on the people who we are trying to help.  The Facebook group is filled with pictures of family and friends with ALS and muscular dystrophy (MD), rather than the usual runner posts of gear or nutrition or training, reminding us that just being able to run a race is an honor and a privilege.  It's more common to see posts about how training isn't perfect, which creates such a supportive, inclusive atmosphere.
How have you been inspired by the people you run for? 
Erin: I run for three friends with ALS, and the hardest part is seeing the frustration of not being able to do the things their minds want to do.  Yet they inspire me by continuing to fight for as normal a life as possible for as long as possible.  Ray would not give up working as his body started to fail.  Sadly, he passed away after falling down at work.  Patti was a lifelong athlete, so the diagnosis and quick progression of ALS took away her ability to exercise and stay active.  However, she continued to be an active member of our run club, who purchased a Hoyt racing chair so she could be pushed on runs.  She finished Chicago last year as part of a duo entry, and knowing she was ahead of me on the course inspired me on every mile.  Brian's diagnosis is more recent but he has taken up the cause as an activist and fundraiser, starting a new charity and even testifying before Congress to ask that everything be done to find a cure.  
What experiences has running with MDA allowed you?
Erin: Three experiences come to mind.  The most profound experience I had running with MDA was during the team dinner last year.  The keynote speaker was a researcher who studied the impact of daily steroid use in MD patients, looking to see if moving them to a weekly dosage would improve their quality of life.  Knowing first-hand how much quality of life can deteriorate with ALS patients, I was thrilled that MDA was doing so much for the patients who are dealing with these diseases now, patients who may never benefit the day a cure is found.  The second [experience] was at Mile 24, when Lindsay (one of our coaches) finally found me and asked how I was doing.  My foot had started cramping a bit around 21, but I told her that it was nothing compared to the cramps someone with ALS has every day.  It was a great conversation, and exactly the perspective I needed to push to the finish.  Finally, [the third experience] was when Abbey Hauser came into the team gym, having finished the marathon.  We all couldn't help but give her a rousing ovation.  
My bachelor's degree is in chemistry, and I worked as a quality consultant in the pharma/medical device industry for eight years.  While all of the research by disease-specific organizations is necessary, my scientific background causes me to think the research funding could be so narrowly focused that they might miss a good idea. With MDA, all neuromuscular diseases fit under their umbrella, so something that may not work with ALS might be very helpful to MD.  Or something that is discovered in the Duchenne muscular dystrophy (DMD) research might be tried with MD and ALS.  Putting all of the research and care into one umbrella allows good practices and good ideas to be spread beyond one disease and, hopefully, finds cures for all of them.
Disclaimer: No content on this site should ever be used as a substitute for direct medical advice from your doctor or other qualified clinician.