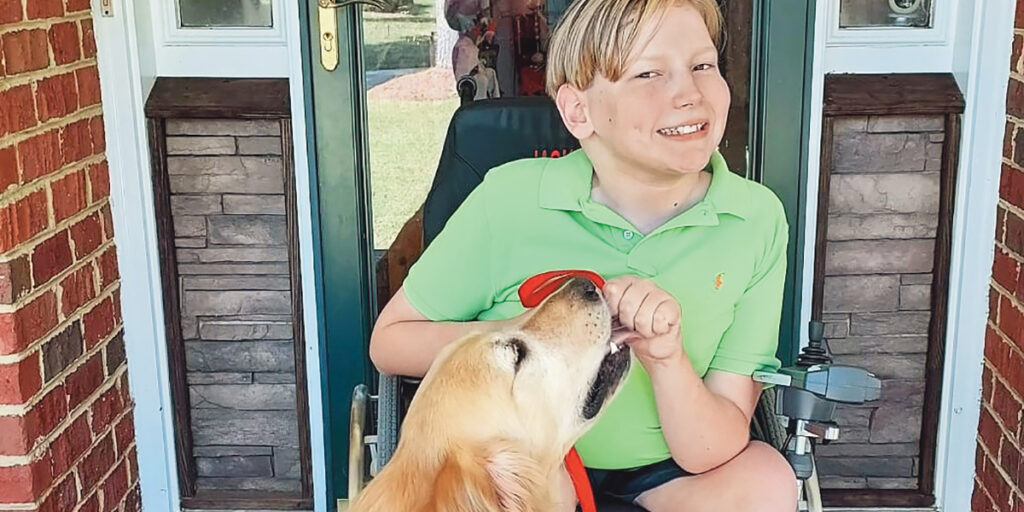 By MDA Staff | Friday, May 13, 2022
Teen's small business saves man's best friend
Some of the best ideas — and friendships — are born from moments of necessity. When 13-year-old Jackson Saville, who lives with spinal muscular atrophy (SMA), heard his mother's plan to keep him busy with educational activities last summer, he sprang into action.
"I had a better idea than the fun worksheets, which aren't very fun at all," says Jackson, who lives in Virginia Beach, Va. "I wanted to start my very own business."
In June 2021, he created RockStar Life Designs and began selling personalized t-shirts, cups, and blankets, using a cutting machine, heat press, and his mother's sewing skills.
Around the same time, Jackson learned of a four-year-old golden retriever who had been hit by a car in Istanbul, Turkey, and rescued by the Southeastern Virginia Golden Retriever Rescue, Education, and Training Group. They flew the injured dog to the United States for spinal surgery. Jackson, who has gone through numerous treatments for SMA and 18 surgeries for scoliosis, immediately felt a bond with the dog, named Archie.
"I said, 'I can't just sit there and pray for Archie's surgery to work," Jackson says. "I must take action immediately to raise money for his surgery.'" Since then, he has sold more than 300 pet bandanas and raised more than $1,800 to fund the dog's medical expenses.
However, Jackson and Archie's story does not end there. On Oct. 26, 2021, the Saville family adopted Archie, and now he and Jackson are inseparable. Whether Jackson is doing homework, making a custom order, or exploring the neighborhood, he always has his trusty four-legged sidekick.
"My favorite thing about Archie is he is always there for me when I need him," Jackson says.
Jackson has big plans for the future. He wants to turn his business into a multi-billion-dollar enterprise, start an international dog rescue, and drive a shiny, red Lamborghini with a special seat in the back for Archie.
Disclaimer: No content on this site should ever be used as a substitute for direct medical advice from your doctor or other qualified clinician.