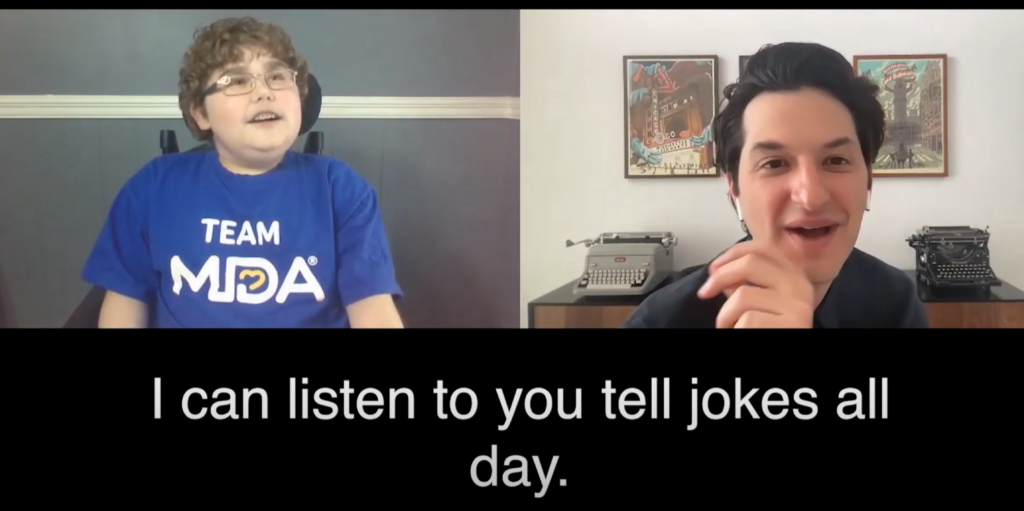 Ethan LyBrand and Ben Schwartz Share a Laugh for National Tell a Joke Day
By Rebecca Hume | Tuesday, August 16, 2022
Ethan LyBrand loves a good joke. During the start of the COVID-19 pandemic, Ethan embarked on a virtual crusade to bring happiness to the world by sharing a joke a day for MDA. His parents recorded videos of Ethan telling a joke each day and those videos gained national attention and accolades. Ethan was recognized with numerous awards for his campaign to spread joy, raise awareness, and raise funds for neuromuscular research. He was even named one of Newsweek's "Heroes of the Pandemic" in 2020.
Diagnosed with Duchenne muscular dystrophy just shy of his second birthday, 13-year-old Ethan dedicates much of his time to MDA's mission to transform the lives of people living with muscular dystrophy, ALS, and related neuromuscular diseases.
The Muscular Dystrophy Association's (MDA) mission to empower the people we serve to live longer more independent lives continues through the ever-expanding pipeline of promise – 15 FDA approved drugs for NMD in the last 12 years. MDA also leads the way in caring for people living with NMD. Our nationwide network of MDA Care Centers is staffed with the nation's top NMD physicians who specialize in the diagnosis and treatment of patients with NMD. It is a network of physicians, nurses and other healthcare specialists unique in the United States for their expertise in helping patients with muscular dystrophy, spinal muscular atrophy, amyotrophic lateral sclerosis (ALS), and many dozens of other muscle-wasting diseases live lives to their fullest potential.
MDA's critical fundraising efforts would not be possible without the dedication of our incredible Ambassadors. During his time as a National Ambassador, Ethan has participated in a multitude of fundraising efforts and made a significant impact on the community with his MDA campaign. Serving as an Ambassador provides Ethan the opportunity to spread awareness about neuromuscular disease – and to spread joy and laughter.
"I have enjoyed being in this role as it has given me the opportunity to share my story and raise awareness for MDA," Ethan said of being an Ambassador. "MDA is like a second family to me so being able to support MDA in this role has been incredible. Making people smile has made my heart happy!"
Ethan continues to create content that will make people smile. His latest endeavor to raise awareness and bring happiness to others is a collaboration with actor Ben Schwartz, known for his role in "Parks and Recreation" and as the voice of Sonic in the "Sonic the Hedgehog" movies. Ethan and Ben recently sat down to share a few of their favorite jokes. You can watch the just-released compilation here!
In honor of National Tell-A-Joke Day, here are a few crowd-pleasers from Ethan's Joke-A-Day for MDA campaign:
How does a penguin build a house?
IGLOOS it together!
What did the fisherman say to the magician?
Pick a COD, any COD.
What do cows do for entertainment?
They go to the MOOOOOOvies!
What animal do you not want to play a game with?
A CHEETAH!
What did one volcano say to the other?
I LAVA you.
You can catch up on all of Ethan's jokes on MDA's Joke of the Day YouTube playlist.
Disclaimer: No content on this site should ever be used as a substitute for direct medical advice from your doctor or other qualified clinician.