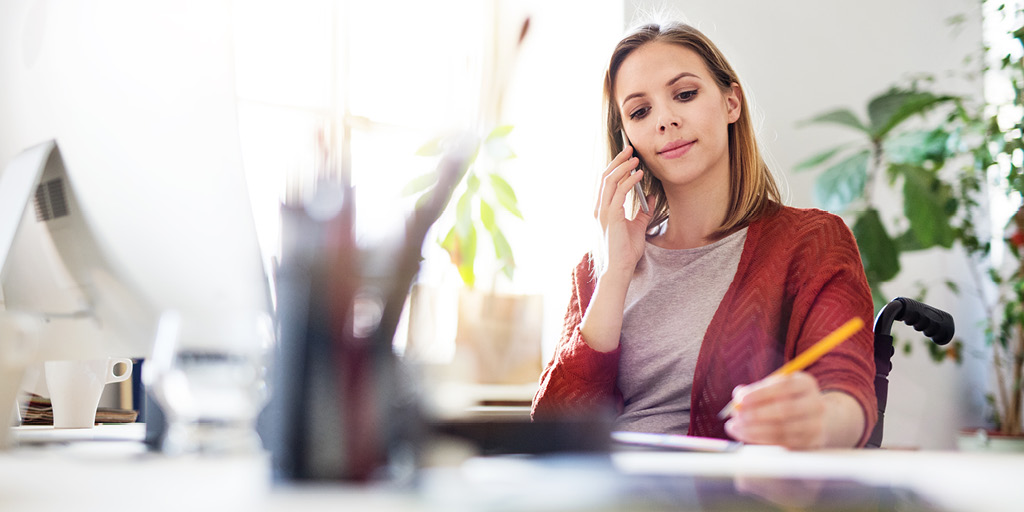 What is the MDA Resource Center? An Executive Q&A
By Mindy Henderson | Sunday, August 14, 2022
What is an MDA Care Center? 
I'm having symptoms of a muscle disease and I'm not sure what to do or who to talk to. 
My child was diagnosed with a neuromuscular disease and is starting school this fall, and I am unsure of how to work with his school to get the accommodations he needs. 
How can I register my child for MDA's summer camp?
My father has Amyotrophic lateral sclerosis (ALS) and needs a wheelchair. How do I start that process?
The MDA Resource Center is your one-stop-shop for questions like these, and so much more! We have individuals available eight hours a day to take your calls and to reply to your emails, so that you don't feel alone and get the information and help you need. If you are not familiar with the Resource Center, check out the information below and make note of their contact information. The team is staffed with kind, compassionate, incredibly knowledgeable individuals who are ready to help you with any number of topics, and, if they don't have what you need at their fingertips, they will partner with you to figure it out.
I spoke recently with Resource Center executives and here is everything you need to know:
What is the Resource Center, when was it created and what are the hours of operation?  
The Resource Center is MDA's national information hub that helps you locate the services and programs you're looking for. Created in 2015, MDA facilitates connecting the neuromuscular disease community with resources and education supporting a world of independence and possibility. We provide resource referrals to individuals, families and caregivers in addition to healthcare providers and other professionals working within the neuromuscular disease space. 
The Resource Center can be reached at (800) 572-1717, option 1 or via email at mda@mdausa.org. Resource Specialists are available to answer your calls or emails from 9am-5pm CT.
What sorts of issues can the Resource Center assist with?  
If you are looking for a solution or have questions related to neuromuscular disease, the Resource Center is a great place to start. Aside from directing people to the correct staff or department within MDA, our trained Specialists can work one-on-one with individuals and families to identify resources and solutions based on their needs. The Resource Center provides information on finding MDA Care Centers, education and IEP information, accessibility resources, independent living, durable medical equipment referrals, caregiver resources, and more!
Who can contact the Resource Center? 
Anyone can contact the Resource Center! We are happy to help everyone from diagnosed individuals to physical therapists to family caregivers and everyone in between. If the Resource Center can't answer your question, the team does our best to connect you with someone who can!
How many calls or emails did the Resource Center handle in 2021? Any other metrics you are proud of or think or impactful that you would like to share with our community?  
On average, the Resource Center handles 800 phone calls and emails monthly, and 10,000 annually.
We usually are able to answer a question/connect a family to a resource within a day. The Resource Center enjoys providing helpful information to everyone who calls. Our favorite requests are those in which we can give helpful information that supports someone in regaining some of the independence their disease has taken from them. We hear all the time from people in the community that it's helpful to talk to someone who knows what they've been through. The Resource Center is staffed by trained, caring individuals who have life experience with rare diseases – we know how important it is to get the right information from someone who understands. When you contact the Resource Center, you get a team of people who are ready to walk through this journey with you and help you in any way we can. No question is too small – give us a call today!
If someone calls or emails and does not get a hold of a person right away, how quickly can they expect to hear back from someone?  
All calls, emails, and web form submissions are answered as quickly as possible in the order they were received. You should expect a return call or email within 3 business days, but often are contacted within 1 business day.
What languages can the Resource Center communicate in? 
Almost any language, including Spanish! You do not need to be a native English speaker to contact the Resource Center. To ensure no one in the community goes without the help they need, the Resource Center is partnered with a phone interpretation service to ensure all language barriers are eliminated.
Anything else you would like to share about the Resource Center and the service you provide to the neuromuscular disease community?  
The Resource Center team is a group of caring individuals who don't see this as just a job- many have experience in healthcare or social work settings, or have close family members with a rare diagnosis. The team is here because of the deep desire to serve our community and help make their lives better through disseminating the resources and information we are able to provide. We link people to resources that aren't always obvious to the general population, such as MDA Care Centers, government benefit websites and local disability related agencies such as Centers for Independent Living and Vocational Rehabilitation. Each team member brings so much information and knowledge to the table that there is not a call or email that comes in that we cannot answer. We are an incredible team who work together to provide those who reach out to MDA with all the information we have that might best assist them with whatever it is they need help with.
Where can people go for more information about the Resource Center?  
More information is available at: MDA Website  and Quest Magazine Issue 2, 2021 Support for Your Journey
Disclaimer: No content on this site should ever be used as a substitute for direct medical advice from your doctor or other qualified clinician.