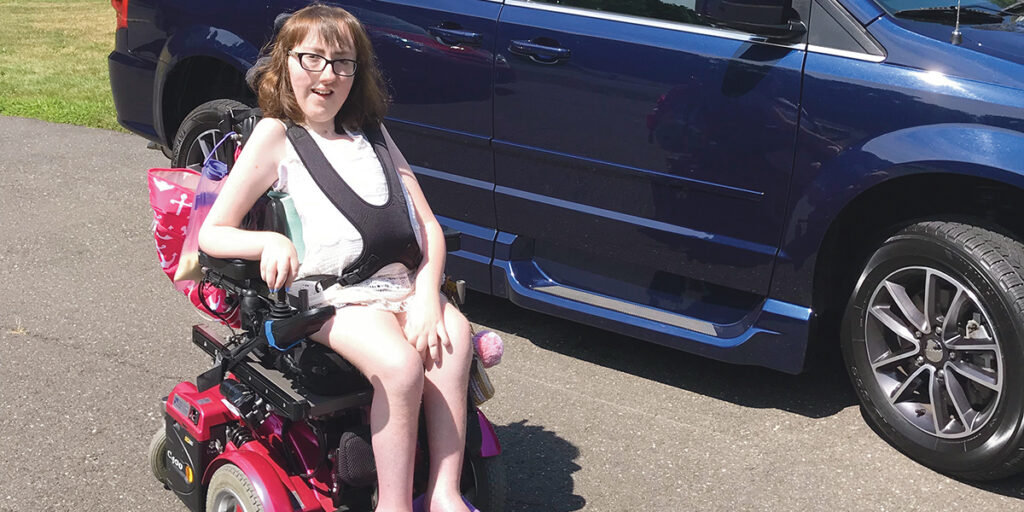 Funding Accessible Vehicles
By Joanna Buoniconti | Friday, May 13, 2022
Passing on lessons I learned from buying an accessible van
When my mom and I had to purchase a new accessible van about two years ago, we were not in a comfortable financial situation to do so. I was going into my junior year of college, and we planned to hold off until I graduated.
Unfortunately, that plan changed when our van died for the final time a couple of days before my 20th birthday. We ended up purchasing a used Dodge Caravan that kneels to reduce the steepness of the ramp and has tie-downs to secure my power wheelchair. My mom took out a loan to help pay for it. Fortunately, the mobility dealer supplied us with a list of grants that we might be eligible for.
While the grants on the dealer's list didn't work out for us, they did point us in a direction we would not have known to look. And we ultimately learned a lot about funding accessible vehicles over the course of our journey to get back on solid financial footing with our new van.
Finding funding support
Everyone in the disability community has had to think out of the box to solve a problem. This is a helpful skill when it comes to finding vehicle funding options, which vary by state and location.
A mobility dealer often is a great place to start. It's in their interest to make an accessible vehicle affordable for you, so they generally are happy to share information about options that will cover at least some of the cost, which can include the US Department of Veterans Affairs (VA), Medicaid, Community Living Assistance Services and Supports (CLASS), state vocational rehabilitation services, and manufacturer rebates. They may also know of local organizations that provide grants.
Consider these options in your research
Health insurance: Check with your insurance provider to find out if your plan covers any adaptive equipment you need on your vehicle. Medicaid Home and Community Based Services (HCBS) waivers can help state Medicaid recipients receive funding for assistive technology, which may include vehicle modifications in some states.
State programs: Your state's vocational rehabilitation department may assist with costs if the vehicle helps you pursue educational goals or employment. Also, look for an Assistive Technology Act Program in your state.
Rebates: Many vehicle manufacturers offer rebates on new vehicles when you make modifications for accessibility.
Tax breaks: Some states waive sales tax on the purchase of adaptive equipment if you have a doctor's prescription. Also, the cost of your adaptive equipment may be tax deductible.
Loans: Ask your bank if they offer loans specifically for individuals with disabilities. Ask mobility dealers and conversion companies if they offer financing.
Grants: Local nonprofits that advocate for individuals with disabilities may have programs to help pay for adaptive equipment. The Mobility Resource has a list of grants and resources searchable by state.
Community resources
The disability community itself is a valuable source for finding resources in your community.
Kory Wilcox and his wife, Elizabeth, realized they needed an accessible van when they were planning a vacation to Disney World with their family of five, including 3-year-old Asher, who has spinal muscular atrophy (SMA) and uses a power wheelchair.
They decided to buy a used RAM ProMaster and have it converted into an accessible van, because that seemed like the most affordable option. In addition to installing an in-floor ramp that extends at the push of a button, they removed the middle two seats, added tie-downs, and put down a rubberized floor to make it easier for Asher to maneuver his wheelchair in the vehicle.
"I was not prepared for when the dealership gave us the first quote for the wheelchair conversion and it was half the cost of the vehicle," Kory says. "I never guessed it would have changed the cost profile that much."
By doing research and talking to other parents of kids with disabilities, Kory learned about programs that would help cover the cost of the van. The Wilcox family received two grants from local charities, and Asher's Medicaid waiver program, the Missouri Children with Developmental Disabilities waiver, funded the remainder.
"I was grateful I had connections to help me find those resources, because I doubt I would have known where to look otherwise," Kory says.
My mother and I also benefited from our community connections. A friend of mine told me about the Catastrophic Illness in Children's Relief Fund, which provides financial relief for families with large medical-related expenses in Massachusetts, where I live. A year and a half after my mom and I purchased our van, we were reimbursed for the amount left on the loan.
This was such a huge weight off both my mom's and my shoulders. Without the large loan looming above us, I could fully enjoy the vehicle and the independence it offered.
Joanna Buoniconti is a freelance writer living with SMA in Western Massachusetts.
Disclaimer: No content on this site should ever be used as a substitute for direct medical advice from your doctor or other qualified clinician.