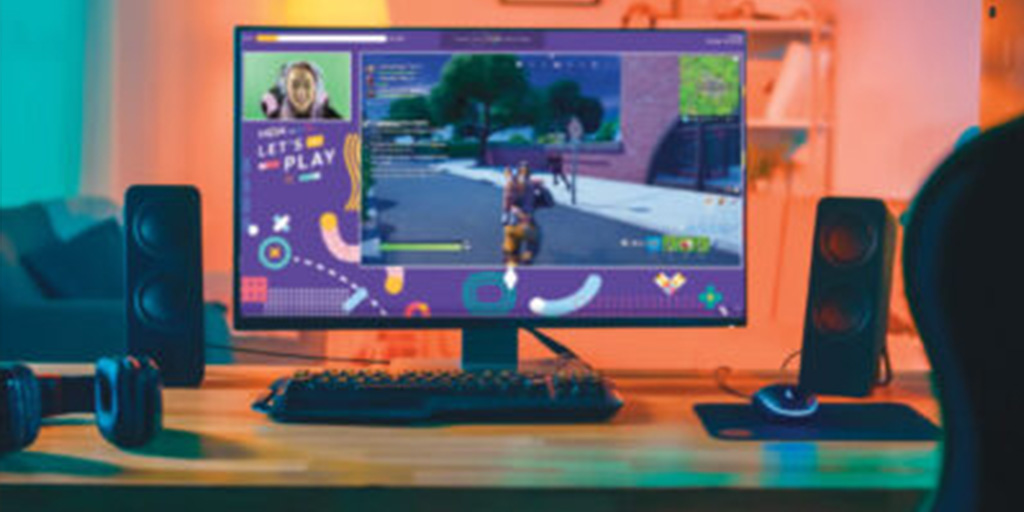 By Lindsey Baker | Friday, May 15, 2020
On March 21, MDA launched Game Night, a weekly Saturday night event designed to gather online gamers and families for regular connection (and a little healthy competition).
It couldn't have been better timed.
MDA began developing its online gaming platform, MDA Let's Play, in 2019. The idea was simple: connect the online gaming community and the MDA community — which already overlap — to grow a new network of support. And now, as families have found themselves practicing social distancing from friends, neighbors, and family, there's no better time to go online for a bit of fun together in support of MDA's cause — and maybe to build the most amazing Minecraft village in history while they're at it.
Watch and play
Developed through a partnership with 4Ever Wild Productions, the centerpiece of MDA Let's Play is a custom channel on Discord, a group messaging platform popular with the online gaming community. People can join the Discord channel and log in to play with individuals, families, and supporters of the MDA community any time. Each Saturday at 7 p.m. ET, Game Night will feature several exclusive opportuni­ties to play games like Minecraft or Fortnite with the community.
"Today, young people are gaming," says Larry Lieberman, 4Ever Wild's executive producer. "One-hundred sixty-five million Americans play video games. They come in all ages and styles, all across the country. MDA Let's Play is a place where anybody connected in any way to the MDA community can join and play games together and know it's a safe place for kids and adults, patients or families, volunteers, camp counselors, regional directors, fire fighters, Harley-Davidson owners, you name it. It's a place where folks can just reach out on Discord and start a game any time with anyone."
For those who don't game — or who are learning how to — Let's Play also has a channel on Twitch, a live-streaming platform where gamers share their gameplay in real time. Viewers can watch Let's Play Game Night on Twitch if they aren't quite ready to get in the game themselves — and of course, too, if they're experienced gamers getting a feel for the competition.
The Let's Play Twitch channel also features celebrity gamers and fundraising events. Earlier this year, Twitch influ­encer Wade Barnes, aka LordMinion777, hosted a six-hour game-a-thon that raised more than $23,000 to support MDA's mission.
Individual players can dedicate their game time to fund­raising for MDA, as well. After registering at mdaletsplay.org, gamers can create fundraising game-a-thons on their own social channels, including Twitch, YouTube, and Mixer.
Creating positive community
Each week, individuals and families who've joined the Let's Play Discord channel will receive updates about that week's Game Night — what games the community will be playing and other announcements. Once players log into Discord, they can choose what game they'd like to play and they'll be taken to a private online room to game with other Let's Play players.
Both the Discord game rooms and the Twitch streaming channel have chat features where players and viewers can interact, and both have moderators who keep experiences safe, by blocking inappropriate language and behavior, and engaging, by fielding questions and offering encouragement and guidance. Moderators are available outside of Game Night, too, to help players learn new games, pass on feedback, and reply to messages.
As of April, almost 800 players had joined the Let's Play Discord channel. Larry says he's hoping for 1,000 registered players by May. As the commu­nity grows, he says, members will help determine which games are played. Eventually, he hopes both to bring in volunteers from the MDA community to help moderate Let's Play channels and to work with modera­tors to build E-sports teams within the Let's Play community to participate in online tournaments.
And as supporters view, join, and begin to learn about MDA and the research it funds and shares worldwide, indi­viduals and families impacted by neuromuscular disease can give back by making connections and sharing their stories — and their mad Jackbox skills.
"Just joining the community empowers everyone who's involved," Larry says. "Knowing that you're not alone is the greatest, most powerful part of this — that you're not alone in your healthcare, you're not alone in your quest for research and new innovation, and you're not alone at play. This is an enormous community, and we aren't able, especially in this current life we're living, to connect enough with people who understand. Just by joining this community on Discord and following along on Twitch, every single person in the MDA community can get involved and learn and be touched."
Let's Play!
Online: mdaletsplay.org
On Discord: discord.gg/VracthK
On Twitch: twitch.tv/mda_letsplay
Disclaimer: No content on this site should ever be used as a substitute for direct medical advice from your doctor or other qualified clinician.