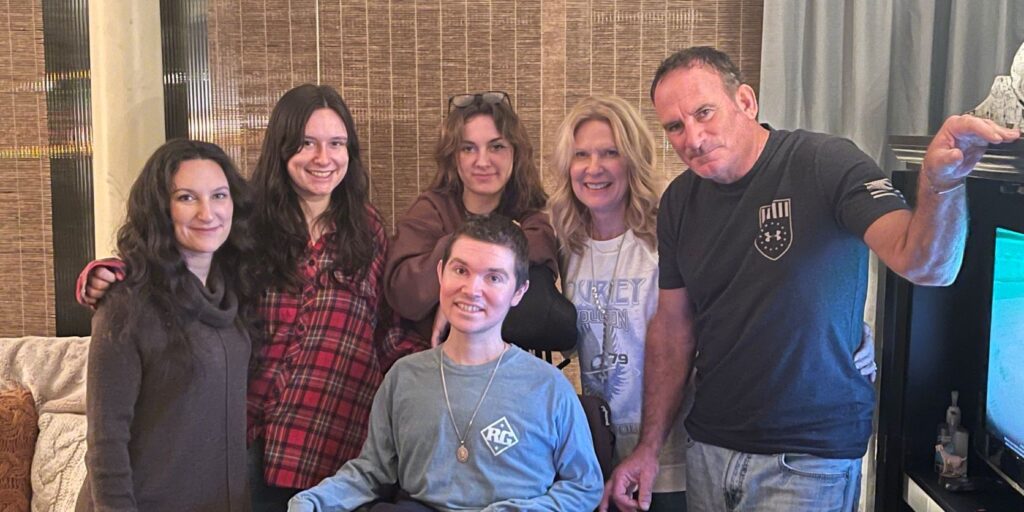 How a Man With DMD Won His Right to Live Independently
By Cheryl Alkon | Thursday, September 29, 2022
When the Maryland Developmental Disability Administration (DDA) denied Beckley Lorenz's request to live independently in a licensed community living setting of his choice, he appealed the decision and presented his case in a legal hearing. This year, the 26-year-old Maryland resident, who lives with Duchenne muscular dystrophy (DMD), won the case, which has implications for millions of adults in the United States living with disabilities and complex medical needs.
A strong legal case
The DDA, a unit of the Maryland Department of Health, said Beckley required onsite skilled nursing care, and his only option was to remain at home with his parents or to reside in a nursing home.
But Beckley, who was living in his parents' home with caregiving help for mobility and daily living activities, knew he did not need skilled nurses for his daily care. And he believed living in an institution would unfairly restrict his life.
This case "appeared to be the first time a decision in this vein was overturned," says Joel Cartner, JD, MDA's director of access policy.
The decision allowed Beckley to move out of his parents' home for the first time in June 2022. It came about through strong self-advocacy, fundraising, dedication, and the support of his medical team, family and friends, and a disability rights attorney.
Seeking independence
At the hearing, Beckley explained why living independently is important to him: "I want to go back to work, and I might want to get married one day," he told the judge. "My disease is a part of me, but it shouldn't be allowed to define me."
Beckley grew up in Parkton, Maryland, with his parents and three sisters. Diagnosed with DMD at age 6, Beckley now uses a power wheelchair, a computer with an accessible keyboard, a Hoyer lift for transfers, a shower chair for bathing, and needs his food cut into small pieces to eat safely. He also uses two devices to help him maintain his lung strength: a bi-level positive airway pressure (BiPAP) ventilator and a cough assist device.
Until the pandemic started, Beckley was working in customer service at a Home Depot and at the York Professional Baseball Club. He saw moving out of his parents' home as the next step in his life.
Finding a home
In September 2021, Beckley learned about an organization that provides residential living for people with intellectual and developmental disabilities in Westminster, 20 minutes from his parents' home. Beckley hoped to live in one of the homes that houses two residents alongside a "house mom," who lives onsite and helps with cooking, cleaning, and driving. Nursing staff visit every few weeks to check on residents.
When Beckley submitted paperwork to the Maryland Department of Health, the department flagged it, saying Beckley would need specialized nursing care. "That's what put the brakes on the situation," says Michele, Beckley's mother. The family filled out more paperwork, "and they made us jump through all these hoops. In November 2021, it became clear that the state was saying the only option was for Beckley to be institutionalized," she says.
The sticking point, according to the denial, was Beckley's use of BiPAP and cough assist machines.
But the family had never needed skilled nurses to operate the machines at their home. Beckley's parents, caregivers, and neighbors have long been able to use the machines effectively.
Michele reached out to a friend for advice, who suggested an attorney. "They are not going to give in and change their minds unless they are threatened with a lawsuit," the friend told her.
Preparing for court
"When I first heard about the case, I was shocked that a young man like Beckley was being denied the opportunity to live in a community setting," says Sharon Krevor-Weisbaum, managing partner at Brown Goldstein & Levy, a national litigation firm based in Baltimore.
Before hiring Sharon, Michele did some research and learned the estimated cost of a lawsuit is between $20,000 and $40,000. The family rationalized that, just as they were providing college tuition for Beckley's siblings, this lawsuit would help secure Beckley's future.
Michele took a two-month leave from her job as a second-grade teacher and set up a GoFundMe campaign. Thanks to a generous network of family and friends and social media, they raised about $24,000.
Sharon's first step was to educate herself about Beckley's medical condition, which involved speaking with Beckley, his mother, and medical professionals involved in his care to learn why the department viewed Beckley's situation so differently. "There are thousands of people who live in the community with very complex medical needs, and the department was saying he had skilled needs that could not be met in the community," she says. "It didn't make sense to me."
Medical testimony
Tom Crawford, MD, director of the MDA Care Center at Johns Hopkins, has been part of Beckley's care team since diagnosing him with DMD in 2002. Learning from Dr. Crawford and other providers helped Sharon make a case that the Maryland Health department was wrong, medically.
"They were living in a world of this disability from maybe 20 years ago," she says. She believed the department was denying Beckley the opportunity to live in the community because they didn't understand the current standard of care for people living with DMD.
Dr. Crawford testified in the virtual hearing that took place in April 2022, that the use of BiPAP and cough assist devices is considered a standard therapy for people with DMD.
"We have come a long way," Dr. Crawford says. "In years past, we used a BiPAP when people were failing to breathe on their own and it was considered essential to life. Now, we are using the BiPAP as a needed therapy, not as a critical device."
Using the BiPAP at night helps keep Beckley's lungs open and prevents them from getting clogged up while he sleeps. "If the lungs stay healthy, it doesn't take as much muscle power to breathe," Dr. Crawford says. "If the lungs work at a lower volume, they become a bit stiffer and need more muscle power to open them. We now understand that early introduction of the BiPAP keeps the lungs compliant, keeps them flexible, and it doesn't take as much effort to expand the lungs."
Dr. Crawford explains that Beckley uses the cough assist device if he gets sick and needs to cough often. "It's a backup to generate normal cough pressure to keep oneself healthy," he says.
This way of thinking — that the machines are used as needed to preserve lung function for years to come and not as lifesaving devices — has gained increasing acceptance among neuromuscular disease healthcare providers for about a decade.
According to testimony at Beckley's hearing, the routine use of these devices as needed has helped increase the average age of survival for patients with DMD to 30 years old, and a minimal skill set is needed to assist Beckley with the BiPAP.
"The only skill set [needed] to assist [Beckley] was really that the person be caring," Dr. Crawford noted in his testimony. He did not have any concerns about Beckley living in a group home without direct skilled nursing care.
A step toward independence
The judge issued her decision a month after the hearing, on May 30, 2022.
"Based on the above findings and discussion, I conclude that the Maryland Department of Health, Developmental Disabilities Administration, erred when it determined that [Beckley Lorenz's] care needs are non-delegable and that this rendered him ineligible for residential services. I order that the December 23, 2021, decision by the Maryland Department of Health … is REVERSED," wrote Administrative Law Judge Emily Daneker in court documents about the case.
When Sharon informed Beckley and his family of the decision, they could hardly believe it. "The whole process breaks the individual down and makes you feel like you are powerless," Michele says. But winning the case felt empowering.
"I was just relieved that I could be where I wanted to be," Beckley says. He moved into the home in Westminster on June 11, 2022.
Now that he's living independently, Beckley is looking for work and volunteer opportunities. He enjoys playing Scrabble and meeting with friends.
Advice for others
What insight does Beckley have for others who feel they are being denied an opportunity based on their disability?
"Anything is possible," he says. "Just because something is in our way, you can still beat it."
MDA's Cartner encourages people to use the legal system to fight for their rights. If a legal appeal or lawsuit is not affordable, he advises contacting your state's protection and advocacy system — which is responsible for providing legal protections for the disability community — or a law school in your area that runs a legal clinic.
A legal fight may seem daunting, but it is a way to show the world that people with neuromuscular diseases deserve to live happy, productive lives.
"There is hope," Michele says. "Believe in what you know is just and right."
---
Next Steps and Useful Resources
Disclaimer: No content on this site should ever be used as a substitute for direct medical advice from your doctor or other qualified clinician.