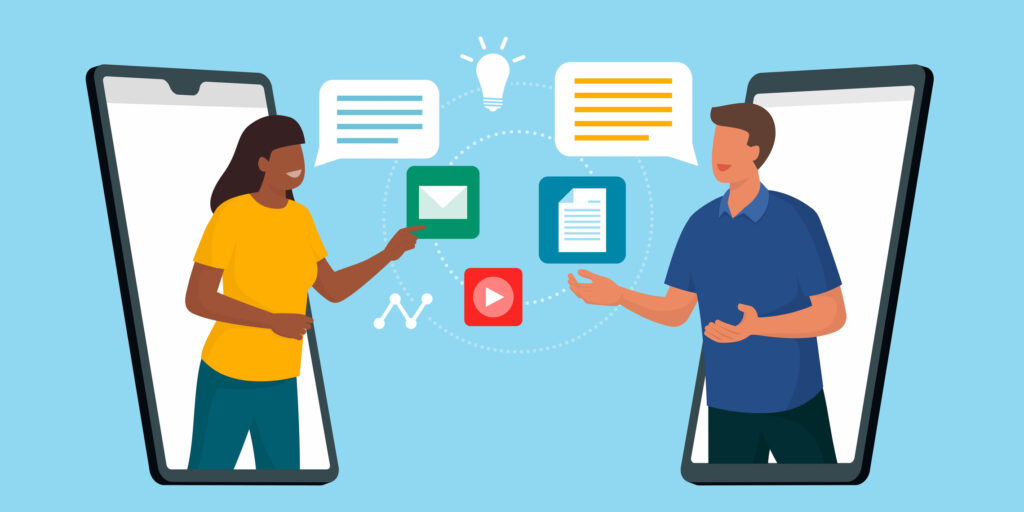 By Chelsey Wheeler | Wednesday, January 11, 2023
At MDA, we are proud and excited to announce the launch of a new service that will bring us closer to our community. Through our Resource Center and our team of Family & Clinical Support Specialists, we are here for you every day to help get you the tools, information, care and education you need. And we are excited to share one more way you can connect with us!
We are now offering virtual meetings with an MDA Specialist on a live video platform. This new program, MDA Connect, will provide convenient access for MDA members, families, caregivers, and other members of the neuromuscular community to connect with MDA. MDA Connect meetings are 30-minute, one-on-one, video calls with an MDA Specialist, who can provide assistance locating resources, navigating care within MDA's Care Center Network, and share information regarding MDA programs and opportunities for engagement. (Please note that MDA Specialists do not provide medical advice and/or counseling services, but they can help connect you to those services.) We hope that these conversations can help to provide a useful and enriching social experience from the comfort of your own home.
Video appointments are available for residents of the U.S. and Puerto Rico who are interested in connecting with an MDA Specialist to discuss personal needs and requests. All appointments are conveniently scheduled and accessed online. To schedule an appointment, visit the MDA Connect page and select a Specialist, date, and time that is convenient for you. You will be asked a few additional questions when scheduling in order to ensure that the Specialist can prepare to better serve you during your meeting. Upon scheduling, you will receive a confirmation e-mail and a meeting link to use at the time of your scheduled appointment.
We recognize that the need to connect resonates within our community. "MDA Connect is an exciting opportunity we can now offer our community to simply – connect. Thanks to technology, MDA can come to members…anywhere," says Nora Capocci, MDA Vice President of Healthcare Services. "Virtual appointments offer another method of communication to learn more about MDA programs, services, and request resources. Through MDA Connect, the community can self-schedule a time that works for them to check in with an MDA Specialist virtually. This program will complement the MDA Resource Center as another means of connection – allowing us to be [virtually] together"
Crystal, who is living with a mitochondrial myopathy, recently used MDA Connect to obtain information about local MDA Care Centers.  "MDA Connect was straightforward to use. It was easy to see who was available and click and choose a time, just like scheduling a haircut or any other online appointment. It was simple and easy," Crystal says. "Putting a face to a name is invaluable. It makes a difference to have someone see your expressions and emotions, especially if you are discussing a heavy topic, such as a progression in your diagnosis. You can schedule whenever you'd like and seek assistance with each step of your journey living with neuromuscular disease."
We understand that navigating a journey with a neuromuscular disease can be uniquely challenging.  MDA is here to provide you with support and resources along the way. Appointments can be made now by visiting the MDA Connect page. We look forward to connecting soon!
---
Next Steps and Useful Resources
Make an appointment for a live, virtual meeting with an MDA Specialist by visiting the MDA Connect page.
Disclaimer: No content on this site should ever be used as a substitute for direct medical advice from your doctor or other qualified clinician.