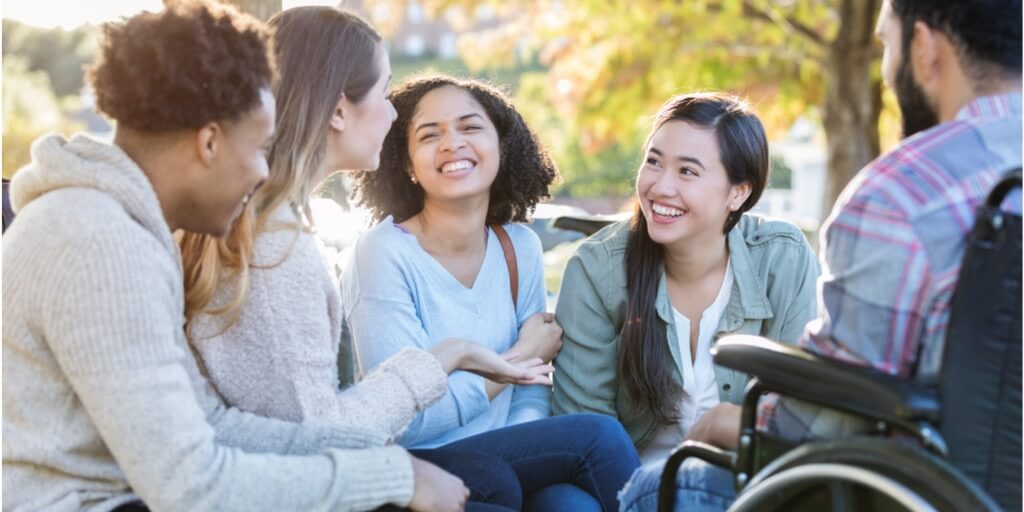 It Helps to Have a Friend Who Understands Your Neuromuscular Disease
By Shaila Wunderlich | Tuesday, January 11, 2022
For the first six months following her amyotrophic lateral sclerosis (ALS) diagnosis, Valerie Geerer's instinct was to keep the news to herself. "My husband and close family and friends knew, but I didn't feel comfortable sharing it with co-workers or acquaintances," she says. 
Then she met Dora Sementilli. Like Valerie, Dora was in her 50s and had received her ALS diagnosis in September 2020. Unlike Valerie, Dora was vocal about her disease with anyone who cared to listen. She spent the months following her diagnosis researching the ALS community and participating in fundraisers and public forums like I AM ALS. "I've just always felt like I'm still the same person I was before my diagnosis," Dora says. "I'm still living the best life I can."
Seeing Dora be so open and uninhibited about her condition encouraged Valerie to be the same. Today she feels stronger, freer, and less isolated as a result. 
The benefits of friendship
The benefits of having solid, supportive friendships seem obvious. Having someone to turn to in good times and bad, for laughs or for help, can be a lifesaver to people feeling alone or misunderstood. But as it turns out, the payoffs go much deeper. A steady stream of scientific studies released over the past decade have confirmed that friendships provide real health benefits, from healthier brains to reduced inflammation and longer life spans. 
An August 2021 article on the Framingham Heart Study reported higher cognitive resilience in participants who had at least one "good listener" in their lives. Another study published in 2019 found "strong social circles" outranked heart rate and physical activity as reliable indicators of happiness and wellness. A 2019 article by the Mayo Clinic credits "strong social ties" with skirting depression and maintaining healthy blood pressure. 
For a person living with neuromuscular disease, the benefits multiply when a friend has the same disease. "It's just so nice not having to explain your situation over and over," says Sally Borden, who lives with a rare late-onset distal myopathy known as Markesbery-Griggs. "They already know." 
Sally regularly chats with Jill Salmi, who lives with the same condition, and they often compare notes on everything from leg braces and scooters to assisted living facilities. "Sally had been advised on using dietary supplements and filled me in on what might help," Jill says. 
Making connections
Like Valerie and Dora, Sally and Jill came to know each other through MDA's National Connections program. Launched in 2020, the initiative aims to foster support and wellness by connecting individuals in the neuromuscular disease community with similar experiences, such as the same disease or caregiving roles. 
After her sister, who also lived with Markesbery-Griggs, died in 2016, Sally looked for a way to regain the sense of camaraderie and community she once had. "I reached out to MDA to see if they knew of any organizations or social media groups," she says. "They got back to me saying they knew of a woman with the same condition, and, with her permission, they passed along her email address." 
Sally and Jill now reserve an hour on the last Monday of every month to talk on the phone. 
"To be able to touch base with someone who has the same issues, the same tests, the same fears, is invaluable," Valerie says. "It's a blessing."
To learn more about the National Connections program or request a connection, contact MDA's Resource Center at (833) ASK-MDA1 or ResourceCenter@mdausa.org. 
Disclaimer: No content on this site should ever be used as a substitute for direct medical advice from your doctor or other qualified clinician.