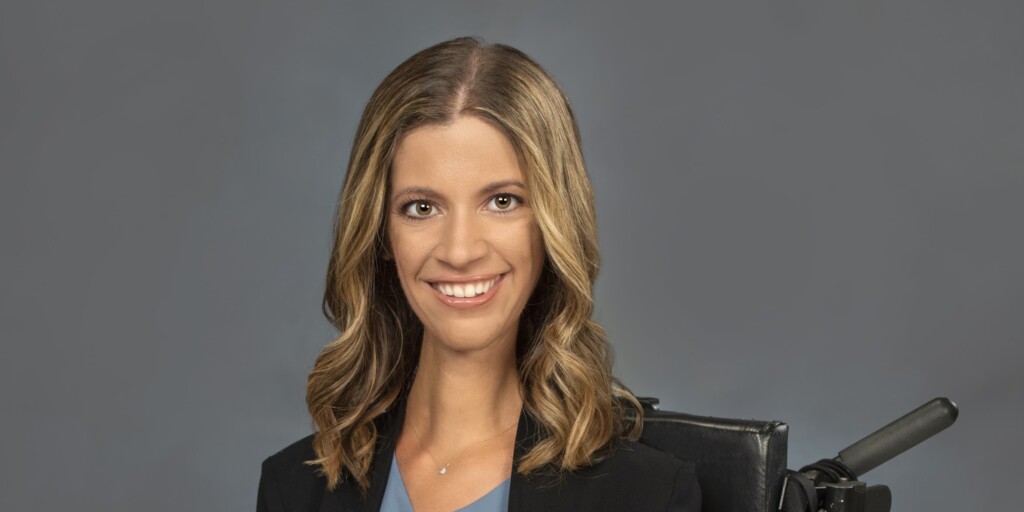 Quest for Success: Alexa Dectis
By Rebecca Hume | Wednesday, January 26, 2022
5 Second Summary
Quest for Success explores the different paths that individuals with neuromuscular disease have taken to reach their potential and pursue dreams. This series spotlights individuals from our community and shares their journey to independence and accomplishment.
As the Muscular Dystrophy Association (MDA) continues our commitment to empowering people living with neuromuscular disease, we are excited to kick off our 2022 blog series: "Quest for Success".
Success looks different to everyone and this monthly blog will detail the different paths that individuals with neuromuscular disease have taken to reach their potential and the steps they took to get where they are today. Each month we will spotlight one individual from our community and share his or her journey to independence and accomplishment. We hope that these stories empower and inspire our readers to unlock the possibilities in their own lives…because the possibilities are limitless.
LA Entertainment Lawyer Named One of Forbes "30 under 30"
When Alexa Dectis sets her sights on something, she doesn't allow anything to stand in her way. The 28-year-old entertainment lawyer gives credence to the mindset that you define your own potential. She is quick to share that having a disability does not limit achievement or inhibit success.
Recently named one of Forbes "30 Under 30" in Hollywood & Entertainment, Alexa knows a thing or two about tackling challenges, achieving goals, and shattering barriers. Alexa lives with spinal muscular atrophy (SMA) Type II, uses a wheelchair, and has limited range of motion in her extremities.
After obtaining her law degree, the former child actor moved cross-country to Los Angeles. She lives alone, manages a team of 15 caregivers, and works full-time as an in-house lawyer at Skydance Media.
Early ambitions
Growing up with a disability, she recognized at an early age that she could harness the power of her brain to overcome any weakness in her muscles.
"I never wanted to be in a position where people could use my disability as a reason for judging my performance. So, developing a strong work ethic has allowed me to overcome any negative perceptions that people may have." Alexa says. And that mentality has served her well on her quest for success.
As a child, Alexa sought a hobby that would challenge her and allow her to use her talents. She found acting. She accepted roles in television shows and commercials and developed a passion for the entertainment world. You may have seen her on Sesame Street, The Guiding Light, and/or Scholastic Books commercials. Alexa pursued acting throughout secondary school, attending a charter school with a flexible schedule, and completing courses at her local community college as a teenager. Her school experience was untraditional, limiting the number of accommodations that she needed. With a supportive family and personally tailored schedule, Alexa states, "I think I kind of forged my own path."
Upon graduating and making collegiate plans, she shifted her focus from acting to a profession in entertainment law. She chose a field that she knew she could continue to work – and excel – in as her SMA progressed.
"What's great about the legal profession is there aren't any physical components. You can be a great lawyer and not have the ability to move your muscles," Alexa explains.
Alexa completed her undergraduate studies at George Washington University and obtained her law degree at Chapman University Fowler School of Law. Attending college and law school presented certain accessibility barriers – and the opportunity for innovative accommodations.
Technology and accommodations
The most notable accommodation that Chapman University provided was the use of technology to allow her to access the heavy law books. Chapman staff sliced the spines of textbooks and scanned thousands of pages so that she could read, highlight, and take notes exclusively on her MacBook. Alexa acknowledges how remarkable this was, noting that if she had attended law school 30 years ago this would not have been possible.
"The legal profession is a very paper heavy profession. People love to print things out and they love to reference physical copies of things. But with spinal muscular atrophy, that's just not possible for me. The fact that Apple developed these great accessibility features that I can now use to have a meaningful career is so incredible. I am very fortunate to be alive during the time period in which I am alive."
Alexa utilizes MacBook features to digitally review and mark all documents and her employer has an outstanding attitude towards meeting the needs of employees with disabilities. "Working for Skydance has been really great in that their attitude isn't what do we have to do legally, but instead what can we do to make this environment as comfortable as possible for you," Alexa says.
Skydance provided Alexa with an electric height-adjustable desk, making it easy for her to reach everything that she needs. The facilities team also installed automatic doors so that Alexa can enter and exit independently. Although she is currently working remotely due to the Covid-19 pandemic, Alexa typically spends her workday in the office.
Using the bathroom is a common barrier for individuals with disabilities in the workforce. Skydance has a wheelchair accessible bathroom but Alexa still requires a hands-on assist to use the restroom safely. She navigates this by scheduling an attendant for a short 15-minute midday shift each day. Otherwise, she does not have attendants at work with her.
The power of a strong work ethic
While technology and accommodations have made pursuing her dreams more possible now than ever before, Alexa credits her work ethic as the true source of her success. Her diligence and high standard of work give her a competitive edge in her field while also dispelling unconscious biases.
Throughout college and law school, Alexa made it her mission to complete as many internships as possible. Allowing her experience and impressive resume to speak for itself during the interview process so that nobody could use her disability as a reason not to hire her. When interviewing, Alexa discloses her disability by asking the recruiter if the building is wheelchair accessible. She states that she is very transparent in sharing her diagnosis with potential employers; also making a point to share that her SMA impacts the muscles in her body, not her ability to do her job.
Addressing physical barriers in the workforce is often a trade-off. Alexa uses public transportation to commute to work even though riding the city bus takes much longer than getting a ride with a caregiver. The bus provides more independence and spontaneity in her schedule because she can choose to work late or leave the office early without having to coordinate a specific time with a caregiver. In her opinion, the autonomy is a worthwhile trade-off for the longer commute.
Care assistants make it possible
According to Alexa, the biggest barrier in working with a disability is the lack of programs available to cover the hands-on care that she requires for her daily needs. Her income impacts her eligibility for government programs, requiring her to pay out of pocket for her care. Her career has given her an incredible sense of fulfillment and purpose, one she feels is worth the financial loss. But it is a loss that is not entirely sustainable and may eventually negatively impact Alexa's ability to continue working. Alexa is incredibly passionate about the need for meaningful program reform.
Alexa hires, trains, and fires all of her own caregivers. Her caregiving schedule is constantly evolving depending upon her plans each day – an evening outing, social event, or errand might impact the hours needed. She consistently has an attendant each morning to get ready for work, mid-day at the office, and overnight at her apartment. Alexa typically hires local college students who are studying pre-med and other health sciences. Care attendants make it possible for her to go to work every day and she takes great joy in being able to help her attendants achieve their goals by writing letters of recommendation for med school and other graduate programs.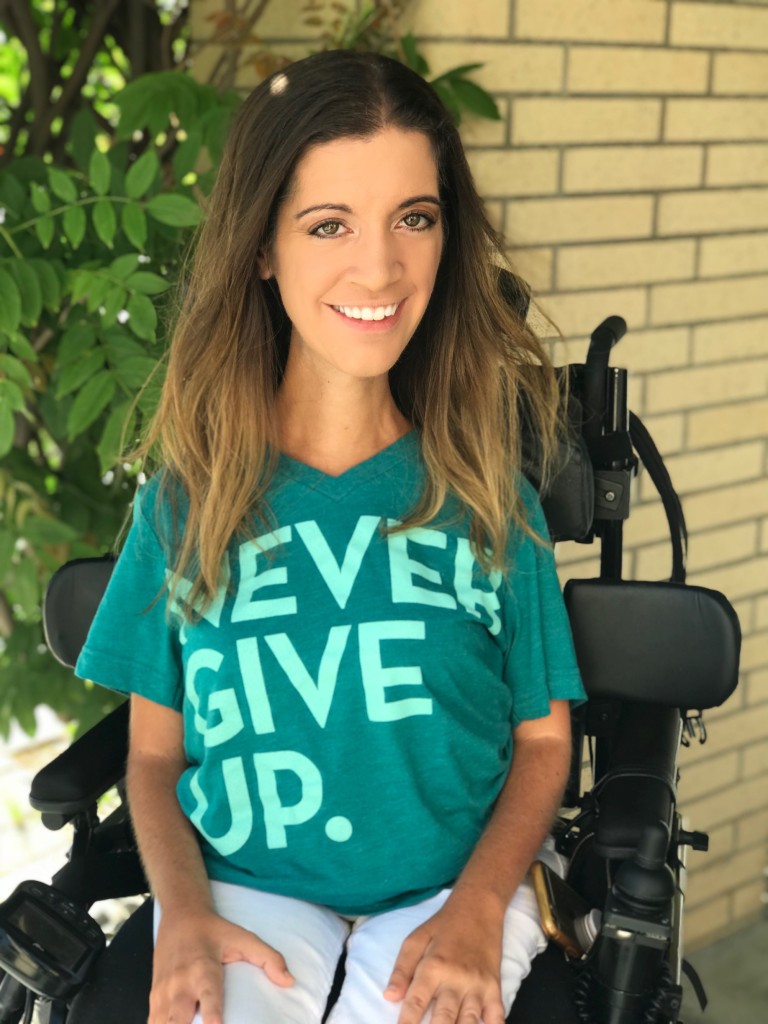 There is no limit to success
Alexa's mindset for achievement, work ethic, and the support of her family and friends have had a significant impact on her level of success. Her family never treated her as though having SMA meant that she couldn't do something. Growing up she didn't see a lot of people with disabilities pursuing careers and so she paved her own way to success. Alexa hopes that today others can look at her path and see that anything truly is possible.
"A meaningful career with a disability is absolutely possible. There's no limit to what each person can accomplish. And with a strong work ethic, you really can overcome every barrier that might be present."
To continue following Alexa on her journey, connect via social media: Instagram: https://www.instagram.com/alexa_dectis/
FaceBook: https://www.facebook.com/AlexaDectis/
Disclaimer: No content on this site should ever be used as a substitute for direct medical advice from your doctor or other qualified clinician.