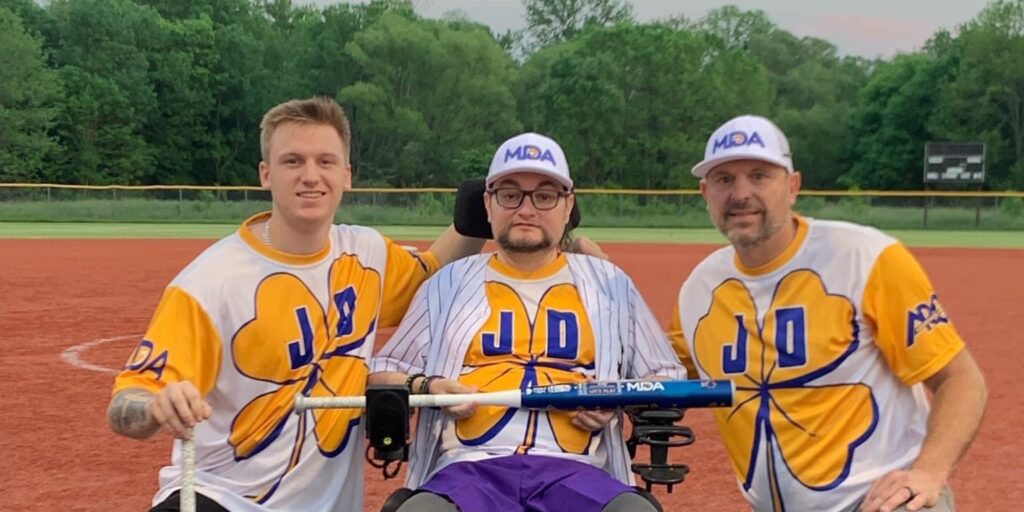 Limited Edition DeMarini Bat to Raise Awareness for MDA
By Rebecca Hume | Friday, June 24, 2022
Anyone who knows softball and baseball the way that Kevin "Joey" Daily does, knows that DeMarini bats are some of the finest performance bats on the market. In addition to a variety of doublewall and singlewall top-of-the-line bats, Demarini also releases an annual, limited-edition bat. These special edition bats are produced in incredibly small batches and are coveted possessions of avid players and fans.
As a true lover of softball and a long-time MDA supporter, 45-year-old Joey Daily has been creating and selling MDA merchandise at his local softball team's league night for years. He designs jerseys, shorts, sweatshirts, hats, blankets, and coozies to raise money and awareness for MDA. This year, he set his sights on an even bigger idea: he approached DeMarini with a proposal to design an MDA-inspired, limited-edition DeMarini bat.
Joey has loved baseball and softball since the first time that he hit a ball off a tee when he was 4 years old. He treasured time spent playing catch with his dad and joined his local tee ball team as soon as he was old enough. He played on multiple teams growing up and joined a local softball league as an adult. When he was 38, Joey was diagnosed with a form of muscular dystrophy known as Mitochondrial DNA Depletion Syndrome. The symptoms and eventual progression of his disease impacted his ability to play the game, but it did not diminish his passion and involvement with the sport. Joey stepped off of the field about a year prior to his formal diagnosis, but he continues to attend his team's league night every week during the spring, summer, and fall. His team, Team Cure / Expos, has been playing together in Fayatteville, Arkansas for several years and have become a family.
Joey shares that the friendships that he has developed are his favorite thing about the sport. He loves being part of the softball family and values the opportunity and ability to teach and coach younger players. He also values the opportunity to raise awareness and funding for MDA while enjoying the game.
After his diagnosis, Joey began designing, selling, and sometimes giving away MDA inspired merchandise at league games and tournaments. He created a variety of items that he manufactured using services online. He also enlisted the help of friends who have worked for or own businesses that produce athletic gear to create custom hats and jerseys. Joey donates all of the money that he raises to MDA.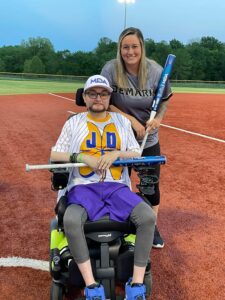 He collaborated with a close friend who works at Berserk Athletics to design custom, MDA softball jerseys. Berserk Athletics took Joey's mission a step further and designed an entire line of jerseys, sweatshirts, shorts, and other gear to sell on their website. The line features MDA logos and a green ribbon that represents muscular dystrophy. Berserk donates a portion of those sales to the MDA. This partnership fueled Joey's desire to create an awareness softball bat.
The opportunity to work with DeMarini to create an MDA limited-edition bat was a dream come true.
"For some time, I have wanted to have an MDA awareness bat produced and sold because I have seen other awareness bats and thought we needed one for MDA.  A friend put me in contact with a DeMarini representative and we started talking through what I wanted to do and why," Joey says. "He liked the idea, presented it to the company and they liked it also."
Once the project was approved, Joey reached out to MDA to connect the team that would be responsible for making this dream a reality. While DeMarini and MDA worked out the details and logistics behind the scenes, Joey began brainstorming design ideas for the specialty bat. He shared those ideas with the design team and worked together before the finalized version was approved and sent to production. Only 600 limited-edition bats are produced, quickly selling out and becoming collectors' items. Joey hopes that this special edition DeMarini bat will shine a spotlight on the neuromuscular community.
"I want to raise money for MDA as proceeds from the sale of each bat will go to the Muscular Dystrophy Association," Joey says.  "I also want to bring awareness of muscular dystrophy back to people as I feel that it's become a somewhat forgotten disease over the past few years."
The one-of-a-kind, limited edition, MDA DeMarini bat was released for sale on August 10, 2022 – and is sure to sell out quickly!  You can purchase yours here!
Disclaimer: No content on this site should ever be used as a substitute for direct medical advice from your doctor or other qualified clinician.