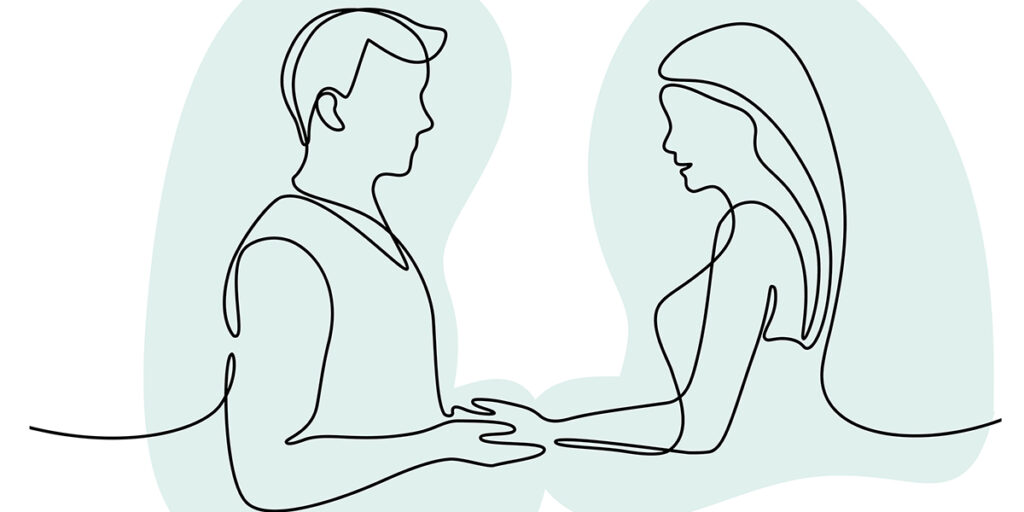 Love and Marriage With a Disability
By Kathy LeMieux | Thursday, February 16, 2023
Finding love can be difficult for almost anybody. Finding real love when you are someone with a disability can feel like trying to hit the lottery, playing your numbers with all the hopes of a perfect match. Finding real love may feel difficult and risky. My story is a perfect example of the gamble needed to hit beautiful, mutually fulfilling, joyous love. It's finding real love.
Finding my path
As a woman born in the 1970s with spinal muscular atrophy (SMA), finding romantic love was presented to me by society as an unreachable fantasy. Barbie and Ken could have a wildly romantic relationship, but not me. The kind of deep, heartfelt love I saw in movies was unlikely for someone needing such complex physical care as me.
As I grew up, I became confident, outspoken, and a great self-advocate. It was easy for me to mature this way; I was surrounded by strong-willed women. My sisters, two of whom were also born with SMA, taught me every day what's necessary to be seen, heard, and understood.
When I was in college, with lots of friends and social outlets, it seemed like I would have plenty of opportunities to find a special someone. However, if those were the "fish in the sea," even with the best Shimano fishing rod I was catching bottom feeders too often. I threw back the fish and focused on my education and career, my friends and family, and my own personal happiness. I was certain that was the best path to finding real love.
But in the years that followed, my path was not smooth. Those years were full of beautiful promises ending in broken roads and difficult decisions.
Rousing and rocky
My first marriage lasted almost 10 years. It's difficult to see the path you vowed to walk together forever be rerouted in separate directions. Was he the one who changed so much, or was it me, too?
After a bit of "on again, off again," we met at the courthouse and signed away our promises of forever. That day we got along like best friends.
Sometime later I met someone who seemed like my mirror-image in personality, intellect, and character … or so I thought. We were caught up in a whirlwind. It was so fast that I failed to notice what were surely red flags, until one very hot fourth of July.
There was an air show, and he was at the airport because of his military status. I showed up to say hello. He seemed embarrassed and annoyed. I was confused. I reached over to touch his hand, and he pulled away, bent over, and said something like, "Don't ever wear flip flops in public because your feet don't look right."
Ouch! That was the end of that whirlwind. I may have felt weak in some ways, as I was still healing from a broken marriage, but there was no way I needed his advice about footwear. Shoes were my thing!
These broken relationships and their broken promises left me less interested in finding someone to be with and even more interested in investing in myself.
Rebirth and real love
I tried so hard to keep it all together, but it seemed like the difficult times multiplied after I chose to be single again.
I was struggling with finances, health issues, caregivers, and more. I was overwhelmed. On my way to work one day, the weight of it brought me to tears. I was driving and couldn't see through the tears, so I pulled over. I started praying and asking for God's help in my life. By His grace and through my work on myself, I experienced a journey from submission to spiritual rebirth. Wow! This is an incredible, undeserving love, a divine love, and a real love.
My perspective changed, my priorities shifted, and my heart was new. I could approach life from a brand-new angle. Don't get me wrong, I was still interested in marriage, but I continued with my life, my family, my service dog, my job, and myself, all the while looking for him in my peripherals.
One evening, I was home alone, and I started daydreaming about being in a great relationship. I saw myself leaving work, stopping at the market, and coming in the door with fresh ingredients to prepare a gorgeous, healthy dish that he savored. I quickly snapped out of it when I realized my head was tipped too far forward and I couldn't lift it. Having been in this predicament before, I knew not to panic as that makes it even more difficult to breathe. "My bedtime caregiver should be here soon," I told myself. Thankfully, my wait was short.
This incident made me realize that I can be in a healthy relationship, but I will require help with pretty much all of life's daily tasks, household duties, pet care, career expectations, and self-care. Yes, I was aware of the level of care I require, and I knew a successful relationship would take an understanding partner.
Finally, I met him on a blind date. We had only spoken by phone, and I arrived at the restaurant first. I looked up and saw a tall, chiseled, blonde, tan, sweet-looking man.
"Are you Dave?" I asked. "Well, are you Kathy?" he replied.
I tilted my head and smiled, amused because I was the only woman in a wheelchair in the restaurant. We ordered lunch, but never ate. We talked, shared stories, asked questions about each other's faith and future hopes, and we laughed a lot. I smiled until my face hurt. I love that pain.
It was a fit. We pursued each other as friends, life partners, and husband and wife.
Eighteen years later, we are still best friends, and we still love to laugh. As my husband, he accepts the many challenges that come with living with SMA. As his wife, I understand his life with cerebral palsy.
Put simply, this is real love.
Kathy LeMieux has victoriously celebrated 52 birthdays. Based in South Carolina, she is a life coach at Grace with a Glitch, where she helps guide people with disabilities to define new norms. She also enjoys writing blog posts, letters, and poems.
---
Next Steps and Useful Resources
Disclaimer: No content on this site should ever be used as a substitute for direct medical advice from your doctor or other qualified clinician.