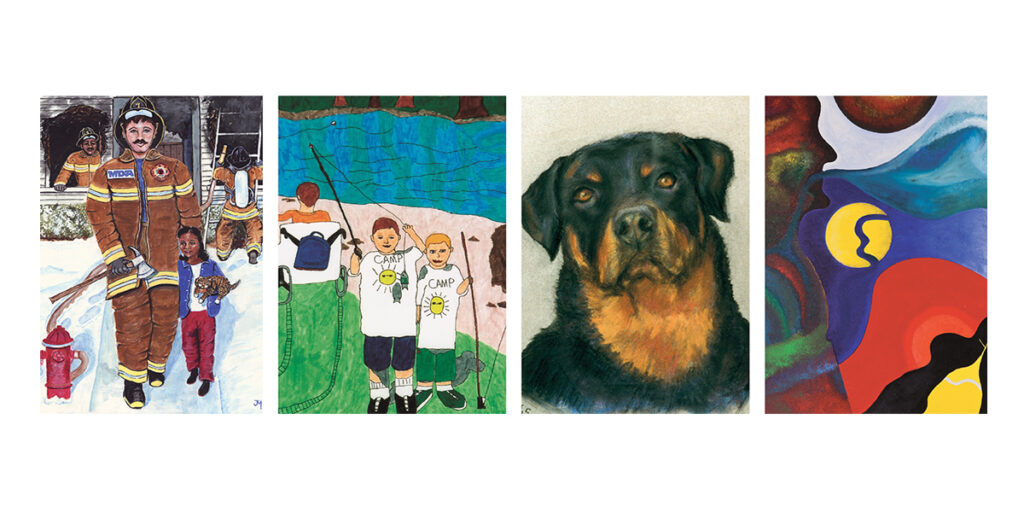 MDA's Art Collection Celebrates the Talents of Our Community
By MDA Staff | Thursday, February 16, 2023
Living with a disability is no barrier to creativity. Proving this is the MDA Art Collection, which includes 400 original works by artists living with neuromuscular diseases, including the artwork on this page.
Showcasing the amazing talent of the MDA community, the collection was established in 1992 and showcases the versatility and imagination of artists from ages 2 to 84. The artwork spans media from traditional paintings and drawings to digital designs, a collage with corn, and paint applied with wheelchair wheels and artists' feet.
Selected art from the collection has been exhibited at prestigious institutes such as the Dallas Museum of Art; Cork Gallery at Lincoln Center in New York; Tucson Museum of Art; Bishop Museum in Honolulu; Chicago Public Library; Fort Lauderdale Museum of Art; Los Angeles Children's Museum; JFK Center at Vanderbilt University in Nashville; and the Capital Children's Museum in Washington, DC.
MDA is excited to continue this legacy and culture of inclusion by making the full collection viewable online and bringing selected works on the road.
Disclaimer: No content on this site should ever be used as a substitute for direct medical advice from your doctor or other qualified clinician.