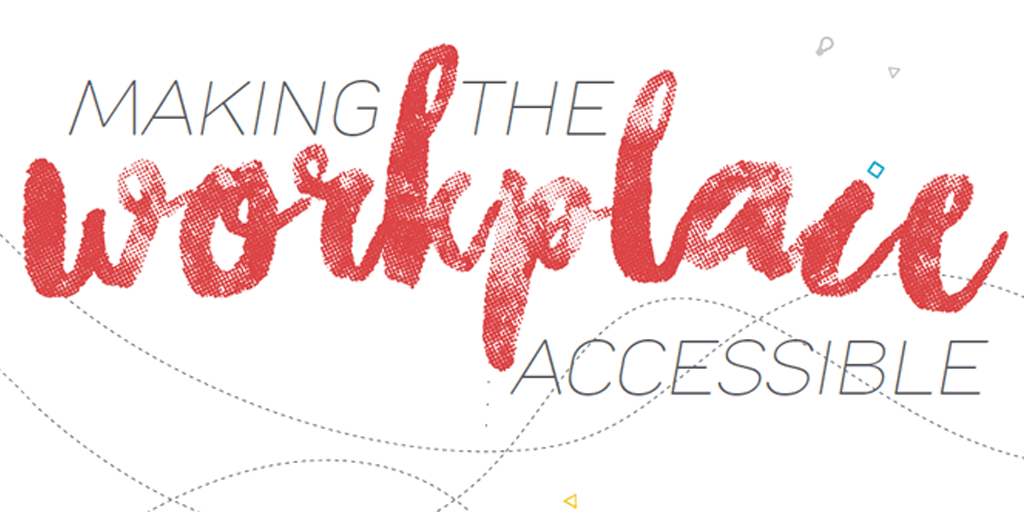 Making the Workplace Accessible
By Elizabeth Millard | Tuesday, March 26, 2019
When Josh Moser transitioned from college to a career 10 years ago, having Duchenne muscular dystrophy (DMD) was a concern he wasn't quite sure how to handle. He felt nervous talking about his needs, he recalls, worried that it might sabotage his job prospects.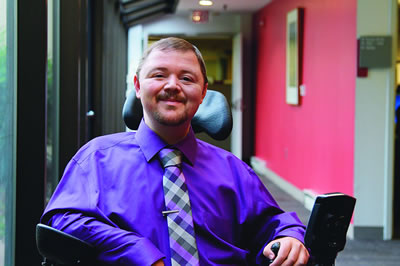 Fortunately, the financial services firm where he was temping appreciated his work and asked him to apply for a full-time position as a processing associate. After he accepted the offer, the company worked with him to make sure he could perform his job duties effectively.
For instance, one of the first accommodations his company made was raising his desk space so his wheelchair could fit underneath. They installed a speech-to-text program on his computer to help him avoid fatigue from typing. The company also engaged a healthcare provider for a contracted personal care assistant who works alongside Moser to assist with numerous tasks, such as putting on a headset for phone calls, taking restroom breaks and performing other duties.
"It's nice to have the assistant because it helps me to focus on the job," Moser says. "I feel fortunate to be in a supportive environment where there's a personal care plan."
Top Tips
Moser, who was promoted to a client process health associate, feels confident that as his needs change, his company will continue to make sure the workplace is accessible to him. For example, increasing muscle weakness in his arms has made it harder to feed himself, so Moser's personal care assistant added that task to his lunchtime routine.
Adaptability and tailoring solutions to individual needs is crucial for helping individuals with neuromuscular disease thrive in an office environment, says Rafael Salazar, OTR/L, founder of Rehab U Practice Solutions, an education and consulting firm.
"The focus for every company should be on making the workplace less stressful," he says. "For those with neuromuscular disease, that just requires different approaches."
Although specific accommodations and assistive technology will vary for each person, these tips can help employees and their companies work together to find solutions for workplace accessibility challenges:
Ergonomic assessments are a good place to start. Occupational therapists are adept at evaluating a workspace, as well as other office areas, and coming up with recommendations, Salazar says. They have expertise in knowing how changes like desk heights, specialized keyboards and voice activation can help employees with physical challenges, he notes.
Consider a breadth of simple accommodations. There are numerous adaptive equipment options, and sometimes, just switching to a different keyboard can be a huge advantage, Salazar says. For instance, a keyboard might be split into two sections, require less pressure on the keys or be compatible with a communication device.
Work with IT for computer control panel access. Companies often don't allow employees to make changes to basic control panel functions on company computers, but some changes can improve accessibility, according to Holly Cohen, OTR, program manager of assistive technology at NYU Langone's Rusk Rehabilitation. For instance, changing the mouse click speed to a slower setting might allow someone with muscle weakness in the hands or arms to take more time when using the mouse. Looping the IT department into the discussion early on can be useful for making control panel changes or adding assistive technology.
Focus on what an employee can do. One aspect of workplace accessibility that Cohen likes to drive home is thinking about what an employee is able to do, not what he or she can't do. "Even if the person can only move one finger, there are many adaptive equipment options that let him or her control everything with that one finger," she says. "Focusing on limitations can make the process feel counterproductive."
Think beyond the workspace. Do the office doors open in or out? Would they be difficult to push for someone using a walker? Are the bathrooms ADA compliant? Are there obstacles along the path from an individual's office to a meeting room or break room? These are the kinds of questions to ask for a truly accessible workplace, says Kelli Reiling, OTD, OTR/L, clinical assistant professor of occupational therapy education at the University of Kansas Medical Center. Even if an office meets ADA requirements, that doesn't mean it automatically works for someone with a neuromuscular disease. "Employers should be coming up with strategies that work for the employee's entire day," she says. "That means at a work station, but also during lunch, going to the bathroom, coming in from the parking lot, or going to a meeting. You need to think of the full breadth of activities that happen so an employee feels comfortable and doesn't have to keep coming up with workarounds."
Start the Conversation
The most useful first step to better accessibility is to simply begin the conversation. Contrary to his fears when he first joined the workforce, Moser has learned that employers are willing to listen when he voices his needs. He advises others with neuromuscular disease to advocate for themselves.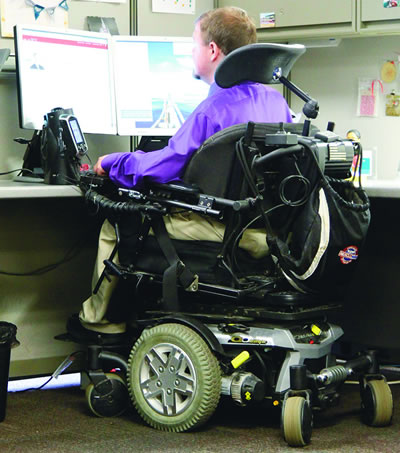 "It can be hard to talk about, because you don't want to stand out as different," he says. "But at the same time, if there's something that can make you better at your job, your company will want to know."
Some companies may have resources you might not have known about. For example, the financial services firm where Moser works has an accessibility team, according to company spokesperson Alyssa Thornton.
"This team helps us stay abreast of and implement accessibility enhancements to ensure access and functionality for all," she says.
ADA Requirements
The Americans with Disabilities Act requires state and local governments, businesses, and nonprofit organizations to follow certain rules to ensure that individuals with disabilities are treated on an equal basis.
Find resources for learning about and asserting your rights at:
What if You Have to Evacuate?
While considering desk configuration, software and door access are helpful for your everyday work, don't forget to plan for emergencies.
Lindsey Baker, a healthcare communications manager at MDA who lives with Charcot-Marie-Tooth disease (CMT), recalls a previous job where she worked in a high-rise building. When she asked about the office plan for an evacuation, she was told that everyone else could leave via the stairway, and they would inform first responders that she was left behind. When she balked at that solution, they suggested she crawl down the stairs instead.
"People tend to think that if they meet ADA requirements for a workplace, they're good to go," Baker says. "But you have to think about evacuation in advance. You can't plan for a fire when the building is burning."
Schedule a meeting with HR to talk specifically about an evacuation plan, advises Kelli Reiling, OTD, OTR/L, clinical assistant professor of occupational therapy education at the University of Kansas Medical Center. Focusing on just that topic will keep the plan from getting pushed off into the "we'll discuss it someday" category. She also suggests being proactive — rather than asking what the company can put in place, research some options so you have a starting point for the conversation. Contact your local fire department as well, as they may have ideas that neither you nor the HR reps may have considered.
"Much as you would with other types of accommodations, the more options you can bring to a discussion, the better," Reiling says. "That creates an atmosphere of working together on a solution."
Elizabeth Millard is a freelance writer in St. Paul, Minn.
Disclaimer: No content on this site should ever be used as a substitute for direct medical advice from your doctor or other qualified clinician.