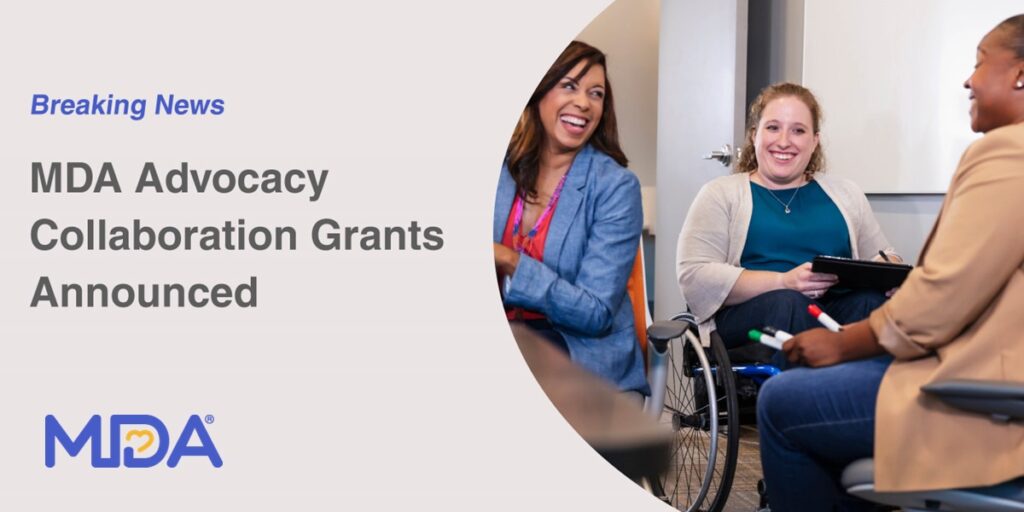 MDA Announces Advocacy Collaboration Grants Recipients
By Mark Fisher | Thursday, February 16, 2023
We know that no single organization can "do it all" when it comes to improving the lives of the neuromuscular community. In order to fulfill MDA's mission of empowering the people we serve; we all must work together in order to create change.
That is why in 2022, MDA launched Advocacy Collaboration Grants, which seeks to fund innovative and impactful advocacy projects across the country.
After receiving numerous project applications, MDA is excited to announce that we are awarding over $100,000 to five organizations. Check out the initiatives we will be funding:
The OPMD Association: The Association will survey members of the OPMD (oculopharyngeal muscular dystrophy) community to gain a greater understanding of their needs and develop future advocacy initiatives.
All Wheels Up: MDA is excited to fund key crash testing to determine airworthiness of a wheelchair securement system for airplanes. This a crucial step in our goal to allow users to stay in their wheelchairs during flight.
Tufts Medical Center (Dr. James Chambers and team): The Medical Center team will assess the ability for patients living with spinal muscular atrophy (SMA), Duchenne muscular dystrophy (DMD), amyotrophic lateral sclerosis (ALS), generalized Myasthenia Gravis (MG), and Lambert-Eaton myasthenic syndrome (LEMS) to access therapies by examining patient eligibility criteria across state Medicaid plans and the largest US commercial plans.
Cure Rare Disease: The Organization will commission a policy analysis on how Medicare and Medicaid can or should cover single-administration gene therapies or editing technologies.
Cure CMD: The Organization will survey members of the congenital muscular dystrophy (CMD) community and expand its grassroots programs and advocacy tactics.
MDA is excited to see the results of these vital, advocacy projects.
Disclaimer: No content on this site should ever be used as a substitute for direct medical advice from your doctor or other qualified clinician.