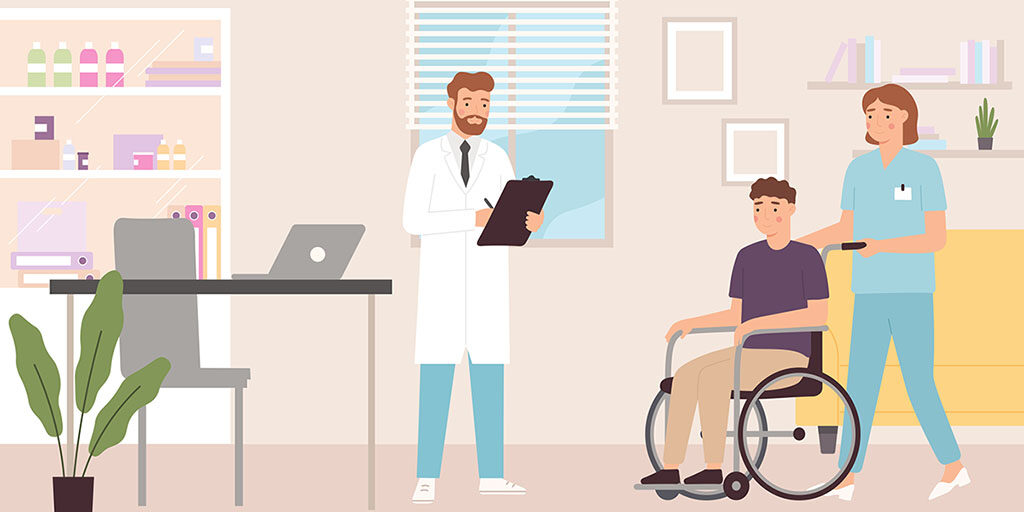 MDA Care Centers: A National Network of Expert Care
By MDA Staff | Thursday, February 16, 2023
Every year, MDA Care Centers and their expert clinicians serve more than 60,000 people living with neuromuscular diseases. Started in 1953 at a single clinic in New York, the Care Center network has grown to clinics at more than 150 top medical institutions across the country. As the largest network of multidisciplinary neuromuscular disease clinics across the United States, MDA Care Centers provide critical access to therapies and diagnostic testing.
To learn more about the impact and intricacies of Care Centers, Quest spoke with Marydeth Guerin, the senior director of the MDA Care Center network. 
Why are the Care Centers a vital part of MDA's mission, and why are they essential to the community?
MDA Care Centers help break down some barriers to accessing care, helping our community locate experts familiar with their rare neuromuscular diagnoses. Your local neurologist may be a fantastic doctor, but they may not specialize in neuromuscular diseases. The Care Center network has helped create a community of providers who are experts in these rare diseases. These providers can also contact one another for information, guidance, and peer-to-peer consultations.
The Care Centers' multidisciplinary approach is important, too. Research shows that a team of different healthcare professionals working together is especially beneficial for people with rare diseases and complex care needs. Bringing together a range of skills and knowledge improves the quality of care and provides patients and their families with more resources and support. 
Data from some Care Centers is also part of MDA's neuroMuscular ObserVational Research (MOVR) Data Hub. At designated Care Centers, MOVR gathers data from patients who agree to share information. This large dataset can provide researchers with insights into how drugs and other treatments affect outcomes, how clinical trials could be designed better, and how neuromuscular disease affects people the same or differently.
The clinicians we partner with also help MDA progress our organizational mission. We can tap into this expert network to help inform some of our efforts and education, serve as educational speakers and chairs for MDA's Annual Clinical and Scientific Conference, steer advocacy initiatives, and provide other guidance. 
Who can receive care at an MDA Care Center?
Anyone can go to a Care Center, but insurance coverage can vary from plan to plan. Each Care Center has a social worker on staff who can help you navigate insurance coverage and answer questions, including whether you may be able to seek in-network coverage due to a rare disease diagnosis from a Care Center that may otherwise be considered out-of-network. 
At most Care Centers, you do not need a confirmed neuromuscular disease diagnosis before making an appointment, and many provide diagnostic testing. However, each Care Center controls its individual operational procedures and may have set protocols within its broader hospital or practice. 
Some Care Centers may require that you have a confirmed neuromuscular diagnosis before being scheduled for a multidisciplinary clinic visit. Generally, such Care Centers do have clinicians who specialize in diagnosing these rare diseases and may encourage you to schedule an appointment for diagnostic testing separately first before being referred to the full multidisciplinary clinic. 
Contact the Care Center near you to find out if a confirmed diagnosis is a prerequisite and what their individual process is for scheduling a multidisciplinary Care Center visit. 
Do different Care Centers focus on specific diseases or age groups?
There are pediatric, adult, and ALS-designated Care Centers, among others. The network also has Care Affiliates that do not meet the full criteria to be grant-funded MDA Care Centers but are still part of the affiliated network and have some neuromuscular expertise without a multidisciplinary team. That could be a single neurologist at a private practice who has neuromuscular expertise, for example. 
Can I go to more than one Care Center?
Yes. An example of this may be traveling to see a Charcot-Marie-Tooth disease (CMT) expert every other year while also seeing a local provider at another Care Center in the interim. If you want other opinions or more convenient care — whatever the case may be — you can be seen at more than one Care Center. 
Do you encounter any misconceptions about the Care Centers?
Yes, one misconception we sometimes hear is that MDA owns or operates all of the Care Center locations and that MDA employs the Care Center staff. Actually, the MDA Care Center network is a partnership with hospitals, medical centers, and healthcare institutions across the country. 
MDA provides grant funding and designation awards to the sites that meet and stay in compliance with MDA Care Center criteria. The grant funding that we give the Care Centers does not cover the institution's total cost to host the Care Center, but it supports the multidisciplinary team and services to make specialized care available to patients.
Another misconception is that MDA can directly use grant funds for individual patient expenses. In order to maximize benefits and resources for the patient community as a whole, the grants help fund institutions that host MDA Care Centers and the multidisciplinary services available there. 
Our goal in standardizing how grant funding can be used is to help ensure that there is consistent access to high-quality, specialized care across the Care Center network, regardless of where you may live. Specific laws and regulations, such as the Stark Law and anti-kickback statute, factor into why we can't use the money for individual families' co-pays, deductibles, or other fees. 
Do Care Centers offer telehealth options?
Yes. Telehealth options are becoming increasingly prominent, and many sites have adopted hybrid telehealth models so individuals don't have to come in person for every visit. They might come in once a year to see the full team and receive all the services they need. But if they need to be seen every quarter, for example, they can use telehealth for other appointments and alleviate the travel and scheduling burdens. 
You can contact your MDA Care Center to find out more about telehealth options for your care. We also encourage you to speak with your provider about whether telehealth is an appropriate option for you, as this may vary depending on your unique healthcare needs and disease progression. 
In some instances, a Care Center expert may be able to partner with your local healthcare provider to offer you telehealth services, particularly if travel or transportation are a barrier to your ability to access care. In some cases, the local provider can complete some of the physical assessments with the guidance of a neuromuscular disease expert from a Care Center. 
MDA Care Center providers are used to collaborating with a patient's outside medical team. They are dedicated to providing the highest quality of care and treatment for people with neuromuscular conditions. Talk with your Care Center provider to determine what approaches are most appropriate for you and what they are able to accommodate.
---
What to Expect at a Care Center
Multidisciplinary care teams at MDA Care Centers can include a variety of healthcare professionals with expertise in neuromuscular diseases. 
At a minimum, each Care Center must have a core multidisciplinary team that includes: 
A director who is a physician
A clinic coordinator (typically a registered nurse or nurse practitioner)

 

A physical therapist

 

A social worker
---
Next Steps and Useful Resources
Disclaimer: No content on this site should ever be used as a substitute for direct medical advice from your doctor or other qualified clinician.