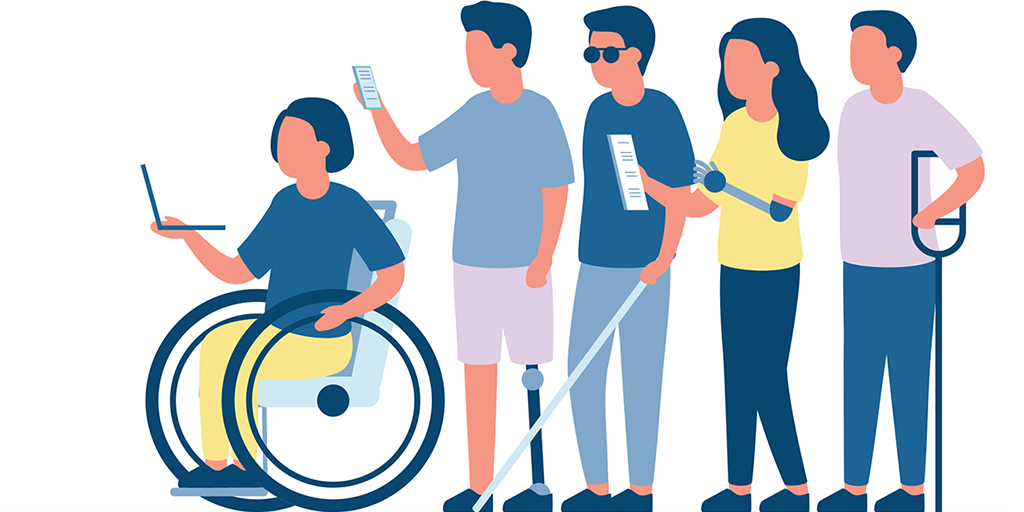 By MDA Staff | Thursday, February 16, 2023
Disability is diversity
MDA believes that true diversity cannot be achieved without the presence of those who live with disabilities. So, we are making progress in furthering diversity, equity, and inclusion (DEI) so people with neuromuscular diseases can access all life's milestones. 
In 2022, we continued to lead the charge in advocating for DEI in a variety of ways: 
The formation of a DEI coalition committed to leveraging its voice and platform to create a more inclusive world. Our coalition members are Mindy Henderson, editor-in-chief of Quest Media; Michael Lewis, director of Disability Policy & Advocacy; and Marissa Lozano, M.Ed., director of Community Education. Our DEI Coalition works with other like-minded advocates and organizations to ensure everyone has the same access to personal freedoms, financial independence, ability and mobility, and access to the world.
Continued advocacy to provide better access to health care, higher education, disability employment, and more accessible travel.

 

Fostering collaborations to bridge the gap between people living with disabilities and organizations.
Hosting DEI roundtables and workshops to understand the interests, needs, and personal journeys of the disability community, as well as available opportunities.
MDA also has lasting partnerships aimed at creating a more inclusive culture and helping connect organizations with the talent the disability community has to offer. One successful partnership is with Pfizer, which found immense value in the collaboration. 
According to Pfizer: "[Our] volunteer DMD Equity Task Force was proud to partner with the MDA on the development and delivery of the Disability is Diversity: Through the Lens of Duchenne Muscular Dystrophy initiative. It served as a powerful call to action for us to better understand the needs of patients and caregivers everywhere and to enhance our investment in Pfizer's patient-centric efforts."
MDA will continue this work in 2023 to elevate the conversation that disability is diversity.
Tech for workplace inclusion
Using technology in creative ways can be one of the keys to unlocking workplace inclusivity and independence. MDA is committed to finding ways to use technology to achieve these goals. 
"Technology is the great enabler, and for people living with a disability, it is also the greatest equalizer," says Kristine Welker, MDA's chief of staff. "As employers begin to embrace that remote work is here to stay, they realize that the workplace is now infinitely more accessible to people with disabilities. Furthermore, showing a commitment to a diverse and accessible workplace is a selling point that can attract even more talent."
Through partnerships with technology platforms like Inclusively and FinancialForce, MDA is changing common mindsets around disability and helping create opportunities that are inclusive by design — so that every individual can participate in all aspects of life.
These tech partnerships reinforce MDA's connection to our community and empower job seekers to seize their employment opportunities.
---
Next Steps and Useful Resources
Listen to the Quest Podcast episode 22 on "Creating an Inclusive Work Environment" to hear Sarah Bernard, co-founder and chief operating officer of Inclusively, discuss the organization's mission and how inclusivity benefits everyone.
Disclaimer: No content on this site should ever be used as a substitute for direct medical advice from your doctor or other qualified clinician.