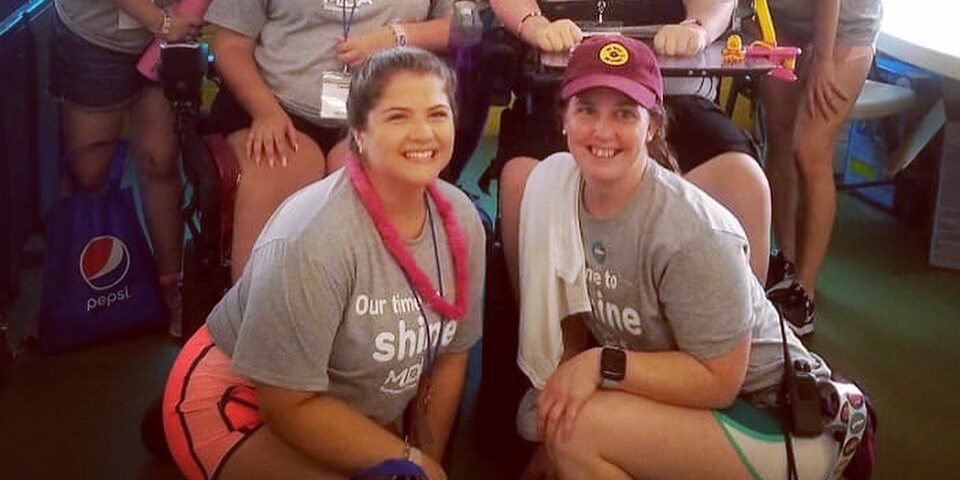 MDA Volunteers Find Career Inspirations at Summer Camp
By Rebecca Hume | Friday, October 27, 2023
MDA Summer Camp creates opportunities for youth living with neuromuscular disease to gain confidence, increase communication skills, try new things, tackle challenges, and dream big. It is a truly unique environment and magical week, brimming with self-discovery, growth, and connection – and not just for the campers. While most counselors volunteer with the goal of bringing that magic to others, their role as a volunteer and their experience at camp often provides the same powerful opportunity for personal growth and direction.
For many, volunteering for MDA was a life-changing opportunity that influenced their path for the future. From the medical field to the non-profit sector, the passion that these individuals found at MDA Summer Camp inspired their career choices and ambitions.
A pediatric physical therapy purpose
Amber Mabee was studying Sports and Exercise Science with a focus in Physical Therapy at the University of Central Florida when she first heard about MDA Summer Camp. A friend in her Undergraduate Physical Therapy Association shared information about the opportunity after an MDA staff member presented to her classroom. Immediately interested, Amber volunteered that summer.
"I had my sights set on becoming a physical therapist prior to my initial summer volunteering," Amber says. "However, my time volunteering shaped and steered my career path with the focus on pediatrics. I had the opportunity to watch PT medical staff volunteers aid these children during the week, but also learn about their care outside of camp from the therapists, the children, and their family members."
Inspired by the magic of camp, Amber returned as a counselor each summer for more than eight years, becoming a cabin leader her third session of camp. Each year, Amber witnessed how imperative physical therapy is in the lives of children living with neuromuscular disease. She gained a deeper understanding of the importance of access to a physical therapy for children living with disabilities and recognized the positive impact that she could have on their lives.
Amber earned her Doctorate of Physical Therapy from the University of St. Augustine for Health Sciences and began her career as a pediatric physical therapist. The experiences and skills that she gained while volunteering as a camp counselor have equipped her to better serve her patient population. She specifically attributes her ability to use both active and indirect listening skills to learn what her campers and patients need. This year, Amber returned to camp as a Physical Therapist on the Medical Staff Team.
Both at Camp and in her professional life, Amber loves the opportunity to provide guidance, interventions, and education to families. "It is a joy being able to aid a child in becoming their best version and being able to play with their peers in a way that works for them," she says.
Medical field inspirations
For Emma Larson, who is currently a Physician Assistant in Orthopedic Surgery, MDA Summer Camp was her first experience with anything related to the medical field and sparked her interest in pursuing a degree in medicine. Emma learned about camp after her older brother volunteered and told her about his incredible week spent with campers and counselors. She became a volunteer herself, serving as a counselor from 2013-2019, and developed a passion for a medical career.
"I had the opportunity to talk to the kids about their diagnoses and treatments," Emma recalls. "I remember one camper telling me about the surgeries she had on her upper extremities, to allow one arm to have more rotation to reach out to the side and the other more flexion to reach up to her face. It was fascinating. I realized during these conversations that the medical field was something that interested me."
In addition to finding her career passion at camp, Emma also developed a stronger sense of confidence and comfort when tackling new situations, an attribute that helps her to excel in her profession. "I think MDA Summer Camp really made me comfortable being in new places with new people. I'm not the type of person who likes to be the center of attention, but if a kid asked me to get up on stage and do cartwheels, I would do it in a heartbeat," she says. "I've become comfortable with things that might otherwise be uncomfortable. I believe it is important in my job to have that feeling because I wouldn't be able to adequately treat patients if I was uncomfortable working with them, nor would I ever grow as a provider. I also found a lot of joy in teaching and helping the new counselors, which translates well into my job."
Emma returned to MDA Summer Camp this year and continues to find growth, value, and joy in her time volunteering. "I love connecting with the kids," she says. "I love seeing them excel at activities and having fun in an environment designed with them in mind."
Adaptive sports and activities bring joy
The opportunity to witness campers excel and enjoy activities and sports modified to be accessible and inclusive to everyone ignited a spark in Gabriel Moreno. Having first volunteered at MDA Summer Camp while pursuing a degree in Special Education at Boise State, Gabriel fell in love with the events and day-to-day activities that empowered campers. Returning to camp over seven summers, Gabriel also found inspiration by observing the way that MDA Camp Directors coordinated and facilitated every detail of the camp program and daily activities.
"I was always in awe of watching the Directors work at Summer Camps," he says. "I just thought how cool it was that this was their job, and I knew I wanted to be in a position to serve others from a director's position."
With that desire in mind, Gabriel worked as the Sports Director for the Special Olympics of Idaho before starting his own non-profit, Game Changers Idaho, in 2018. Leaning on the skills he gained while helping run events and day-to-day operations as a volunteer at Summer Camp, Gabriel now organizes and runs an entire program that provides adaptive sports to kids with disabilities in grades K – 12. The program continues to grow each year, serving more than 400 children and utilizing more than 200 volunteers last year.
"I can't believe this is my job," Gabriel says of his full-time role organizing and planning sports for children with disabilities. "I love planning events and seeing them in action. I love communicating with our partners, volunteers, and parents. I love being in a position to watch kids learn and grow through sports."
Gabriel credits his experiences at camp for increasing his understanding of day-to-day program operations from a Director's point of view and the focus on logistics and attention to detail that are required to run a safe and successful program. His personal experience working with youth living with neuromuscular disease at camp also provided him keen insight into the challenges that campers encounter on a daily basis – and the incredible joy that adaptive sports and inclusion can bring.
A passion for helping others
Alexa Tinsley, the Director of Programs at the Jett Foundation, shares Gabriel's passion for bringing joy to others. She began volunteering at MDA Summer Camp when she was sixteen and spent more than eight summers as a counselor before becoming an MDA employee. Alexa reflects that her favorite things about camp were the relationships that she was able to create and the feeling of truly being able to help others and make a difference in the lives of others. That passion to serve others, especially those in the neuromuscular community, is the guiding force on the trajectory of her career.
"MDA Summer Camp is what drove my desire to truly help others, leading me to attend an accelerated second-degree nursing program at the University of Florida," Alexa says of her decision to leave her role as an MDA Care Specialist and pursue nursing, before ultimately finding her dream role at the Jett Foundation. "While I was able to help others as a pediatric nurse at a local children's hospital in Tampa, I missed the connections with families and being able to connect daily with those in the rare disease space. I am lucky and honored to have found a place at Jett Foundation, where we are able to serve families through direct service programming and education."
Alexa's experience at MDA Summer Camp not only shaped her career path, but also provided valuable experiences and skills that serve her well in her professional role. Her time at camp provided her with a deeper level of compassion and empathy and a better understanding of the needs of others. While she was able to witness a snapshot of daily life for those living with a neuromuscular disease, she also learned that those living with a disability know best about what they need. "It allows me to look at the big picture and align our programming with the needs of the community," she says. "It taught me to listen to others and know that I don't truly understand what it is like in their shoes. In order to put programming into place to help the community, we as an organization have to listen to what they need directly and do our best to fill the gaps."
Motivated by her time spent serving that same mission at MDA, Alexa says that her experience as an MDA camp counselor and employee are what led her to want to continue to help others. Like many volunteers who became MDA employees or whose career choices were influenced by their experiences at camp, these individuals continue to pursue their passion of helping others – a passion sparked by the magic of MDA Summer Camp.
---
Next Steps and Useful Resources
Disclaimer: No content on this site should ever be used as a substitute for direct medical advice from your doctor or other qualified clinician.