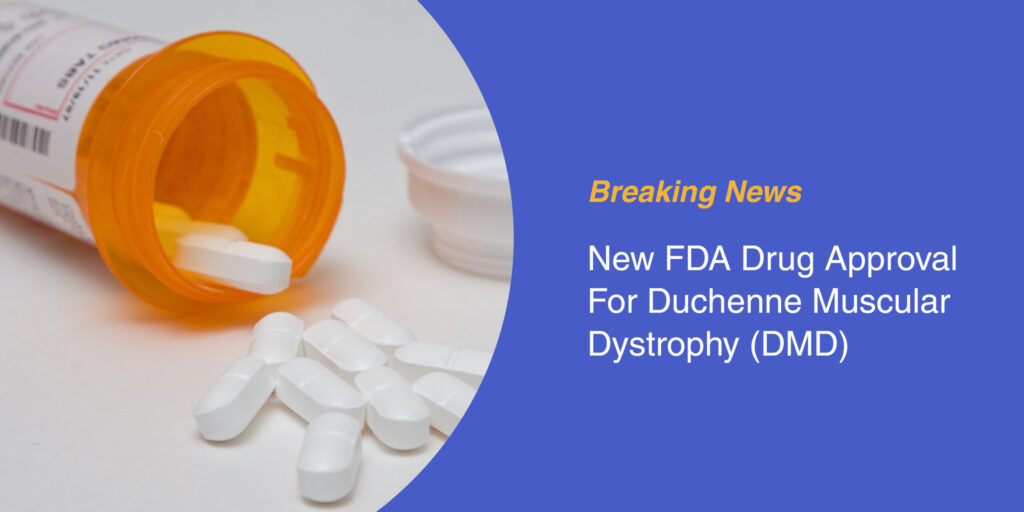 AGAMREE ® (Vamorolone), Now FDA-Approved, Offers Hope for Children Living with Duchenne Muscular Dystrophy
By MDA Staff | Thursday, October 26, 2023
The recent FDA approval of Catalyst's AGAMREE ® (vamorolone) is a beacon of hope for people living with Duchenne muscular dystrophy (DMD), a rare but serious degenerative muscle disease.  
According to the National Institutes of Health, DMD is one of the most severe forms of genetically inherited degenerative neuromuscular disease. It's caused by a lack of dystrophin, a membrane-stabilizing protein, which results in progressive muscle degeneration. It affects approximately 6 out of every 100,000 people, primarily boys – though girls are also occasionally impacted. Symptoms generally appear in children before the age of 3, and early signs of the disease include the delayed ability to sit, stand, walk, or problems learning to speak. Those afflicted often require a wheelchair by the time they are teenagers. Fatalities occur as the disease progressively disrupts lung and heart functions, and there is no known cure. 
Drugs like prednisone and deflazacort have been shown to improve both muscle strength and cardiac health, but both of these steroids come with significant side effects, like bone loss, weight gain, stunted growth, and decreased bone density among other symptoms. 
"Corticosteroids have been a first-line treatment for DMD for many years, but their utility has always been limited by the side effect profile," said Sharon Hesterlee, Ph.D. and Chief Research Officer at the Muscular Dystrophy Association (MDA). 
It's those side effects that make AGAMREE (vamorolone) such an important option. 
MDA Leads the Way with Venture Philanthropy Program
Prior to 1950, there was no coordinated funding of research into neuromuscular disease, until MDA was created with a mission to invest in accelerating research, advancing care, and advocating to empower people to live longer more independent lives.   
Critical to the development of AGAMREE (vamorolone) has been the work of MDA Venture Philanthropy, which was an early investor of the research. AGAMREE (vamorolone) will be made available in the United States by Catalyst Pharmaceuticals. 
"MDA is extremely proud to have been involved with AGAMREE (vamorolone) since its inception. It was one of the earliest investments to be made by our venture philanthropy arm and we are gratified to see that paying off in the form of a viable new therapy for Duchenne patients and the community," said Dr. Hesterlee. 
"Muscular Dystrophy Association has been invested in this treatment since the beginning and they truly made the program possible," said Eric Hoffman, Ph.D., Co-Founder of ReveraGen BioPharma and Associate Dean, Research and Research Development; Professor, Pharmaceutical Services at Binghamton University. "The main concern was getting an effective treatment to children as quickly as possible. This was truly a community effort and getting a multitude of perspectives and feedback from MDA and others helped make this a reality for so many families." 
How
AGAMREE
Vamorolone Is Helping MDA family member, Franklin
Certainly, that is how AGAMREE (vamorolone) has helped MDA family member Franklin, of Harrisburg, North Carolina, a 14-year-old boy who was diagnosed with DMD as a child. 
His family, including his father, Jay Griffin, advocated for Franklin to be enrolled in a clinical trial for the then-experimental treatment, which began on July 1, 2016, the day before Franklin's 7th birthday. He has remained on the treatment after the trial ended with the help of a program that ensured continued access.  
Despite his family's concern that he would suffer side effects common in other treatments, over the years he has responded well. 
"We decided to try it as an option for how it would fare on his body, and we weren't sure if it would even work – but someone always has to the first, and time was not our best friend," said Jay Griffin. 
While Franklin has seen some weight gain during the treatment, he has been spared the most significant side effects of other treatments – like stunted growth, behavioral problems, or bone fragility. And those potential side effects could further be reduced if AGAMREE (vamorolone) is used in conjunction with other treatments coming down the pike. 
"As Franklin took the medication, we didn't see side effects of the other steroid treatments and this further cemented us sticking with it," Griffin said. 
Hope for Families Living with DMD
These positive results have been reflected among other patients who have been part of the AGAMREE (vamorolone) clinical trial, said Dr. Edward Smith, Adjunct Professor of Pediatrics at Duke University Medical Center and Medical Director and Principal Investigator at Rare Disease Research-NC, LLC.in Hillsborough, North Carolina. 
"You can see the difference with AGAMREE (vamorolone) – boys [who take this treatment] are taller – and that's a big deal to the patient as they get older as it is a huge self-esteem issue, and has a less negative impact to mental health," Dr. Smith said. 
Dr. Smith's entire career has been dedicated to the treatment of patients living with neuromuscular disease. He started the pediatric neuromuscular clinic at the MDA Care Center at Duke University Medical Center in 2007, where he also cared for adults with both DMD and spinal muscular atrophy (SMA). Dr. Smith is now also working to shorten the duration of clinical trials – ideally getting them to 60 days rather than a year – and has partnered with Dr. Han Phan at Rare Disease Research in North Carolina to do so.  
"None of the families [in the clinical trials] were asking to go back on steroids – they just want to know the AGAMREE (vamorolone) supply will be uninterrupted," he said. 
While being the first in any clinical trial can make someone anxious because of the potential risks involved to loved ones, the Griffin family understood what a successful trial could mean, not just for their son Franklin, but for other families with a DMD diagnosis. "We were the first to do the clinical trial because we were thinking of the thousands of other little boys living with this disease, and this was us doing our part for the greater good of the whole Duchenne muscular dystrophy community," said Jay Griffin, MDA family member. 
"If it wasn't for Dr. Edward Smith, and the team at our MDA Care Center at Duke, really genuinely caring about us – and their commitment to us – we wouldn't have done it without the positive energy they showed to us," he added. "It means everything to the thousands of kids living with Duchenne who now have another option," Griffin continued. 
MDA Resource Center
The neuromuscular community may contact the MDA Resource Center for resources and support by phone at 1-833-ASK-MDA1 (1-833-275-6321) or by email at ResourceCenter@mdausa.org. 
---
Next Steps and Useful Resources
Disclaimer: No content on this site should ever be used as a substitute for direct medical advice from your doctor or other qualified clinician.