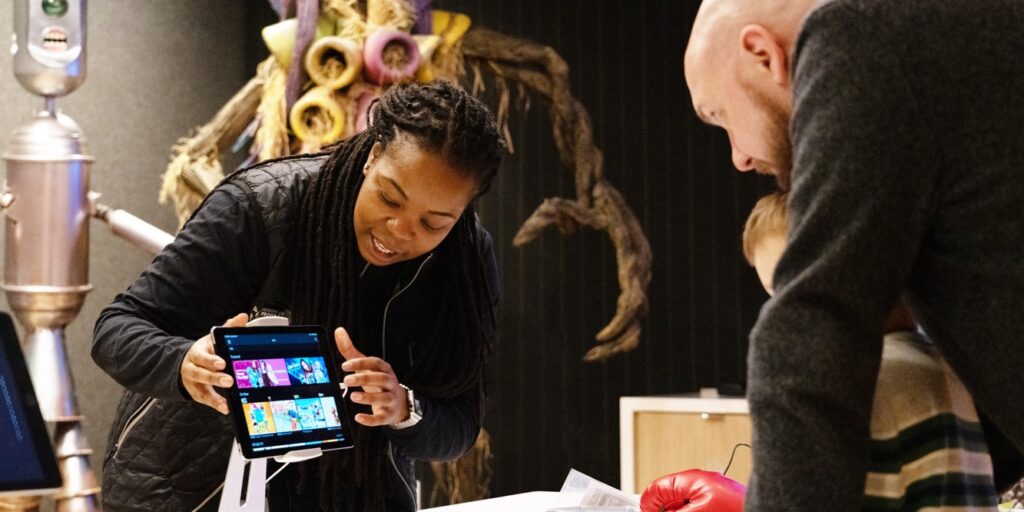 Comcast is Taking Accessibility to the Next Level
By Rebecca Hume | Thursday, October 26, 2023
Comcast's Accessibility team is raising the bar when it comes to inclusive design and accessible products and services. With a focus on customer-facing experiences, from remote controls to customer service support lines, to in-person retail store services, the team uses innovation and technology to meet the needs of the disability community.
Headquartered in Philadelphia, Comcast is the nation's largest media and technology company, providing cable, video services, Xfinity mobile service, smart home systems, and internet connectivity to residential and commercial customers, as well as movies, streaming, and theme parks through NBCUniversal. The company also owns Sky, which is one of Europe's leading media and technology companies. Among those customers are many individuals with disabilities, and Joel Moffatt, the Accessibility Team's Lead for Community Engagement, recognizes the importance of inclusive design. "People with disabilities are our customers," Joel says. "Making something more accessible serves everyone, but people with disabilities also deserve an accessible experience."
Following the "nothing-about-us-without-us" mindset of the Disability Rights Movement, Joel oversees community partnerships and engagements to ensure members of the disability community have the opportunity to influence, educate, and impact the design of products and services – and then he shares that expertise with other departments across the business.
Bringing the voice of the customer closer to product design
"Voices of people with disabilities are valuable sources of information for us to understand what the needs are for this community," Joel says. "We work with national advocacy organizations and community thought leaders to better understand what the actual needs are for the actual humans using the actual products."
The team incorporates insights gained from these connections in their initial designing process, then reaches out to individuals within the community to gather feedback on their customer user experience with the software and hardware designed for accessibility. Seeking feedback on specific products and features from members of the disability community allows the team to tweak and modify existing products and offers insight into unmet needs for future product design.
"It's how we learn what's next for technology and the experiences we deliver," Joel says. "We use that learning and engagement piece to get people at Comcast excited about doing the work to deliver on the promise of making a great experience for every single customer, including those with disabilities. We are doing the work to make sure everyone understands how people with disabilities interact with technology and how technology can empower people with disabilities – and how everyone can use that lens as they develop products."
Thomas Wlodkowski, the VP of Accessibility at Comcast, shares that the team helps set the vision for accessibility and inclusive design across the company, while focusing a good percentage of their time on customer facing experiences. "We are the central hub for accessibility and then the various product groups are on the hook for delivering their own inclusive experiences," he says. "We provide the tools and they internalize that information into whatever makes the most sense to deliver an inclusive experience."
The recently released large button, voice remote control is a prime example of Comcast's process of research and engagement. The design team met with Xfinity customers living in assisted living facilities and facilitated focus groups at conferences. They validated a design assumption that community members needed a remote with a flat back in order to remain in place on a wheelchair tray or to use a mouthstick to press buttons. They heard users had difficulty removing the back of the remote to change batteries, and that bigger buttons could make life easier – improvements that would benefit all users. "When you focus on accessibility or inclusive design, you end up with a better product for everyone," Tom says.
For almost all of Comcast's customer facing products and experiences, the Accessibility Team has specified design requirements to increase accessibility – from the large button remote to their innovative web-based remote.
Independence and innovation in connectivity
Comcast's Xfinity Web Remote is one of their most impressive experiences to date. The Web Remote significantly increases the level of independence for people with disabilities to control their Xfinity entertainment and smart home experiences using any web browser and the assistive technology configuration they're accustomed to, from anywhere independently.
The Web Remote can be accessed from any personal device that connects to the internet – such as a smartphone, tablet, laptop, or personal computer. Once logged in, it provides customers with the option of creating buttons that meet an individual's specific needs and limits the amount of time and energy required to access that task. Users can customize their remote to include buttons and settings that will best serve their own needs on a platform that is most accessible to them. Which means that assistive technology like eye-tracking to navigate devices or a mouth stick on a touch screen can be applied to the day-to-day use of a remote control for TV services, home control, lights and locks, cameras, communication, and more.
"In order to make connectivity meaningful, you need the right hardware and the info on the web that is accessible to navigate. We need to be able to meet people where they are with the devices they are using," Joel says. "All of the different assistive technology people already use and rely on to empower themselves can now be used to access an array of services. Users can use voice control, type commands in text field, create custom buttons for things they do most, create settings for their favorite shows. This is a customizable remote that is going to help you do the things you want to do and connect you to moments that matter."
Accessibility and beyond
Comcast's commitment to inclusivity and accessibility extends beyond the products they design and provide to the community. For members using those products who live with a disability, they have a dedicated customer care support call center that caters specifically to the disability community. Fielding over 40,000 calls per month, the support center offers one-on-one communication using voice, v-chat, and live video calls with American Sign Language (ASL) interpreters. Users can choose to self-identify as an accessibility customer on their account so calls can quickly be directed to the correct support staff.
Comcast headquarters also boasts its own Accessibility Lab. The Lab is located in the Comcast Technology Center and provides a space to get hands on and learn about the accessibility options available in Xfinity products and the ways in which customers with disabilities use them.
The importance of inclusion
"If you ignore accessibility and inclusive design, you are leaving people out. We create barriers for people when we don't thoughtfully consider disability and other aspects of diversity," Joel says. "Languages, age, the way that we communicate – we need to think about all of the angles when creating an inclusive experience that doesn't leave anyone out."
As Tom says, the goal of the Accessibility Team is to continue to bring to fruition their mission statement: "We connect ALL people to the moments that matter."
---
Next Steps and Useful Resources
Disclaimer: No content on this site should ever be used as a substitute for direct medical advice from your doctor or other qualified clinician.