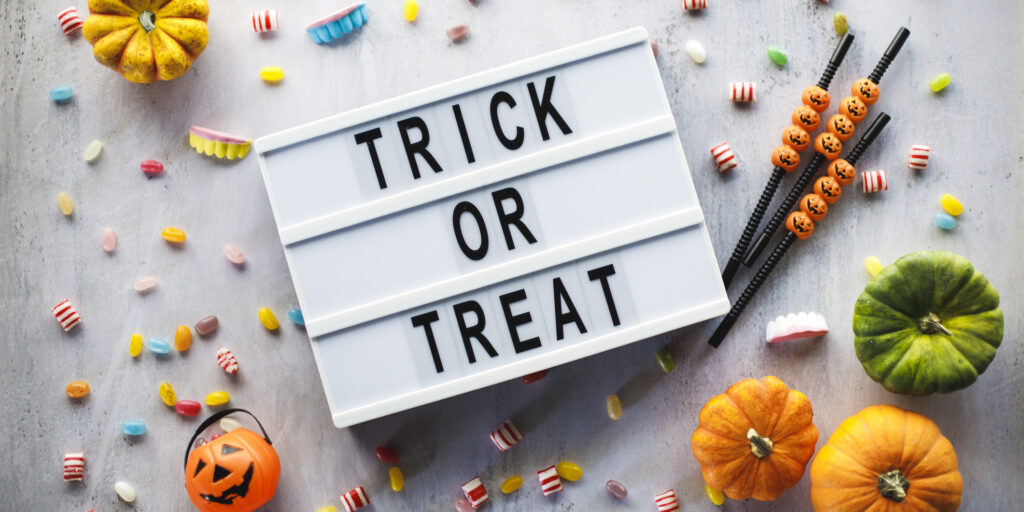 Fun & Easy DIY Wheelchair Costume Ideas for Halloween
By Rebecca Hume | Monday, October 23, 2023
Each year, MDA and Magic Wheelchair team up for a special sweepstakes where one lucky contestant wins an incredible, custom costume that transforms their wheelchair and provides a magical opportunity for self-expression and make-believe. Incorporating wheelchairs into costume design provides a fun and empowering experience for wheelchair users, adding a touch of magic to their everyday mobility device.
Using this same concept, families have many options to create clever costumes at home – whether using specially designed store-bought costumes or putting together their own creative DIY costumes. Companies like Target, Spirit Halloween, Party City, and Disney offer a wide variety of wheelchair costumes, providing easy-to-wear clothing and design components that can be attached to the wheelchair itself. Costumes like this police officer and car or flying witch's costume make it easy to create your very own magical wheelchair.
For families who enjoy arts and crafts, creating DIY costumes is a fun activity that can empower their children to express themselves, use their imagination, and have fun playing dress up. Large, foam poster board, which can usually be found at most dollar stores and craft stores, can be cut, painted or drawn on, and affixed to wheelchairs to create a backdrop, scene, or vehicle to accompany the clothing costume worn by the wheelchair user.
DIY costume ideas at home
Underwater wonders:
Paint or draw waves on two large foam poster boards and then have an adult cut the boards with an exacto-knife into a shape that can be affixed to the each side of a wheelchair without obstructing the wheels. Boards can be attached to the chair by strategically punching small holes in the board and using zip ties to secure to the chair.
Create a shark costume using a gray hooded sweatshirt and a pair of gray sweatpants. Use sheets of felt paper to cut teeth, eyes, and gills. Hot glue gun felt pieces to the hood of the sweatshirt to create a shark head when the hood is up. Cut a tail out of cardboard and paint gray or cover with gray fabric, staple an elastic band to the back of the tail that can loop around the ankles to hold the tail in place.
Create a mermaid costume using a blanket that can be wrapped loosely around the legs for a mermaid tail. Hot glue gun felt cut-outs in a variety of colors to create a tail shape with scales on the blanket. Add felt pieces for fanned-out tail.
Create a scuba-diver outfit using a black, crewneck sweatshirt and a pair of black sweatpants. Draw a zipper and write scuba on the ensemble using a white or silver paint marker. Add flippers, goggles, a snorkel, toy or stuffed fish, and any other accessory that comes to mind.
Fairytale fun:
Cut two large foam poster boards to size for either side of the wheelchair. Paint or draw a castle on each one and then cut around the shape.
Create a princess or queen in her castle costume with a crown, long gloves, and a princess dress.
Create a prince or king in a his castle costume with a crown and cape.
Go wild with animals:
Dressing up as a favorite animal is a fun and easy way to incorporate a wheelchair into the design because you can use foam poster board to create the animal's environment.  Most animal costumes can be made using sweatsuits and felt pieces, like the shark idea above, to add features and ears to the hood of the sweatshirt. You can use paint on the front of the sweatshirt and pants as well, like tiger stripes or leopard spots. Pieces of posterboard and other props can then be attached the wheelchair to complement the costume.
A koala bear costume (gray sweatsuit with white painted belly) with cardboard eucalyptus branches and felt eucalyptus leaves.
A penguin costume (black sweatsuit with white painted belly) with cardboard ice cubes and snow drifts.
A lizard (greens sweatsuit with scales painted on it) with cardboard rocks, sandy dunes, and cactuses.
Designs of the decade:
It's always fun to dress-up in fashion from different eras – especially ones that have memorable styles and vehicles!
1970s – Use foam poster board to create an iconic Volkswagon van, cutting out two side-view shapes to affix to the wheelchair. Paint or draw flowers and peace signs and colorful logos on each side of the van. Tie-dye a t-shirt or sweatshirt and either wear bell-bottoms or pin felt pieces cut into large triangles to the front of comfortable pants of the same color. Braid pieces of leather twine together to create a headband that can be tied across the forehead or have fun with wigs.
1950s – Using the same idea with the foam poster board, create 1950s style car sides in the model of a Chevy Bel-Air. Paint the sides a pastel color to match the era. Using felt or fabric paint, transform a blanket into a poodle skirt or wear a white T-shirt and leather jacket. Have fun with wigs or hairstyles.
When it comes to empowering, imaginative, inclusive, and creative wheelchair costumes, the sky is the limit… and everyone deserves a little magic.
---
Next Steps and Useful Resources
Disclaimer: No content on this site should ever be used as a substitute for direct medical advice from your doctor or other qualified clinician.